New York: 2021 Orange County Falun Dafa Experience Sharing Conference Held
May 11, 2021 | By a Falun Dafa practitioner in New York
(Minghui.org) As part of their celebrations to mark the 22nd World Falun Dafa Day, Falun Dafa practitioners in upstate New York held the 2021 Orange County Falun Dafa Experience Sharing Conference on May 8. Eighteen practitioners talked about their experiences in letting people know about Falun Dafa and eliminating their attachments.
2021 Orange County Falun Dafa Experience Sharing Conference held on May 8, 2021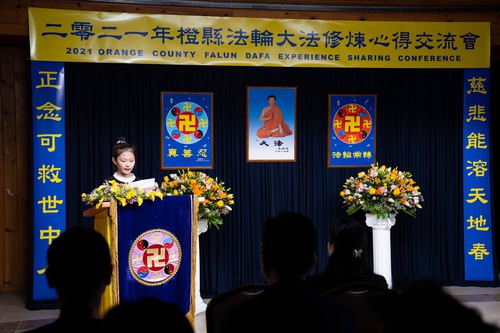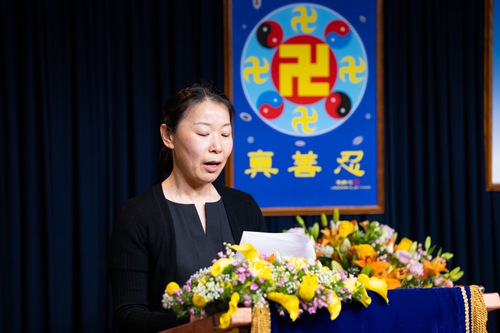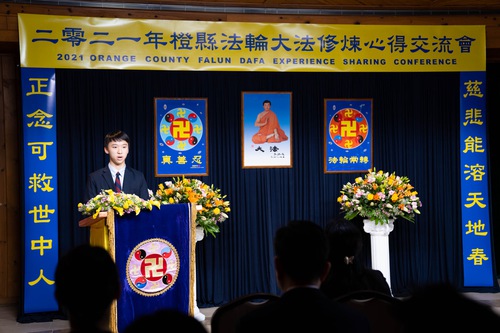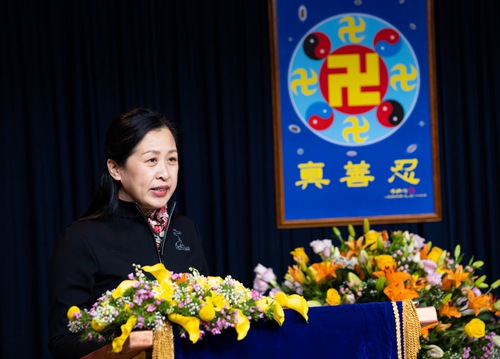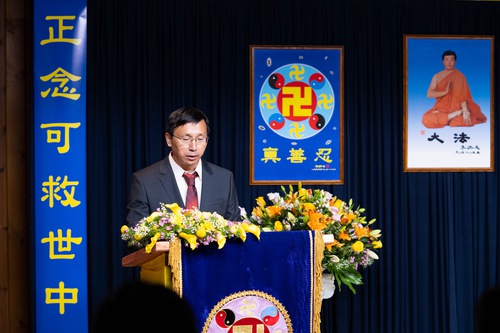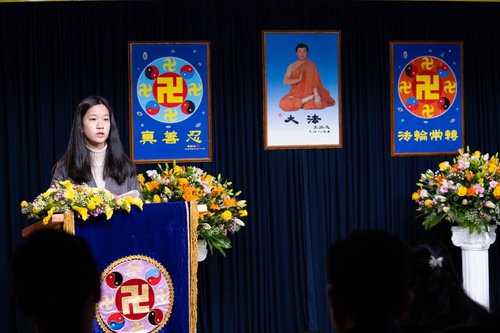 Practitioners talked about their experiences in self-cultivation.
Ten-Year-Old Girl Calls China to Clarify the Truth
Ten-year-old Alina Chen has called China to clarify the truth and help people quit the Chinese Communist Party (CCP) since 2019. She shared her experience of growing up in the process.
Alina said, "I was a little scared the first time I called. But after I made a lot of calls, my fear lessened. When I called, many people just listened.
"One day, a young man who was working at a company answered my call. He said, 'Little sister, I am at work. I know about everything you've said. Thank you. Pay attention to safety!' After I finished the call, I thought he was kind."
Alina said that once a middle-aged man answered her call, "I clarified the truth to him. He didn't listen—instead he cursed me. After he hung up, I felt very sad. My aunt said that he was wicked and gave me a lot of virtue. Hearing that, I calmed down and continued calling people."
Raising Awareness in Front of the Chinese Consulate in New York
Ms. Wu talked about overcoming difficulties in order to participate in holding banners in front of the Chinese Consulate in New York to raise awareness of the CCP's persecution of Falun Dafa.
She leaves home at 5 a.m. and returns at 4 p.m. During the coronavirus pandemic, with reduced public bus service, she still managed to go to the Chinese Consulate.
She said that she was neither hungry nor tired after doing the exercises, sending righteous thoughts, and holding banners for more than six hours in front of the consulate. Instead, each time she went, she felt it was miraculous. She introspected on her mindset and felt that no matter what she did, she had to do it well. She felt Master Li (the founder of Falun Dafa) was encouraging her and blessing her.
In winter, it is very cold outside the Chinese consulate in New York. Initially she was worried about whether she could stand outdoors for several hours. She remembered how other practitioners had stood in front of the Chinese consulate for years, so she persevered with the encouragement of fellow practitioners.
Getting Rid of a Smartphone Addiction
Feng Ming is a high school student. He said that in early March 2020, due to the pandemic, school courses were offered online. For about seven months (March to September), he became addicted to playing with his mobile phone. It was as if the mobile phone was stuck to his hand and there was absolutely no way to let it go.
He said that while listening to online courses at home, the objects around him (especially his phone) distracted him and he had difficulty concentrating and listening to his teacher. Instead, he often looked out the window or surfed the Internet. His mind was filled with thoughts of pursuing material pleasures.
Seven months later, the school reopened. After returning to school, Ming began to read Zhuan Falun, the main book of Falun Dafa, and realized that Dafa is the basis for improving oneself. He worked to eliminate his attachment to social media and the Internet.
He said, "This experience helped me realize that I should improve my moral values based on the principles of Truthfulness-Compassion-Forbearance. I should behave like a genuine cultivator. I need to proactively identify and eliminate my attachments. Only this way can I help those around me."
Looking Within
Ms. Dai said that she had a straightforward personality, but she didn't realize that there were many human notions behind her straightforwardness.
Whenever she noticed others' shortcomings, she directly pointed them out in a tone filled with complaint and impatience. Later, when reminded by fellow practitioners, she understood that she should follow the requirements of the Fa.
"By looking within, I found I had an attachment to myself," she said. "I thought I was helping other practitioners improve by directly pointing out their attachments. If they didn't follow my suggestions, I blamed them and complained about them. This was not compassionate."
She said she also identified her other attachments, including impatience, zealotry, looking down on others, jealousy, and a competitive mentality.
She said that, through conflicts, she improved her xinxing, became open-minded, and increased her capacity to forbear hardship.
Truly Reaching the Realm of Selflessness
Larry Li shared his understandings of how to solve issues in projects. He said that practitioners involved in projects to validate Dafa should not just cultivate themselves from the perspective of personal cultivation. Handling issues that way is also a manifestation of the selfish characteristic of the old universe, he said; instead, one should think about problems and make choices from a perspective that is beneficial to the development of the project.
Mr. Li realized that truly reaching the realm of selflessness requires solid cultivation. Different attachments can manifest in different realms. He sometimes thought, "I haven't reached that level and my kindness is not enough. It's better if I don't point out the issue." But then he thought, "Master had me see the issue so I can point it out. I am responsible for the project, not to validate myself. Even if I don't have great compassion, pointing out the issue will also play a role because my thought is righteous."
He said that in this process of cultivation, he kept facing conflicts and looking within. He gradually understood that all of these trials were orderly arranged by Master. Putting together such a group of practitioners of different ages, various life experiences, different thinking patterns, and different personalities in a project allows their characteristics to collide with each other and exposes their attachments.
He said that if every practitioner can take advantage of these opportunities to cultivate himself well, he can better help the project and also fulfill the sacred title of Dafa disciple.
Mr. Li said that every practitioner represents his own cosmic system and that perhaps each practitioner's character represents the characteristics of that system. It's impossible for everyone to have the same character, he said, so the conflicts and shortcomings we encounter in the cultivation process help us improve, and everyone should have compassion for each other.
All articles, graphics, and content published on Minghui.org are copyrighted. Non-commercial reproduction is allowed but requires attribution with the article title and a link to the original article.
Category: Experience Sharing Conferences