Taiwan: Practitioners in Tainan Hold Parade to Celebrate World Falun Dafa Day
(Minghui.org) Practitioners in Tainan, Taiwan held a grand parade on May 8 to celebrate Falun Dafa Day, which is May 13. They also wished the founder of Falun Dafa, Master Li Hongzhi, a happy birthday.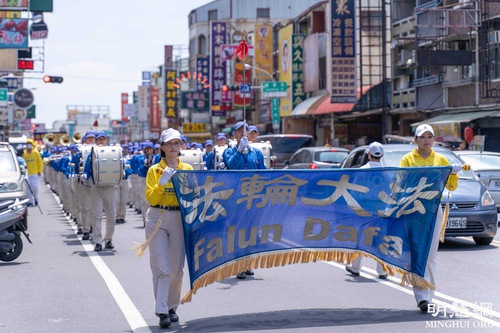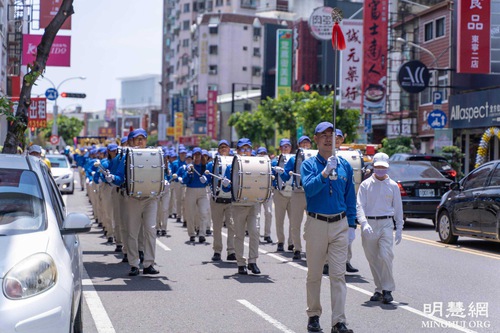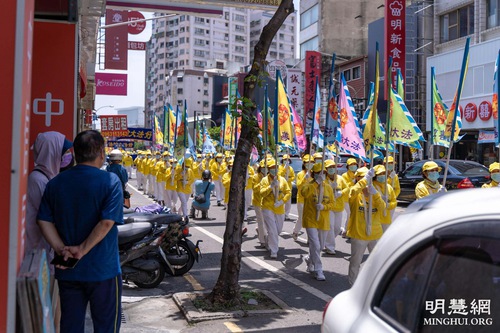 Practitioners in Tainan hold a grand parade on May 8, 2020, to celebrate World Falun Dafa Day.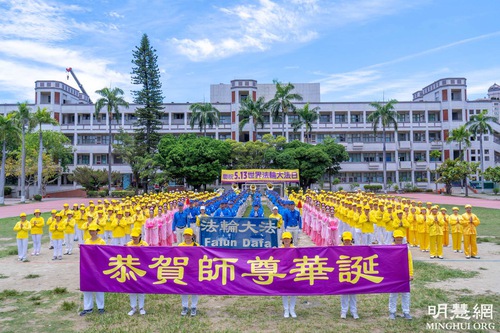 Practitioners in Tainan wished Master Li Hongzhi a happy 70th birthday.
The day's events started with a parade led by the Tian Guo Marching Band. The parade consisted of several sections; behind the band came a flag team, then ladies dressed as fairies who gracefully waved to passersby. Practitioners demonstrating the exercises came, followed by the waist drum team. Practitioners carried banners about Falun Dafa and how it is practiced around the world. The colorful parade drew praise from spectators.
The day was clear and bright. A colorful solar halo appeared, which was very similar to the one that appeared above practitioners' character formation event in Taipei on May 1, 2021.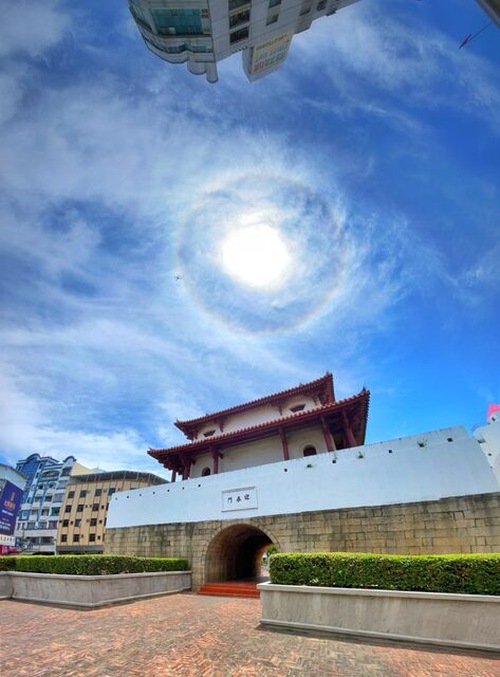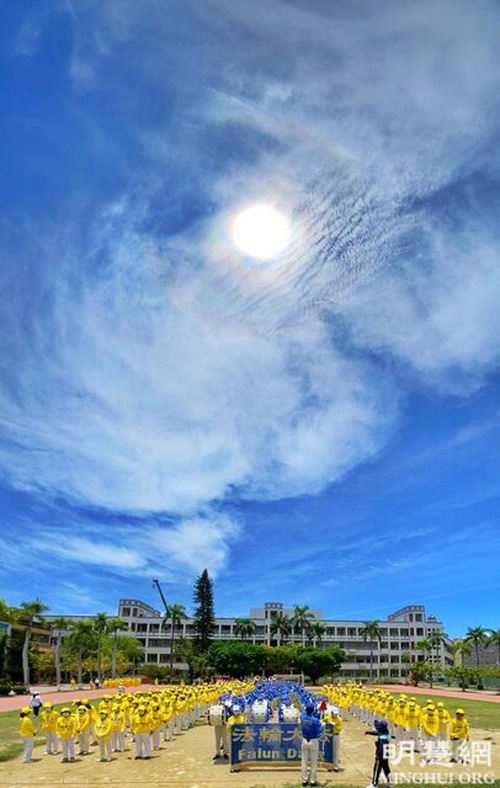 A colorful solar halo appeared in the sky during the Falun Dafa Day celebrations in Tainan on May 8, 2021.
City Councilors: Let People Around the World Know the Truth
Tainan City Councilor Shen Zhendong said that he saw the kindness of Falun Dafa practitioners in his interactions with them.
City Councilor Shen Zhendong was invited to attend the press conference. He said that he was impressed by Falun Dafa practitioners' kindness. He thanked them for exposing the Chinese Communist Party (CCP)'s crimes of killing practitioners for their organs, and he thanked practitioners for raising awareness of human rights abuses in China.
City Councilor Cai Xiaowei thanked practitioners for promoting the principles of Truthfulness-Compassion-Forbearance to the world. She strongly opposes the CCP's persecution of Falun Dafa. She said the entire world has seen how practitioners persevere despite the persecution. She praised practitioners for telling people about the persecution no matter the weather, adding that their efforts were worthy of admiration and encouragement.
City Councilor Li Qiwei said Falun Dafa is heavily persecuted in China and that everyone should uphold the universal values of life, human rights, freedom, and belief. He said that the perpetrators of the persecution will eventually be cast aside.
Passersby: "Truthfulness-Compassion-Forbearance is Wonderful!"
Mr. Xie, who runs a restaurant, said he had a good impression of Falun Dafa. As he watched the parade, he smiled and kept praising practitioners, "They all look like elites in society. Outstanding! This parade is so large, and so many practitioners are participating! That's outstanding! They walk such a long way under the hot sun. They're outstanding!"
A local vendor, Ms. Guo, said the parade was lovely. When she saw one of the practitioners' banners, she smiled and said, "Truthfulness-Compassion-Forbearance is wonderful! Taiwan needs Truthfulness-Compassion-Forbearance!"
Attracted by the music, a man stopped and watched the parade for a long time. He said that after talking with practitioners at various tourist attractions, he knew about Falun Dafa. He said the CCP is not the same as the country of China and that the CCP persecutes Falun Dafa and kills practitioners for their organs. He said, "Falun Dafa values human rights, not power or money."
Practitioners Display the Beauty of Falun Dafa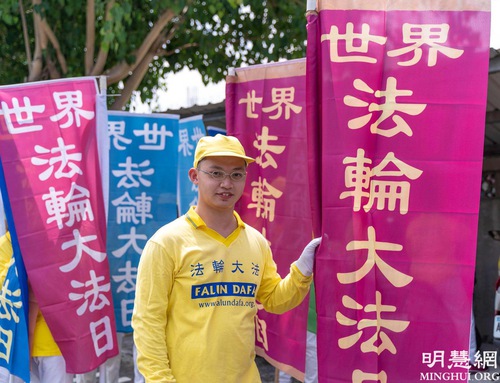 Mr. Gao Nian'en
Many young practitioners participated in the day's events. Mr. Gao Nian'en is a university freshman and said that practicing Falun Dafa had changed him for the better, "I had difficulty getting along with people before. After I began to live by the principles of Truthfulness-Compassion-Forbearance and talk to people sincerely and kindly, my relationships with others became harmonious."
Gao said he participated in the parade so that people could see that people of all ages practice Falun Dafa.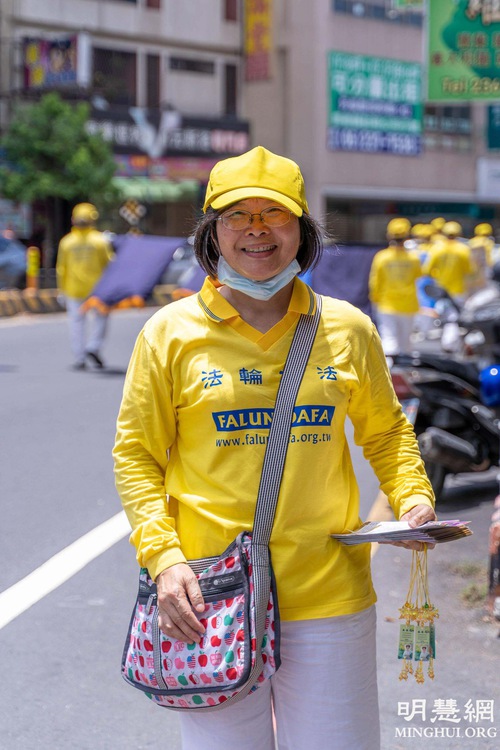 Ms. Gao Lizhu said she stopped being jealous and competitive after she began practicing Falun Dafa.
Ms. Gao is a business executive. She said that she always felt pressure and developed a bad temper. She was jealous, competitive, and attached to fame and fortune. But everything changed after she began practicing Falun Dafa. "Now I truly feel happy for people when good things happen to them instead of feeling jealous, she said." I'm no longer competitive or feel unfairly treated. I take whatever happens lightly."
Ms. Gao said she realized, "We practitioners try our best to do things well, and good things will follow. We do not show off after gaining fame and fortune. Instead we should be humble."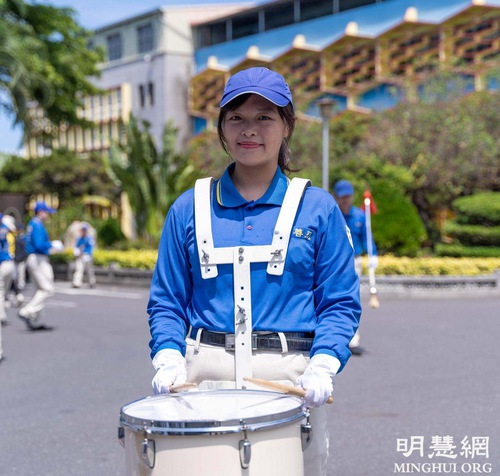 Ms. Xiao Qingmei wishes Master Li a happy 70th birthday.
Ms. Xiao Qing'mei plays the drum in the Tian Guo Marching Band. Her family of four traveled from Taichung to celebrate World Falun Dafa Day and the birhtday of Master Li. She said, "We are very grateful that Falun Dafa brought us health, peace, and a happy family!"
Ms. Xiao hopes that "through music, people can feel the beauty of Dafa and its peace and benevolence, and they will come to learn about Falun Dafa and practice it."
All articles, graphics, and content published on Minghui.org are copyrighted. Non-commercial reproduction is allowed but requires attribution with the article title and a link to the original article.
Category: Dafa Day Celebrations