Japanese Participate in Online Classes: "Falun Dafa Is a Door to a Better Future"
(Minghui.org) Many people are concerned about how to improve their immune systems and remain healthy, especially during these times of a global pandemic.
As people are increasingly showing interest in Falun Dafa, Japanese practitioners set up online classes to teach the practice in September. People in Tokyo, Osaka, Nara, Yamaguchi, Hiroshima, Kagoshima, and elsewhere in Japan have participated in the classes.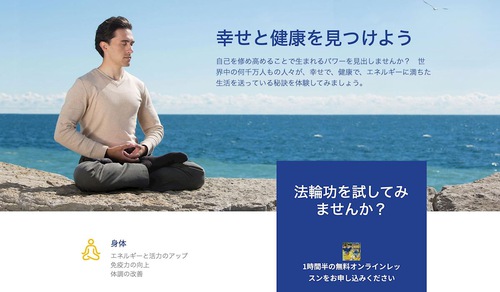 Web page with information about the online classes
Falun Dafa, also known Falun Gong, is a meditation system based on the principles of Truthfulness, Compassion, and Forbearance. Practitioners find it improves their physical and mental health. "To me, it is a door to a better future," said new practitioner Kiryu.
Flexible Schedule
One practitioner who volunteered to help coordinate the online classes said that many people were learning the practice for the first time. Some had learned earlier, but did not have time to go to a practice site to do the exercises. Others did not understand the importance of studying Falun Dafa's teachings. To make the classes more meaningful, practitioners kept the class sizes small to ensure that every person got the specific help they needed.
To accommodate the needs of the new learners, practitioners set up additional time slots to study the Falun Dafa teachings together. This customized approach worked well. Most of the new learners have continued, and some began attending the group Fa study on a daily basis.
"Finally I Can Sleep Well"
Kiryu is over 50 and disabled. The pandemic and other incidents really worried him, and exacerbated his depression and insomnia. He almost had a mental breakdown. Hoping to relieve his stress, he signed up for the class.
Kiryu had difficulty at first in calming down enough to read. But the practitioner who helped him was very patient and read with him every day.
He said that practicing Falun Dafa was like a door that showed him a better future. With renewed hope, he is now able to sleep soundly and for a longer time. "Finally, I can sleep well," he said.
Suzuki said that she seldom does any exercises, "But the gentle movements of Falun Dafa are easy to learn. Every time I do them, I feel warm and relaxed," she said.
Yamaguchi, who is over 80, first heard about Falun Dafa three years ago. But he was not able to learn due to the pandemic. As soon as he heard about the online classes, he registered for them.
Yamaguchi said the changes were dramatic. In the past, he was in pain and often tired. The practice has relieved his pain and given him energy. "It has improved my quality of life significantly," he added.
Tanaka tried both yoga and Tai chi in the past, but she said that Falun Dafa truly brought changes. Through practicing, she felt that her body was purified and the bad substances were dispelled.
Falun Dafa is practiced in over 100 countries. Its benefits have been widely acknowledged, and it has received thousands of awards and proclamations around the world. Online classes are offered in English, Chinese, Japanese, French, and other languages.
All articles, graphics, and content published on Minghui.org are copyrighted. Non-commercial reproduction is allowed but requires attribution with the article title and a link to the original article.