(Clearwisdom.net) On January 18, 2008, the first show of Chinese New Year Spectacular in Toronto, Canada concluded successfully. Attendees highly praised the show.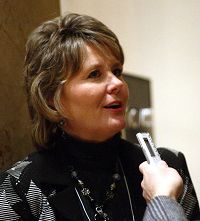 Ms. Brenda Halloran, mayor of the City of Waterloo
(Clearwisodm.net) At 8 p.m. on January 18, 2008, the Divine Performing Arts held the first show in Sony Center, Toronto, Canada. It won acclaim from audience members of all walks of life. Barbara Evans, Associate Professor in the Department of Film at York University said that the show was full of surprising delights.
(Clearwisdom.net) Mr. David Mitzman from Southern California attended the 2007 Chinese New Year Spectacular and was deeply impressed by the beauty and inner meaning of the show. From then on, he tried his best to promote the show to his friends and his business clients. So far, as a result of his enthusiastic efforts, more than 600 people have bought tickets to the 2008 Chinese New Year Spectacular, which was scheduled to be performed at the Nokia Theatre in Los Angeles on January 18-20. Mr. Mitzman said that he hoped to get 2,000 people to attend the show. Our reporter interviewed him on January 10, and the following is the content of the interview.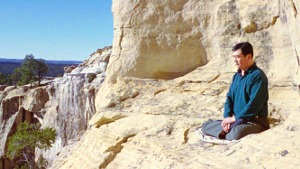 Master Li quietly watching the world from amidst the mountains after leaving New York following July 20th, 1999. (Published January 19, 2000)