San Diego Chinese-American Professor: "The Erhu music was very touching, my heart was carried away with it!" (Photos)
January 20, 2008 | By Li Ruoyun, Minghui reporter in San Diego
(Clearwisdom.net) The Chinese New Year Spectacular show was performed by the Divine Performing Arts at the California Center for the Arts, Escondido in San Diego on January 15-17, 2008. The Chinese and American audience praised the show as being gorgeous, marvelous and rich in traditional Chinese culture. The dancers gave outstanding performances, and the singers were highly skilled.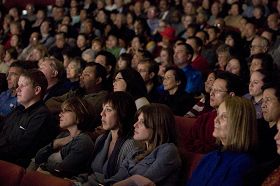 Audience absorbed in the show at the California Center for the Arts, Escondido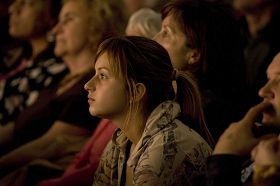 Audience absorbed in the show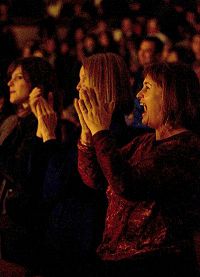 The audience stand up and applaud at the end of the show
Chen Rongchang, a professor of biomedicine in San Diego, attended the show and said it was even better than last year. Twenty to thirty people from his Taiwanese community also attended the show. Professor Chen said, "The Erhu music was very touching, my heart was carried away with it!" He felt much pleasure listening to the Erhu music, but he stressed that all the programs were wonderful!
Alice Wang, a software engineer and her husband Patrick watched the show. Alice said it was very rich in Chinese culture and very classical. Her favorite performance was "Drummers of the Tang Court," and she also liked "Water Sleeves."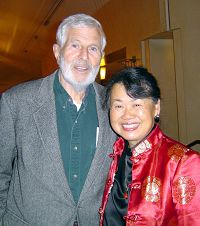 Alice Wang and her husband Patrick
Patrick said the show was very harmonious, vibrant and full of pride, loyalty and beauty. He liked the celestial maidens dance and the "Descent of the Celestial Kings."