Advertising Manager: Eager to Learn More About Falun Gong (Photo)
January 20, 2008 | By Wang Ying
(Clearwisdom.net) Debbie and her husband watched the Chinese New Year Spectacular on January 18, 2008 in Los Angeles. She found out about the show from an ad in a magazine. At the end of show, they said that they were eager to learn more about Falun Gong.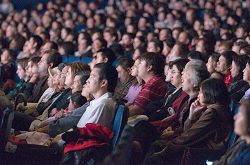 Audience watches Chinese New Year Spectacular at Nokia Theater in Los Angeles
Debbie said, "I liked the 'Drummers of the Tang Court' and the dances. There was one about Falun Gong, though I don't really know what that is. When I get home, I will look it up. I'd like to know more about Falun Gong and Truth-Compassion-Tolerance."
She indicated that she liked the performance of "The Power of Awareness" in which onlookers stop police from persecuting people for practicing Falun Gong.
She was surprised at the ongoing persecution in China. She said, "It is inconceivable that someone does not like Truth-Compassion-Forbearance. It makes me want to find out more about Falun Gong."