Mayor of the City of Waterloo, Canada: "The Show Is Awesome" (Photo)
January 20, 2008 | By Ye Linghui
(Clearwisdom.net) On January 18, 2008, the first show of Chinese New Year Spectacular in Toronto, Canada concluded successfully. Attendees highly praised the show.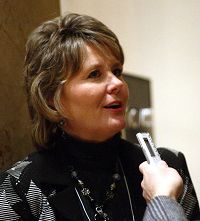 Ms. Brenda Halloran, mayor of the City of Waterloo
Ms. Brenda Halloran is the mayor of the City of Waterloo. She said to the reporter, "The show is awesome. I have never seen such a good performance before."
Ms. Halloran pointed out that the dancing in this show was different from western performance. She said that the dancing in this performance was peaceful and graceful.
The colorful costumes and smooth dancing made her watch attentively and anticipate the next performance.
Ms. Halloran said that her favorite program was "The Fruits of Goodness." When the two youths saw the divine beings, they respected the divine beings and their lives were changed. It represents the influence of belief in God. "I was impressed. It is important for young people to have belief, and to be respectful and considerate of others."
Ms. Halloran said, "I did not see Chinese dancing before. I am fortunate to watch such a large scale Chinese dance performance. It will remain a beautiful memory for me."
She said she would love for this show to be held in the city of Waterloo. There are about 500,000 residents in Waterloo and Kichener nearby. "We have a Chinese community. They would love the show. We also have many Chinese students from China. The tickets would be easy to sell," said Ms. Halloran.