(Clearwisdom.net) We sometimes wonder when and why an audience applauds for a performance, and what message the audience is passing on to the actors when it applauds.
The Eastern costumes, dances, and songs amazed and appealed to the German audience, and for this reason they warmly applauded the Divine Performing Arts Chinese Spectacular held in Frankfurt.
(Clearwisdom.net) The Divine Performing Arts Touring Company three-show run in Frankfurt, Germany, concluded on February 17, 2008. The performances were appreciated by people from all walks of life. Known as being serious and conservative, the German audience generously offered rave reviews to the Divine Performing Arts.
(Clearwisdom.net)
On February 13, 2009, the Divine Performing Arts Chinese Spectacular was presented in the Kousei Nenkin Kaikan Grand Hall in Tokyo, Japan. Ms. Li Meinan, a Japanese-Chinese who specializes in Korean dance and is also the president of the Li Meinan Dance Research Institute in Tokyo, was in the audience.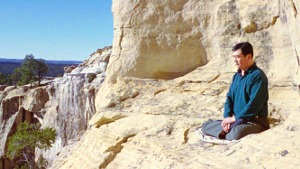 Master Li quietly watching the world from amidst the mountains after leaving New York following July 20th, 1999. (Published January 19, 2000)