The Hague, Netherlands: Divine Performing Art Brings a Feast of Culture (Photos)
February 22, 2008 | By Lin Xiaorong
(Clearwisdom.net) To the Dutch, the show performed by Divine Performing Art at World Forum Theater in the Hague is certainly a feast of culture and beauty.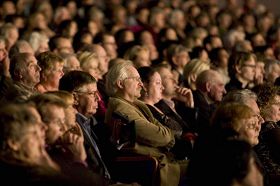 Audience at World Forum Theater
During the intermission, a couple said, "The performance is so beautiful. We have been to China and watched performances there. But we like this one better. The color is beautiful. Its wonderful."
Mr. and Mrs. Chen from Hongkong said the performance is beautiful and has rich content.
Mr. and Mrs. Chen immigrated to Holland from Hong Kong to carry out their business. Mrs. Chen remarked that she used to study dance and perform onstage in Hong Kong. She said the show was professional and very beautiful. "There is no such Chinese culture show here. I hope the Divine Performing Arts can come to Holland more often."
Mr. Chen commented that the performance had rich content.
Steen family likes Divine Performing Art's show.
Mr. Rob Van Steen works in marketing and sales. His whole family of five came to the show. The couple has two children adopted from China. He said his family liked the show and liked Chinese culture. Mr. Steen and his children liked the drum dances and his wife like dance "The Risen Lotus Flower."