Theatergoer in The Hague: "Words Can't Express My Feelings" (Photo)
February 22, 2008 | By Lin Xiaorong
(Clearwisdom.net) An 89-year-old woman, Mrs. Piek Honing, watched the Divine Performing Art Chinese Spectacular in the Hague on February 19, 2008.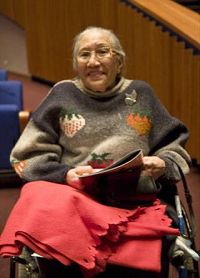 Mrs. Piek Honing is 89 years old. She said that words couldn't express her feelings about the show. "I'm enjoying a taste of Chinese culture."
During the intermission, Mrs. Honing said excitedly, "The stage set is very beautiful. The movements are beautiful too. I was stunned by the show. Like a volcano, it splashes suddenly like a volcano. All the Buddha status suddenly became alive. It is so great, the whole set is great." She continued, "I am also amazed by the beautiful costumes. The stage set and costumes are so well done. It's just a delight! I'm very happy I came."
Mrs. Honing said she at first thought it would be like other Chinese shows she'd seen, with dances with hard to understand meanings. "But I can understand this dance. I'm enjoying the show. And this is only the first half!"
"Chinese culture is great, very ancient and full of wisdom. All the movements represented some meaning. We never experienced this before and never thought about these ideas before. The performers are telling something, they are expressing some idea. I can't find the words to describe my feelings. I'm enjoying a taste of Chinese culture."