Reported in April 2022: 57 Falun Gong Practitioners Sentenced for Their Faith
(Minghui.org) A total of 57 cases of Falun Gong practitioners sentenced for their faith were confirmed in April 2022, including 1 case that took place in 2019, 2 cases in 2020, 7 cases in 2021, and 47 cases in 2022 (including 4 in January, 11 in March and 32 in April). 
Falun Gong, also known as Falun Dafa, is a spiritual discipline that has been persecuted by the Chinese communist regime since 1999. Since then, countless practitioners have been arrested, detained, sentenced, and tortured for upholding their faith. But due to strict information censorship in China, the incidents can't always be reported in a timely manner, nor is all the information readily available.
Fourteen of the practitioners were 60 or above, including 5 in their 60s, 8 in their 70s and 1 in his 80s. Except for two practitioners whose gender remains unknown, 34 of the remaining 55 practitioners are female. Shandong Province topped the list with 12 confirmed sentencing cases, followed by 8 in Liaoning, and 5 in Heilongjiang, Hubei and Yunnan each. The remaining 12 provinces and municipalities had cases between 1 and 4.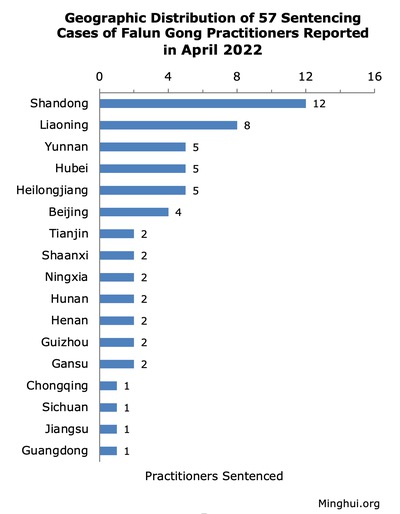 The longest 13-year prison term was given to Mr. Chu Jidong, a Tianjin native in displacement in Ningxia Province. Another Shandong Province resident, Mr. Yu Baiqing, was given eight years with a 50,000-yuan fine.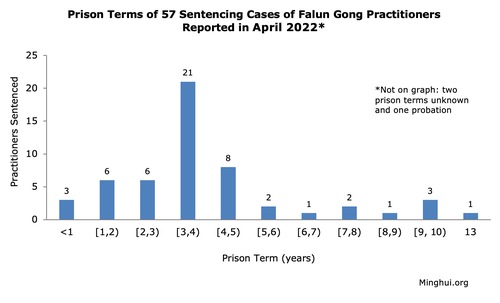 Several of the sentenced practitioners were professionals, including a former English professor, a music teacher, a military doctor, and a senior police supervisor. 
Below are snapshots of selected sentencing cases. The full list of sentenced practitioners can be downloaded here (PDF).
Heavy Terms
Displaced Tianjin Resident Sentenced to 13 Years in Ningxia for Practicing Falun Gong
A Tianjin native who moved to Yinchuan City, Ningxia Province was sentenced to 13 years for practicing Falun Gong.
Mr. Chu Jidong, a 47-year-old Tianjin native who moved to Yinchuan to avoid the persecution, has been on a hunger strike for at least 90 days at the Yinchuan City Detention Center and is constantly force fed.
Mr. Chu was first arrested in September 1999 for appealing for Falun Gong in Beijing. He was given one year of forced labor that year and taken to the Shuangkou Forced Labor Camp. He held a hunger strike for three months and was on the verge of death. When the one-year term expired, the authorities gave him another year as he refused to renounce Falun Gong. 
In the second half of 2000, Mr. Chu was forced to do unpaid labor, including making balloons and artificial flowers. Due to the poor sanitary condition, his hands festered and oozed pus. Instead of taking him to the clinic for medical treatment, the guards ordered the inmates to beat and verbally abuse him.
During a meeting at the Shuangkou Forced Labor Camp on September 13, 2001, its director Zheng Jindong said to practitioners who refused to renounce Falun Gong, "Let me tell you, even if your term is extended for one year, that's not the end of it. Isn't Chu Jidong one example? We had issued the release paperwork for him on Sunday (September 9), but he still can't go home. We are taking him to a brainwashing center. If he doesn't transform, we will arrest him again and give him another three years of forced labor. Then we can extend his term for another year."
Shortly after the meeting, Mr. Chu was transferred to the Banqiao Forced Labor Camp in October 2001 and indeed given another three years of forced labor.
Shandong Man Given Eight Years and a Heavy Fine
Mr. Yu Baiqing, a Jiaozhou City, Shandong Province resident, was arrested on June 2, 2021 during a police sweep. Despite the fact that Huangdao Procuratorate returned his case to the police citing insufficient evidence, the police fabricated evidence against him and pressed the prosecutor to indict him.
Mr. Yu was tried by the Huangdao Court on March 18, 2022 by way of a video conference. His lawyer entered a not guilty plea for him. The lawyer argued that no law has ever criminalized Falun Gong in China, and that the prosecutor failed to demonstrate how his client's Falun Gong practice caused harm or damage to others. The judge sentenced him to eight years with a 50,000-yuan fine on April 15.
This is the second time that Mr. Yu has been sentenced. He was previously given three years in 2003. His sentencing dealt his son, who had just been admitted to a college, such a heavy blow that the teen developed depression. His wife also had to quit her job due to frequent harassment. While Mr. Yu was serving time, she did odd jobs to support the family.
Professionals Targeted
Mother of Canadian Resident and Former English Professor Sentenced to 3.5-Year Prison Term
Ms. Liu Yan, a former English professor in Yunnan Province and also mother of a Toronto resident, was sentenced to 3.5 years for practicing Falun Gong in April 2022.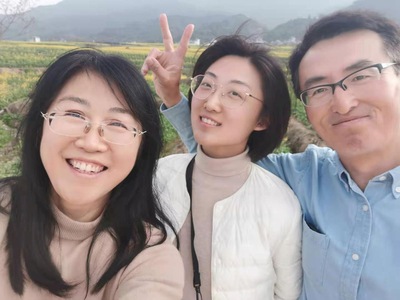 Ms. Liu Yan (left) with her daughter and husband
Ms. Liu was the former director and associate professor of the Foreign Language Department of Yunnan University of Arts and Sciences. While taking a taxi on September 29, 2021, the driver, surnamed Luo, attempted to make unwanted advances toward her. Ms. Liu firmly rejected him and told Luo that she practiced Falun Gong and lives by its principles of Truthfulness-Compassion-Forbearance. In retaliation, Luo reported Ms. Liu to the police.
A dozen officers, including Ding Jianfeng and Guo Hongwei of the Wuhua District Domestic Security Office, arrested Ms. Liu the next day, while she was working at the environmental protection art museum that she and her husband operated. She was detained at the Kunming City Detention Center and denied visitation by her lawyer and family.
The Wuhua District Court sentenced Ms. Liu to 3.5 years in prison and a 5,000 yuan fine in April 2022, following a hearing on February 25. She was charged with "undermining law enforcement with a cult organization," the standard pretext used to criminalize Falun Gong practitioners. She is in the process of appealing the verdict.
Ms. Liu's daughter, Ms. Liu Mingyuan, who is pursuing a computer animation degree at Sheridan College in Toronto, has held press conferences since last October and written letters to government officials, calling for the immediate release of her mother.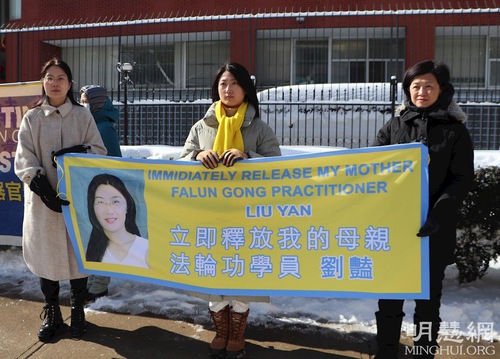 Ms. Liu Mingyuan calls for her mother's release during press conference in front of the Chinese Consulate in Toronto on February 18, 2022.
Former Police Supervisor Sentenced to 3.5 Years
When Ms. Liang Yaomin appeared in court for the third time on January 20, 2022 for her faith in Falun Gong, she and her lawyers refuted the evidence that had been fabricated by the police. They said that none of the evidence could prove she violated any law by practicing Falun Gong, and demanded her acquittal. Despite the lack of evidence, the judge handed down a 3.5-year prison sentence of her in April 2022.
Ms. Liang, a former police supervisor in Haiyang City, Shandong Province, was arrested at her clothing store on January 9, 2021. The 62-year-old woman suffered severe heart problems and her legs shook uncontrollably while being held at the Yantai City Detention Center.
Despite her medical condition, the police refused to release her on bail, and attempted to use the bail release to deceive her into writing statements renouncing Falun Gong or plead guilty for practicing Falun Gong. The prosecutor also attempted to deceive her into signing documents acknowledging the fabricated evidence in exchange for her bail release. She refused to comply.
Ms. Liang experienced severe chest pain when she was tried by the Haiyang City Court through virtual hearings on December 16 and December 30, 2021. The judge adjourned both sessions and rescheduled the hearing to January 20, 2022.
Ms. Liang previously worked as a trace inspection engineer for the Haiyang City Police Department, with the title of a Third-class police supervisor. She was one of the few female investigative officers in the province. She has superb skills and cracked many major and important cases.
Due to long-term stress at work, Ms. Liang suffered from many severe ailments, including heart disease, atrophic gastritis, gallbladder edema, pancreatitis, neuropathic pain, arthritis, and cervical spine hyperplasia.
A friend introduced her to Falun Gong on January 20, 1996, after learning about Falun Gong's tremendous health benefits. After two weeks of studying the Falun Gong spiritual teachings and doing its meditative exercises, Ms. Liang's condition improved. She completely recovered one month later.
Since the Chinese Communist Party launched the persecution in July 1999, Ms. Liang has been arrested, detained in a brainwashing center, sent to a psychiatric hospital and forced labor camp, and sentenced to prison for refusing to renounce Falun Gong. She was also fired by the police department. She opened a clothing store to make a living, only to be arrested again and face another prison sentence.
Retired Military Doctor Sentenced to Three Years
Targeted in a police sweep, a retired military doctor in Changsha City, Hunan Province was sentenced to a three-year prison term for practicing Falun Gong. Her pension was also suspended.
Ms. Zhu Cuihua, who previously worked at the Hunan Armed Police Corps Hospital, was arrested on October 28, 2020, and her home was ransacked. She has since been held at the Changsha City No. 4 Detention Center.
Ms. Zhu was one of more than twenty Falun Gong practitioners in Changsha arrested on October 27 and 28. The police attempted to get information about them through their families during the home raids. While most of their families said they didn't know, the police included that in their testimonies and later forbade them from attending the practitioners' hearings, with the excuse that their families were prosecution witnesses to the case.
Seven of the arrested practitioners have been convicted as of the time of writing. Among them,  Ms. Zhang Lingge was sentenced to four years on May 8, 2021, Mr. Meng Kai to three years and six months on September 17, 2021, Ms. Wen Jing to three years and three months on December 6, 2021, Ms. Xu Lihua to three years and six months on December 7, 2021, Mr. Li Zhigang to five years and three months on December 21, 2021, and both Mr. Cao Zhifang and his wife Ms. Yang Fang to three years and four months on December 24, 2021. Another couple, Mr. Chen Yang and Ms. Cao Zhimin, stood trial on December 21, 2021 and are still awaiting verdicts.
Former Music Teacher Sentenced for Distributing Informational Materials about Falun Gong
After a 75-year-old former music teacher was arrested for raising awareness about the persecution of Falun Gong, her daughter and nephew, who don't practice Falun Gong, were also arrested. Now all three of them have been sentenced to prison. 
Ms. Xu Qingfang, of Jinzhou City, Liaoning Province, was arrested by plainclothes officers on December 12, 2021, while distributing calendars with information about Falun Gong at a farmers' market. 
Upon hearing about her arrest, Ms. Xu's daughter, Ms. Meng Tao, rushed to the Daxue Police Station to inquire about her case. Ms. Xu's nephew, Mr. Xu Chi, also went there to reason with the police, but to no avail.
Mr. Xu then went to Ms. Xu's place, trying to put away her Falun Gong related items. But the police followed him and arrested both him and Ms. Meng, claiming it was because the two of them were trying to "destroy the evidence."
Ms. Xu and Ms. Meng were held at the Jinzhou City Women's Detention Center, while Mr. Xu was kept at the Jinzhou City Detention Center. 
Due to the abuse in custody, Ms. Xu developed a medical condition and was carried into the court room when she and her daughter and nephew were tried by the Linghai City Court on March 4, 2022. The judge sentenced Ms. Xu to five years, and Ms. Meng and Mr. Xu to six months each. 
Teacher Sentenced for Her Faith the Second Time in Less Than Three Years
A 59-year-old woman in Changle County, Shandong Province, was sentenced to 3.5 years on April 27, following her arrest on February 4, 2022, for talking to people about Falun Gong.
Ms. Yu Meixia's latest arrest came only over a year after she was released from serving another term for her faith. Ms. Yu, a former teacher of the Changle County Third Vocational Secondary School in Shandong Province, was previously arrested on June 12, 2019 for distributing Falun Gong informational materials. 
When she appeared in the Qingzhou Court on November 20, 2019, the presiding judge said to her, "You should know that the courts and prisons serve the ruling class." The judge sentenced her to 15 months with a 5,000 yuan fine on December 20, 2019. Her appeal was rejected by the higher court.
When she was released on September 11, 2020, she was devastated to know that her pension had been suspended by the social security office.
Targeted for Speaking Out
Beijing Resident Sentenced to Three Years for Sending Video Clip to Overseas Media
Because of sending a greeting video to the overseas media Epoch Times via social media WeChat during the Chinese New Year in February 2021, Mr. Hao Hucheng, a 36-year-old air-conditioner repairman in Beijing was sentenced to three years in April 2022.
On February 17, 2021, the Beijing police contacted Mr. Hao. As he was in his hometown in Hebei Province celebrating the New Year with his family, the Beijing police ordered the Hebei police to monitor him. The Hebei police gave him 15 days of detention, but didn't execute it.
The Beijing police located Mr. Hao while he was driving on the evening of April 22, 2021. The police searched his car and found 1,000 pieces of five-yuan paper currency printed with information about Falun Gong. Due to strict information censorship, Falun Gong practitioners use creative ways such as this to raise awareness about the persecution.
Mr. Hao was tried by the Changping District Court in the detention center on January 20, 2022. The judge sentenced him to three years in early April 2022 with an unknown amount of court fine.
Man in His 80s Sentenced to One Year for Telling Others about Falun Gong
Mr. Liu Xihua, a Jingmen City, Hubei Province resident in his 80s, was sentenced to one year with a 6,000-yuan fine on April 7, 2022, for telling people about Falun Gong.
Mr. Liu used to suffer severe rheumatoid, hepatitis, and an injury to his leg due to an accident at work in his younger years. A few months after he practiced Falun Gong, all of his conditions disappeared. He often said that if he didn't practice Falun Gong, he wouldn't have been able to live to 80. Feeling grateful to the practice for renewing his life, he felt compelled to share his story with the public and also raise awareness about the persecution.
Mr. Liu was reported for talking to people about Falun Gong in early 2021. The police located his address through the massive street surveillance system and brought him to the police station for interrogation. His Falun Gong books and other belongings were confiscated.
After the police submitted Mr. Liu's case to the Dongbao District Procuratorate, he was so traumatized that he became bedridden. Yet the prosecutor continued to press charges against him.
The sentencing in early April caused Mr. Liu's health to further decline. He is struggling with systemic edema, high blood pressure, and dizziness. As his wife, Ms. Li Xiangrong, had passed away in May 2019 after being terrified by the repeated police harassment, Mr. Liu now struggles to care for himself. It's not clear whether the authorities planned to take him to prison to serve time.
Related reports:
Reported in March 2022: 74 Falun Gong Practitioners Sentenced for Their Faith
Reported in February 2022: 33 Falun Gong Practitioners Sentenced for Their Faith
Reported in January 2022: 132 Falun Gong Practitioners Sentenced for Their Faith
Reported in 2021: 1,187 Falun Gong Practitioners Sentenced for Their Faith
All content published on this website are copyrighted by Minghui.org. Minghui will produce compilations of its online content regularly and on special occasions.