Reported in February 2022: 33 Falun Gong Practitioners Sentenced for Their Faith
(Minghui.org) In February 2022, 33 Falun Gong practitioners were confirmed to have been sentenced for refusing to give up their faith, including 16 in 2021, 2 in January 2022, and 15 in February 2022.
Falun Gong, also known as Falun Dafa, is a spiritual discipline that has been persecuted by the Chinese communist regime since 1999. Since then, countless practitioners have been arrested, detained, sentenced, and tortured for upholding their faith. But due to strict information censorship in China, the incidents can't always be reported in a timely manner, nor is all the information readily available.
The prison terms levied against the 33 practitioners ranged from six months to seven years. Twelve of them are 60 or older, including one in her 80s. Ten practitioners were fined a total of 134,000 yuan by the courts.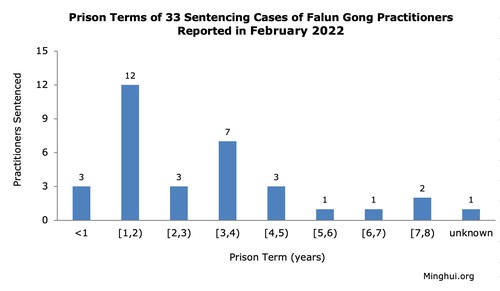 The practitioners came from 14 provinces and municipalities. The provinces of Liaoning (6), Jiangxi (4), Shandong (4), Hebei (3), and Hubei (3) reported the most sentencing cases. The remaining nine regions had either 1 or 2 cases.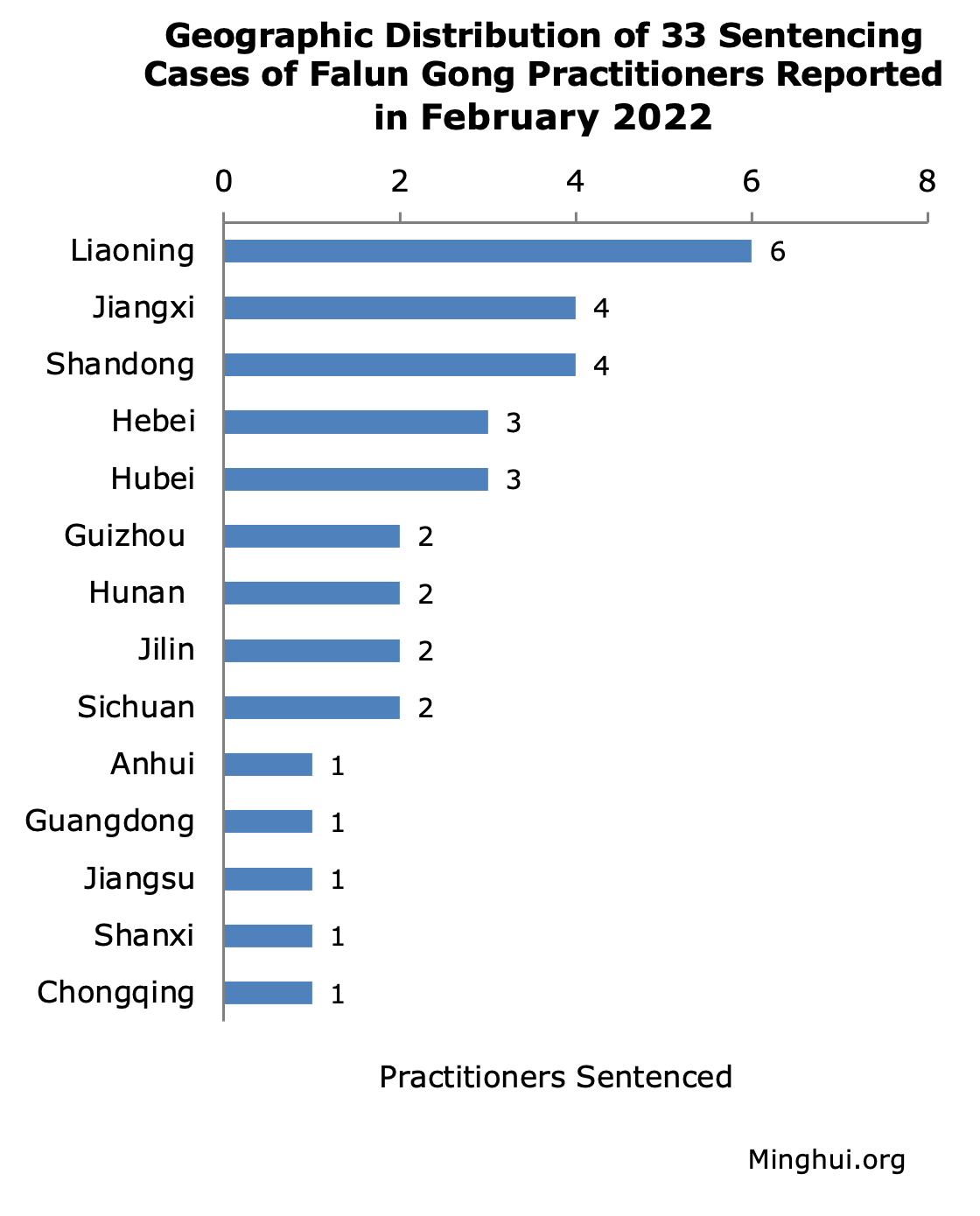 Below are snapshots of selected sentencing cases. The full list of sentenced practitioners (including cases confirmed in both January and February 2022) can be downloaded here (PDF).
Sentencing of the Elderly
73-Year-Old Woman Wrongfully Sentenced to Six Years
Ms. Zhou Xiuhua, a 73-year-old Wuhan City, Hubei Province resident, filed an appeal the very day she was sentenced to six years for practicing Falun Gong. Her family also filed complaints against the presiding judge the following day for wrongfully sentencing her.
Ms. Zhou was arrested at home on July 15, 2020. While she and her husband were being interrogated at the police station, other officers spent hours searching their home when no one in her family was present. When the couple was released the next day, they discovered that their Falun Gong books and two valuable stamp collection books were gone. At Ms. Zhou's insistence, the police agreed to provide a list of confiscated items, but it did not include their stamp books. The list didn't have the names or signatures of the officers who conducted the search or even a date.
Ms. Zhou was summoned to the police station on January 28, 2021. When she arrived, officers took her to the hospital for a physical exam. Although she failed the exam four times in a row, the police still forced the Wuhan City No.1 Lockup to accept her. She was transferred to the Wuhan City No.1 Detention Center after her case was transferred from the Dongxihu District Procuratorate to the Hanyang District Procuratorate in February 2021.
Ms. Zhou was indicted and her case was submitted to the Hanyang District Court in June 2021. She was tried in a video conference that lasted 20 minutes on December 22, 2021. Her family had applied to represent her as a non-lawyer defender in court, but the presiding judge, Deng Wei, insisted on appointing a lawyer, who was instructed to enter a guilty plea for her.
Yang Kuo, a Wuhan City Intermediate Court clerk, informed Ms. Zhou's family on January 26, 2022, that she had been sentenced to six years. Yang also went to the detention center himself to deliver the verdict to Ms. Zhou. It's not clear why Yang from the appeals court instead of someone from the first instance court itself delivered the news. Ms. Zhou appealed the verdict that very day.
The next day, January 27, Ms. Zhou's family filed complaints against judge Deng Wei of the Hanyang District Court, the Hanyang District Procuratorate, the Wuhan City Procuratorate, the Hubei Province Procuratorate, the Hanyang District Court itself, and the Wuhan City Intermediate Court.
Her family said in their complaints that, according to the law, if a defendant already has legal representation, the court shouldn't appoint additional legal representation. But even when judge Deng was aware that Ms. Zhou had entrusted her family member to defend her, he still appointed a lawyer for her without seeking her family's consent or even informing them. The judge also ignored how the police illegally confiscated her personal belongings, searched her home without her family's presence, and kept her family in the dark about the hearing.
Ms. Zhou's family applied with the higher court on January 28 to represent her in the appeals case. It's not clear whether her appeal or her family's application to represent her has been accepted.
74-Year-Old Woman Sentenced for Telling People about Falun Gong
A 74-year-old woman in Shantou City, Guangdong Province, was sentenced to six months on January 29, 2022.
Ms. Cai Xiuhua began to practice Falun Gong in 1996 when she was in her 40s. She credits the practice with curing her severe stomach issue and duodenal ulcer, which made her unable to eat many foods. The doctor predicted that she might not live past 50, but she has been healthy ever since.
On the evening of August 13, 2021, Ms. Cai was reported by a local resident for giving him informational materials about Falun Gong. The police broke into her home on August 16 and confiscated dozens of her Falun Gong books and materials and personal belongings. Her son Wang Jianshu tried to reason with the police and stop them from searching the place, only to be arrested and held in the police station for a day himself.
Ms. Cai was taken to the Chenghai Detention Center following her arrest. The police submitted her case to the Chenghai District Procuratorate on September 24. The prosecutor returned her case several times for insufficient evidence before transferring it to the Jinping District Procuratorate on November 13.
The Jinping District Procuratorate indicted Ms. Cai in December. She was tried by the Jinping District Court on January 7, 2022, through a video call. Two lawyers entered a not guilty plea for her. The judge sentenced her to six months on January 29.
77-year-old Woman Sentenced to Four Years
A 77-year-old woman in Dalian City, Liaoning Province, was sentenced to four years in early December 2021 for practicing Falun Gong.
Ms. Liu Renping was arrested on June 3, 2021, while taking care of her ex-husband, who had become seriously ill in the past few years and struggled to care for himself. The next day, her ex-husband called the police and demanded her release.
The police released Ms. Liu on June 4 but arrested her again when she went back to the police station the day after to demand the return of her confiscated Falun Gong books. Her own home was also ransacked.
Learning of her mother's arrest, Ms. Liu's daughter, who was working out of town, took leave from work and returned to Dalian to seek her release, only to be told that the police had submitted her mother's case to the procuratorate.
The Ganjingzi District Court later held a secret video hearing of Ms. Liu's case without informing her family. She was sentenced to four years and fined 30,000 yuan in early December 2021.
Ms. Liu insisted that she didn't violate any law by practicing Falun Gong or having Falun Gong books at home. She appealed to the Dalian City Intermediate Court on December 16. It's not clear whether the higher court has ruled on her case.
Ms. Liu's ex-husband was petrified witnessing the police ransack his place. He had trouble eating and sleeping and passed away soon after.
Couple in Their 70s Sentenced to Three Prison Terms and One Labor Camp Together
A couple in Wuzhong City, Ningxia Province, was transferred to prison in January 2022 to serve time for their faith in Falun Gong.
Mr. Ma Xiongde, 73, a retired watch factory engineer, and his wife Ms. Zheng Fengying, 70, also retired from the same factory, were arrested on February 22, 2021. They stood trial in the Litong District Court on August 5 and both were sentenced to 1.5 years with a 5,000-yuan fine on September 14. They were taken to the Incarceration Education Center under Ningxia Prison in early January 2022.
Prior to their latest sentencing, both husband and wife have been repeatedly targeted in the past two decades for upholding their faith. They were first arrested and detained in 2000 for writing appeal letters and distributing informational materials.
When Ms. Zheng refused to work with a local TV station to produce propaganda videos smearing Falun Gong in February 2001, she was arrested again and given two years of forced labor. While she was still serving time, Mr. Ma was also arrested and given two years of forced labor after the labor camp guards found the Falun Gong lecture he kept in the clothes delivered to Ms. Zheng during his visit.
Only one month after Mr. Ma was released, he and Ms. Zheng were arrested again. He was sentenced to five years and Ms. Zheng to three years with three years probation on December 28, 2004.
The couple was arrested together one more time, in September 2012. Ms. Zheng was sentenced to seven years and Mr. Ma to seven and half years in January 2013. Their appeals were rejected by the higher court.
Woman in Her 80s Sentenced
Ms. Cai Zefang of Nanchong City, Sichuan Province, was harassed at home on the evening of October 29, 2021. She insisted that she couldn't sign the prepared statement to renounce Falun Gong, and the police left after a one-hour standoff. They submitted her case to the procuratorate shortly after.
The Yingshan County Court later sentenced Ms. Cai, in her 80s, to 1.5 years in prison with a 3,000-yuan fine. It's not clear if there was ever a trial.
Ms. Cai was taken to the Nanchong City Detention Center on February 16, 2022. The guards refused to accept her due to her dangerously high blood pressure. She was released the same day.
Family Separated Due to Persecution
Single Father Sentenced to Four Years in Prison, Wife Died Seven Years Ago, Both Persecuted for Their Faith in Falun Gong
Mr. Chen Mingxi, 52, of Chongqing was recently sentenced to four years for practicing Falun Gong. Mr. Chen has already served two prior terms in forced labor camps, one beginning in September 2000 and the other in April 2011, for a total of three years. The torture he endured during the first term left him disabled.
Mr. Chen's wife, Ms. Wang Xiaoxia, who also practiced Falun Gong, died on October 22, 2015. She had lost consciousness three days before, unable to attend a scheduled court hearing for distributing informational materials about Falun Gong. With her mother gone and her father incarcerated, their teenage daughter now has to fend for herself.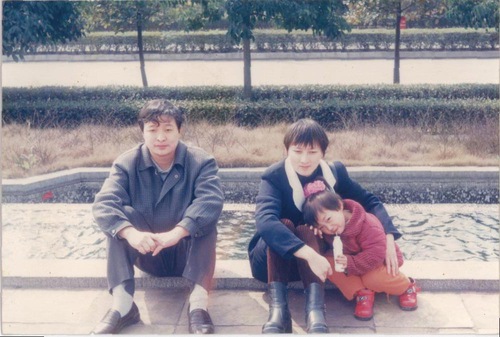 Mr. Chen Mingxi, his late wife Ms. Wang Xiaoxia, and their daughter
When Mr. Chen was about to leave home at 8 a.m. on June 8, 2021, a dozen officers broke in and surrounded him. They confiscated his Falun Gong books, a printer, a computer, and over 10,000 yuan in cash, filling four big bags and a suitcase.
Mr. Chen was taken to the Shuanglong Police Station and interrogated. The police took him to three different facilities to be examined, each one reporting that he had dangerously high blood pressure. The police released him on bail that evening. The next morning, they ordered him to the police station to sign a notice for a six-month house arrest.
At the same time, the police submitted his case to the Jiangbei District Procuratorate, which indicted him and moved his case to the Jiangbei District Court.
Mr. Chen appeared in court on December 23, 2021. Prosecutor Liu Jie read the indictment and Mr. Chen then truthfully stated that no law has ever criminalized Falun Gong in China. His lawyer also added that he didn't cause any harm to anyone by practicing Falun Gong.
When Mr. Chen was about to read his final defense statement, the presiding judge, Sun Hongtao, stopped him and adjourned the hearing. He said to Mr. Chen, "Why do you have to be so stubborn? If you didn't have a minor to care for, we would have arrested you much earlier."
Two months later, on February 18, the judge announced that Mr. Chen was sentenced to four years in prison with a 13,000-yuan fine.
Mother of Canadian Resident Sentenced
Ms. Tang Huafeng was recently sentenced to her second prison term of 3.5 years for distributing Falun Gong informational materials on June 12, 2021. Ms. Alice Zhang, her daughter who is a Canadian resident, is calling for help from the international community to rescue Ms. Tang.
Ms. Tang, a 62-year-old former middle school teacher, lives in Jinzhong City, Shanxi Province. When she was shopping at the local farmer's market on June 12, 2021, during the Dragon Boat Festival, she gave out Falun Gong information materials. One recipient reported her to the police. She was taken to the police station and detained for 15 days. The police searched her home and confiscated a notebook in which she was hand-copying the Falun Gong teachings and a picture of Falun Gong's founder.
Ms. Tang was held in the Jinzhong City Detention Center and denied family visits. Shen Jianjun of the Domestic Security Office and Li Xiuqing of the 610 Office, an extralegal agency created to persecute Falun Gong, accused her of distributing a USB flash drive with Falun Gong information. They claimed that she was a repeat offender, because of her previous 3.5-year prison term in 2015, and that the materials she distributed this time were enough to earn her another prison sentence.
Ms. Tang's daughter Alice is calling on the international community to help rescue her mother. She recalled the past persecution her mother had suffered, including two years in a forced labor camp between 2006 and 2008 and a 3.5-year prison term levied in 2015. "The Chinese Communist Party deprived her of her civil rights and her freedom of belief and expression. They also suspended her pension after 30 years of hard work. During her detention, my mother even fainted once due to a heart attack," she said.
Alice urged the Chinese Communist Party (CCP) to immediately release her mother and all illegally imprisoned Falun Gong practitioners. "I also call on the Canadian government to take action to defend Canada's values of democracy, freedom, and human rights and to uphold human dignity."
Shandong Man Sentenced to Seven Years, Father Also Imprisoned for Their Shared Faith
Mr. Gao Peng of Weifang City, Shandong Province, was recently sentenced to seven years for distributing informational materials about Falun Gong.
Mr. Gao's sentencing came while his father, Mr. Gao Guangcheng, was also serving time for his shared faith in Falun Gong. The elder Mr. Gao was arrested on April 27, 2020, for talking to people about Falun Gong. He was sentenced to 1.5 years by the Qingzhou Court on December 10, 2020, and transferred from the Changle Detention Center to the Shandong Province Prison on December 8, 2021.
Mr. Gao Peng, in his 30s, was arrested on May 18, 2021, after being reported by Zaohu Village officials for distributing Falun Gong materials. The police ransacked his home and confiscated his Falun Gong books, computer, and cellphone.
Mr. Gao was carried home at around 9 p.m. on May 20. He was unable to walk. When his family asked the police what had happened, they replied that he'd "pulled something" and didn't let Mr. Gao answer. The next morning, his right arm was swollen and he couldn't hold anything.
Between May 21 and May 25, the police returned every morning at around 6 a.m. to take Mr. Gao away. He was returned home every night at around 9 p.m. Zhao Shisheng of the Domestic Security Office ransacked his home again on the morning of May 25 before he left.
On May 26, Mr. Gao was taken away in the morning but never returned. His family was informed the next day that his arrest had been approved by the Changle District Procuratorate the previous afternoon and he was already in the Changle District Detention Center.
The authorities transferred Mr. Gao to the Weifang Detention Center on June 10 without informing his family, who didn't find out about the transfer until June 18, when they went to the Changle District Detention Center to make a cash deposit for him. They called the Changle District Domestic Security Office over ten times to inquire about his case, but no one answered their call.
The police submitted Mr. Gao's case to the Qingzhou Procuratorate on August 13. He was indicted on September 10. The Qingzhou Court informed his family on December 17 that he was scheduled to be tried through a video conference on December 20. His family recently learned that he was sentenced to seven years with a 50,000-yuan fine. He has appealed the verdict.
Targeted for Speaking Out
Sichuan Woman Taken to Nanjing, about 1,000 Miles Away, to Serve Time
A woman in Langzhong City, Sichuan Province, was sentenced by a court 1,000 miles away in August 2021 following an earlier arrest three years ago. The sentencing came only a few months after she finished serving another term for her faith in Falun Gong.
Ms. Zheng Suhua was seized at home by Qixia District Court bailiffs in Nanjing City, Jiangsu Province, about 1,000 miles from Langzhong, in early January 2022 and taken there to serve time. Her family has been kept in the dark about her situation since then.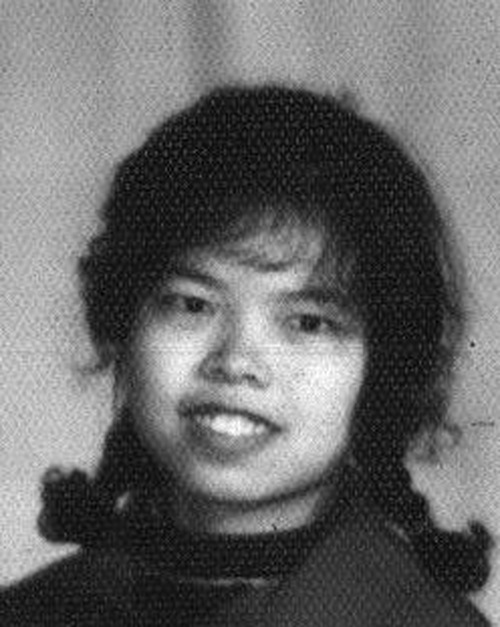 Ms. Zheng Suhua in her younger years
Ms. Zheng, 65 and retired, used to work in a silk factory worker. She began to practice Falun Gong in 2007. She has been arrested nine times, held in a brainwashing center once, and sentenced to three prison terms since 2010, all for raising awareness of the persecution.
Ms. Zheng was previously arrested on February 18, 2014, while distributing informational materials about Falun Gong. Officers from the Dongcheng Police Station confiscated her bike, purse, and Falun Gong materials. They ransacked her home that afternoon and took her cellphone, Falun Gong books, and more informational materials.
Ms. Zheng was sentenced to three years on October 21 after eight months of criminal detention at the Nanchong City Detention Center, about 60 miles from Langzhong. Her pension was suspended during her term.
She went to Nanjing City, Jiangsu Province, to care for her daughter-in-law and newborn grandchild after she was released in 2018. She was reported for talking to people about Falun Gong on a bus and arrested by officers from the Qixia District Police Station.
She returned to Langzhong after she was released on bail four months later. She was arrested again on July 5, 2019, while visiting another practitioner, not knowing that the police were ransacking the practitioner's home. Both practitioners were taken to the police station for interrogation. Ms. Zheng's own home was ransacked that afternoon.
Ms. Zheng was taken to the Nanchong City Detention Center the next day and sentenced to 1.5 years on December 7, 2019. Her pension was again suspended during her term.
Only a few months after she was released in January 2021, she was summoned by the Qixia District Court in Nanjing regarding her arrest in 2018. She refused to answer the summons. Meanwhile, she frequented the local social security office in Langzhong and demanded that the authorities return her pension. Under tremendous pressure due to the persecution, her husband often beat and verbally abused her.
The Qixia District Court bailiffs traveled from Nanjing to Langzhong to arrest Ms. Zheng. But the Qixia District Detention Center refused to accept her when it was discovered that she had a bone fracture due to a beating by her husband. The bailiffs took her back to Langzhong.
The Qixia District Court, however, summoned Ms. Zheng again in August 2021. When she refused to respond, the Qixia District Court and the Baoning Town Court in Langzhong sentenced her to one year with a 10,000-yuan fine. Her husband paid her fine but the authorities then forced him to pay another 6,000 yuan.
In January 2022, the Qixia District Court bailiffs went to Langzhong again and took Ms. Zheng to Nanjing, with the excuse that she still had eight months to serve. Her family hasn't received any updates about her since.
Hebei Man Who Spoke Up Against the Persecution Imprisoned for His Faith
Mr. Huang Honglei, an employee of Kailuan Zhongrun Coal Chemical Company in Tangshan City, Hebei Province, was arrested on March 30, 2021, after being reported for distributing informational materials about Falun Gong in a residential area. The police held him in the police station until April 2, when they transferred him to the Leting Detention Center. His home was also ransacked.
When Mr. Huang's lawyer went to visit him on April 11, the guards wouldn't let him in and demanded that he present a coronavirus test and a letter (the purpose of the letter was not clear).
The Haigang District Economic Development Zone Procuratorate approved Mr. Huang's arrest on April 22, 2021, and transferred his case to the Luannan County Procuratorate in May 2021. The county procuratorate has been assigned to handle all Falun Gong cases in the Tangshan region. Mr. Huang was indicted in early June 2021.
The Luannan County Court tried Mr. Huang on August 25, November 26, and December 29, 2021. Prosecutor Li Guohua proposed sentencing Mr. Huang to from eight to 12 months during the first hearing. Mr. Huang's lawyer argued that the prosecutor had failed to provide any evidence to show what law Mr. Huang had allegedly violated. After the hearing, the prosecutor ordered the police to continue to collect evidence. When the second hearing was held three months later, the prosecutor still couldn't present any valid evidence to charge Mr. Huang.
During the third hearing on December 29, Mr. Huang maintained that he didn't commit any crime by practicing Falun Gong. He refused to renounce his faith, despite the pressure from the authorities. Presiding judge Li Changjin adjourned the hearing and talked to the prosecutor in private outside the courtroom. He announced the 1.5-year sentence with a 3,000-yuan fine the next day. Mr. Huang was admitted to Jidong Prison on February 18, 2022.
Guizhou Woman Secretly Sentenced after Being Reported for Teaching Two Children the Falun Gong Exercises
Ms. Yang Xiaohan of Tianzhu County, Guizhou Province, was secretly sentenced to three years after she was reported for teaching the two children she cared for the Falun Gong exercises.
Ms. Yang was hired by a family in Kaili City as a nanny for their children, aged 3 and 5. In her spare time, she taught the children the Falun Gong exercises and the practice's core principles of Truthfulness, Compassion, and Forbearance.
When the parents came home, the children showed them the exercises. The mother later told her sister about it. The sister, who works for the Kaili City Domestic Security Office, reported Ms. Yang.
Ms. Yang was arrested and detained incommunicado. Her family was told by Wu Tong, the director of the Domestic Security Office, around August 2021 that Ms. Yang has been sentenced to three years.
Related reports:
Reported in January 2022: 132 Falun Gong Practitioners Sentenced for Their Faith
Reported in 2021: 1,187 Falun Gong Practitioners Sentenced for Their Faith
Views expressed in this article represent the author's own opinions or understandings. All content published on this website are copyrighted by Minghui.org. Minghui will produce compilations of its online content regularly and on special occasions.