Mother of Canadian Resident Sentenced Again for Her Faith
(Minghui.org) Ms. Tang Huafeng was recently sentenced to her second prison term of 3.5 years for distributing Falun Gong informational materials on June 12, 2021. Ms. Alice Zhang, her daughter, and a Canadian resident, is calling for help from the international community to rescue Ms. Tang.
Ms. Tang lives in the Yuci District, Jinzhong City, Shanxi Province. When she was shopping at the local farmer's market on June 12, 2021, at the Dragon Boat Festival, she gave out Falun Gong information materials to local residents. However, one person reported her to the police. She was subsequently taken to the police station and detained for fifteen days. The police searched her home and confiscated her notebook for hand-copying Falun Gong's teachings and Falun Gong's founder's picture.
Ms. Tang was held at the Jinzhong City Detention Center and denied family visits. Shen Jianjun of the Domestic Security Office and Li Xiuqing of the 610 Office, an extralegal agency created to persecute Falun Gong, accused her of distributing a USB flash drive containing Falun Gong information. They claimed that she is a repeat offender, because of her previous 3.5-year prison term in 2015, and that the materials she distributed this time were enough to land her another prison sentence.
Ms. Tang's daughter, Alice Zhang, who resides in Canada, is calling on the international community to help rescue her mother. Ms. Zhang recalled the past persecution her mother had suffered, including a two-year labor camp between 2006 to 2008 and a 3.5-year prison term given in 2015. "The Chinese Communist Party deprived her of her civil rights, freedom of belief and expression, and suspended her pension after thirty years of hard work. During her detention, my mother even fainted once due to a heart attack," she said.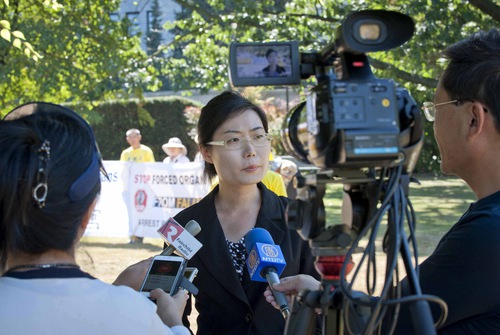 Alice Zhang spoke at a rally in February 2014, following Ms. Tang's earlier arrest.
Alice urged the Chinese Communist Party (CCP) to immediately release her mother and all illegally imprisoned Falun Gong practitioners. "I also call on the Canadian government to take action to defend Canada's values of democracy, freedom, and human rights, and to uphold human dignity."
Past Persecution
Ms. Tang, a 62-year-old former teacher at Jinhua Middle School, started to practice Falun Gong in 1998. Shortly after, her migraines, rheumatism, and many other diseases disappeared. She lives by the principles of Truthfulness-Compassion-Forbearance and always took care of students who were behind in their grades or those who lacked parental care.
However, since the CCP started to persecute Falun Gong in July 1999, Ms. Tang has been arrested and imprisoned several times for upholding her faith. In March 2006, the police arrested her while she was teaching a class and later gave her two years at the Shanxi Province Women's Forced Labor Camp.
When Ms. Tang was released in 2008, due to repeated harassment and pressure from the local 610 Office, she was forced to leave the classroom after teaching for 32 years and worked in the school kitchen to wash dishes.
Ms. Tang went to pay a New Year's visit to fellow practitioner Ms. Zheng Jianmei on February 22, 2014, only to be surrounded and seized by the police on the street. Officer Shen Jianjun threatened to harvest her organs, "I'm going to take out your heart, then your liver, and your kidneys." Ms. Tang was later sentenced to 3.5 years.
Ms. Tang was arrested again on June 12, 2021, for distributing Falun Gong information materials and sentenced to another 3.5 years. Her husband suffers severe high blood pressure and struggles to care for himself.
Related article:
After 14 Months of Wrongful Detention, Mother of Canadian Resident Put on Trial for Refusing to Renounce Her Beliefs
Views expressed in this article represent the author's own opinions or understandings. All content published on this website are copyrighted by Minghui.org. Minghui will produce compilations of its online content regularly and on special occasions.