Single Father Sentenced to Four Years in Prison, Wife Died Seven Years Ago, Both Persecuted for Their Faith in Falun Gong
(Minghui.org) A 52-year-old Chongqing resident was recently sentenced to four years for practicing Falun Gong, a spiritual discipline that has been persecuted by the Chinese communist regime since 1999.
Mr. Chen Mingxi has served two prior terms in forced labor camps, one beginning in September 2000 and the other in April 2011, for a total of three years. The torture he endured during the first term left him disabled.
Mr. Chen's wife, Ms. Wang Xiaoxia, who also practiced Falun Gong, died on October 22, 2015. She had lost consciousness three days before, unable to attend a scheduled court hearing for distributing informational materials about Falun Gong. With her mother gone and her father persecuted, their teenager daughter struggles to fend for herself.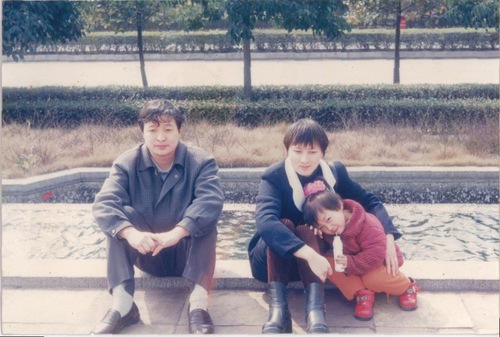 Mr. Chen Mingxi, his late wife Ms. Wang Xiaoxia, and their daughter
Mr. Chen's Latest Sentencing
When Mr. Chen was about to leave home at 8 a.m. on June 8, 2021, a dozen officers surrounded him and broke in. They confiscated his Falun Gong books, a printer, a computer and over 10,000 yuan in cash, filling four big bags and a suitcase.
Mr. Chen was taken to the Shuanglong Police Station and interrogated. The police took him to three different facilities for physical examination. As all places found he had dangerously high blood pressure, the police released him on bail in the evening. On the next morning, the police ordered him to come to the police station to sign a notice of a six-month house arrest.
At the same time, the police submitted his case to the Jiangbei District Procuratorate, which then indicted him and moved his case to the Jiangbei District Court.
Mr. Chen appeared in court on December 23, 2021.
Prosecutor Liu Jie read the indictment and Mr. Chen then truthfully stated that no law has ever criminalized Falun Gong in China. His lawyer also added that he didn't cause any harm to anyone by practicing Falun Gong.
When Mr. Chen was about to read his final defense statement, the presiding judge, Sun Hongtao, stopped him and adjourned the hearing. He said to Mr. Chen, "Why do you have to be so stubborn? If you didn't have a minor to care for, we would have arrested you much earlier."
Two months later, on February 18, the judge announced that Mr. Chen was sentenced to four years in prison with a 13,000 yuan fine.
Perpetrators involved in the case:
Sun Hongtao (孙红涛), presiding judge of Jiangbei District CourtPeng Yuxiao (彭郁潇), judgeLi Hongwei (李红微), judgeHuang Xiaoxiao (黄潇肖), court clerk
Related report:
Woman Lies Unconscious for 30 Minutes in Courtroom without Medical Attention, Dies 3 Days Later
Views expressed in this article represent the author's own opinions or understandings. All content published on this website are copyrighted by Minghui.org. Minghui will produce compilations of its online content regularly and on special occasions.