Reported in March 2022: 74 Falun Gong Practitioners Sentenced for Their Faith
(Minghui.org) The month of March 2022 recorded 74 cases of Falun Gong practitioners sentenced for their faith. The newly confirmed cases included 1 that took place in 2013; 2 in 2014; 1 each in 2016, 2017, and 2018; 24 in 2021; and 44 in 2022. Of the 44 cases in 2022, 1 was sentenced in January, 13 in February, and 30 in March.
Falun Gong, also known as Falun Dafa, is a spiritual discipline that has been persecuted by the Chinese communist regime since 1999. Since then, countless practitioners have been arrested, detained, sentenced, and tortured for upholding their faith. But due to strict information censorship in China, the incidents can't always be reported in a timely manner, nor is all the information readily available.
The convicted practitioners came from 20 provinces and municipalities. Shandong Province recorded the most sentencing cases (11), followed by Liaoning (8), Beijing (8), Hebei (7), Shaanxi (6) and Guangdong (6). The remaining 14 regions had cases between 5 and 1.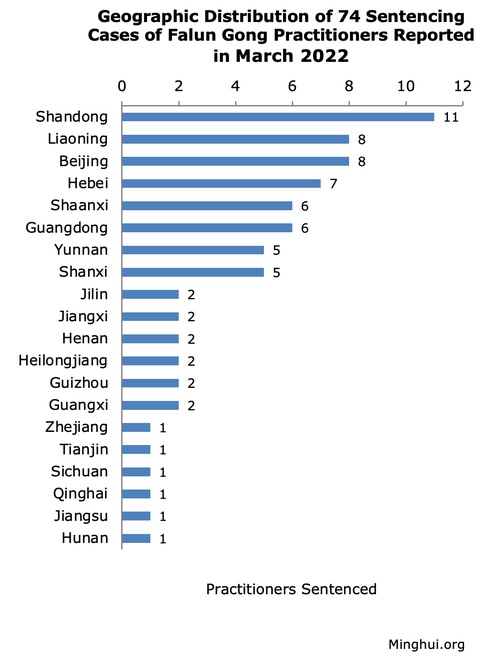 The practitioners' prison terms ranged from 7 months to 9 years, with an average of 3.22 years. Thirty-two practitioners were fined a total of 312,000 yuan, averaging 9,750 yuan per person.
Twenty-four of the sentenced practitioners are 60 or older, with the oldest being a 76-year-old man who was sentenced to three years. They came from all walks of life, including a doctor, teacher, nurse, taxi driver, and anesthesiologist.
Below are snapshots of selected sentencing cases. The full list of sentenced practitioners can be downloaded here (PDF).
Family Tragedy
Parents Die Six Years Apart in Persecution of Falun Gong, Young Woman Given Seven Years for Her Shared Faith
After losing both of her parents to the persecution of Falun Gong, Ms. Sun Yujiao, around 30 years old, was recently sent to prison to serve a seven-year term for her shared faith.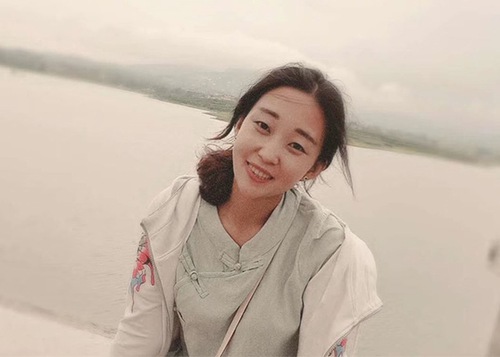 Ms. Sun Yujiao
Ms. Sun of Mengyin County, Shandong Province, was arrested at home on June 10, 2021. The police broke in and searched her home. Ms. Sun and her father's Falun Gong books, Falun Gong informational materials, a computer, and a printer were confiscated. She was first interrogated at the police station and then transferred to the Linyi Detention Center.
Eight days later, her father, Mr. Sun Pinjin, was arrested at work. His family was informed the next day that he had died.
When Mr. Sun's family saw his body at the Mengyin County Funeral Home, he appeared to be leaking brain fluid, one of his eyeballs was missing, and his abdomen and half of his head were sunken. The police refused to let his family order an autopsy. The authorities forced Mr. Sun's family to cremate his body on June 26, leaving the real cause of his death a mystery.
Mr. Sun's death came only six years after his wife Ms. Yu Zaihua died, also due to the persecution of Falun Gong, on August 19, 2015. She was 47.
Now, nine months following Mr. Sun's tragic death, Ms. Sun was sentenced to seven years and has been taken to the Shandong Province Women's Prison. It's not clear whether the authorities gave her a lengthy term to prevent her from seeking justice for her father.
Father and Son Sentenced to Prison Two Years Apart
A father and son in Meizhou City, Guangdong Province, were sentenced to five and eight years, respectively, two years apart, for their shared faith in Falun Gong.
The police raided the Zeng family's home on June 21, 2018, and arrested Mr. Zeng Haiping, his wife Ms. Zheng Guifen, and their daughter-in-law Ms. Zhu Surong. While Ms. Zheng and Ms. Zhu were released that day, Mr. Zeng was held in custody and sentenced to five years in Sihui Prison on March 22, 2019.
Because Mr. Zeng's son Mr. Zeng Fanjie had escaped the June 2018 arrest, the police attempted to deceive him into turning himself in. He refused to comply and spent the next three years moving frequently, before being arrested on January 26, 2021, after he was apprehended by the police for putting up Falun Gong posters.
The younger Mr. Zeng was sentenced to eight years with an 80,000-yuan fine on November 5, 2021, by the Mei County District Court, after hearings on July 20 and September 23. He was taken to Beijing Prison on February 14, 2022.
Mother and Daughter Sentenced to Prison
In Nanning City, Guangxi Province, Ms. Lyu Bo and her mother Ms. Fu Shujie, 67, were reported on March 5, 2020, for distributing informational materials about Falun Gong. Over ten officers broke into their homes on March 22 and confiscated their Falun Gong books, informational materials, computer, and cellphone.
Two practitioners who happened to be visiting them, Ms. Gan Yonglian who was four months pregnant and Ms. Mo Lijuan, were also arrested. Both Ms. Gan and Ms. Mo had their homes ransacked.
Although Ms. Lyu and Ms. Fu were released days later, the police camped outside of their homes to prevent them from going out or contacting other practitioners.
The four practitioners were taken back into custody on July 7, 2020, and held in the Nanning City No. 1 Detention Center. Ms. Fu's health quickly declined due to the abuse and she became incapacitated.
Ms. Lyu was sentenced to ten months and Ms. Fu to one year in March 2021. It's not clear whether Ms. Mo and Ms. Gan have been sentenced.
Shandong Woman Given Second Prison Term, Mother-in-law Passes Away
Ms. Cui Jianxiu, a 61-year-old farmer in Rizhao City, Shandong Province, was arrested on October 21, 2021, after being reported for giving a Falun Gong pamphlet to a janitor.
Ms. Cui's arrest dealt her 88-year-old mother-in-law a heavy blow. The elderly woman passed away a month later on November 14, 2021. Meanwhile, Ms. Cui's husband, who has Parkinson's disease, struggles to care for himself let alone the family's strawberry greenhouse.
Ms. Cui was tried by the Wulian County Court through a video conference on January 17, 2022. Her lawyer entered a not guilty plea for her.
The presiding judge, Yang Jie, refused to allow Ms. Cui's daughter, son-in-law and son, who'd specifically traveled from out of town to attend her hearing, inside the courtroom, citing the pandemic as an excuse. Only Ms. Cui's husband and brother-in-law, who live in the area, were allowed in.
Yang handed down a four-year sentence for Ms. Cui in early March 2022. She has appealed the verdict.
This is the second time that Ms. Cui has been sentenced to prison for her faith. She was previously given three years with four years probation by the Ju County Court in late July 2018. Weeks later, someone from the local justice bureau went to the Rizhao Detention Center and asked Ms. Cui if she still practiced Falun Gong. When she said she did, the person ordered a retrial of her case and forced the judge to re-sentence her to a one-year prison term without probation.
Elderly Targeted
Arrested After Dropping Off Grandson at School, 76-year-old Man Secretly Sentenced to Three Years
Mr. Zhang Qingxing, a 76-year-old Xinji City, Hebei Province, resident, was on his way home after taking his grandson to school on March 16, 2021, when the police arrested him. They claimed he'd been reported for talking to people at a local fair about Falun Gong months prior.
Though Mr. Zhang was released on bail initially, the authorities ordered his arrest again when he refused to have his photo taken during the "Zero-out" campaign, a concerted effort to force every Falun Gong practitioner on the government's blacklist to renounce their faith.
Mr. Zhang was taken to the Xinji City Detention Center on March 17 and has since been denied family visits. His family learned in early 2022 that he was secretly sentenced to a three-year prison term and taken to the Jidong No. 4 Prison in Tangshan City on February 18, 2022. The authorities also warned his family not to seek justice for him.
Hearing about Mr. Zhang's sentence, many neighbors who witnessed how Mr. Zhang became a better person after taking up Falun Gong in 1998, condemned the persecution.
One said to Mr. Zhang's family, "It's unbelievable that such a good person was sentenced to three years. Nowadays, the government is the law. If they say someone is guilty, they are guilty, and will be thrown into jail. But for the officials themselves, even if they violate the law, they can claim that they are innocent and get away with it. It's the reality in China we are facing now."
70-year-old Woman Sentenced to Five Years Suffers Health Problems Due to Abuse in Custody
Ms. Nie Junhua, 70, from Xingyang City, Henan Province, was secretly sentenced to five years in December 2021, six months after she was arrested. Her family is very worried about her since learning that she has been diagnosed with multiple health problems while in custody.
Ms. Nie was followed by the police on June 26, 2021, for talking to people about Falun Gong. When she went out again the next afternoon, the police ransacked her home when no one was around and confiscated her computer, printer, and other belongings. She was arrested and interrogated for two days, before being transferred to the Zhengzhou City No. 3 Detention Center.
Because Ms. Nie refused to renounce Falun Gong, the guards, who refused to accept the cash deposit her family made for her to buy daily necessities, tortured her.
On September 28, two days after Ms. Nie fainted in her cell, the guards informed her family that she had been diagnosed with high blood pressure, diabetes, disrupted blood supply to the brain, and uterine fibroids.
Her family was shocked to learn that she had developed so many symptoms after just several months of detention. Before Ms. Nie was arrested, she always had a rosy complexion, was full of energy, and looked like she was in her 50s.
Despite Ms. Nie's condition, the authorities refused to release her. The Zhongyuan District Court secretly tried her in December 2021 and sentenced her to five years with a 20,000-yuan fine without informing her family.
When Ms. Nie became incapacitated and on the verge of death in January 2022, the guards didn't inform her family and let them know that they couldn't visit her until February 14.
Even when Ms. Nie was taken to the hospital for an operation, the guards kept her handcuffed and shackled. Her family said she looked terrible, estimating that she appeared to have lost almost half of her weight.
It's not clear how long Ms. Nie was in the hospital and whether she has been transferred to prison.
Ms. Nie, a former government official, began to practice Falun Gong in February 1999. Because of her persistent efforts to raise awareness about the persecution, she has been arrested multiple times and was previously sentenced to 2.5 years.
70-year-old Doctor Secretly Sentenced to Three Years and Three Months
When Ms. Lyu Chunyu's lawyer tried to visit her in the Yaojia Detention Center in Liaoning Province on March 1, 2022, a guard revealed that she has been sentenced to three years and three months for practicing Falun Gong. They prevented the lawyer from visiting her and said they would take her to the Liaoning Province Women's Prison in a few weeks.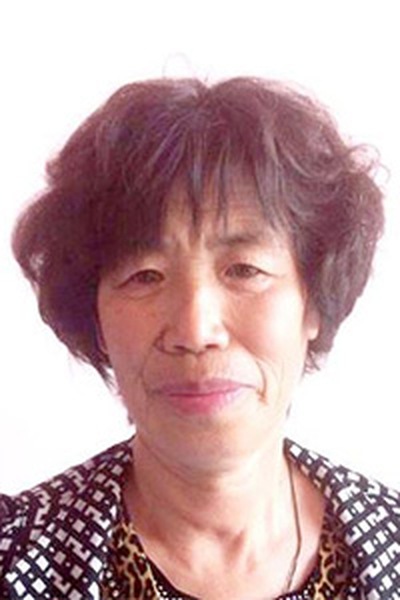 Ms. Lyu Chunyu
Ms. Lyu, a 70-year-old doctor in Dalian City, Liaoning Province, has been repeatedly harassed over the past two years for her faith in Falun Gong.
The police went to her home on November 2 and 3, 2021, and took her for a coronavirus test and physical exam. She was taken to the Yaojia Detention Center on November 3, charged with "undermining law enforcement," the standard pretext used to criminalize Falun Gong practitioners.
Ms. Lyu's family received a message on November 22 from the Dalian Economic and Technological Development Zone Court that said that she was scheduled to be tried in a video conference on November 30. Her daughter called the assistant to judge Wang Qian the next day, only to be told that the hearing had been held the day before.
Repeatedly Persecuted
Previously Incarcerated for 9 Years, Former Teacher Sentenced Again to 5.5 Years
Ms. Gong Ruiping, a former elementary school teacher in Beijing, was sentenced to 5.5 years and fined 11,000 yuan on February 21, 2022.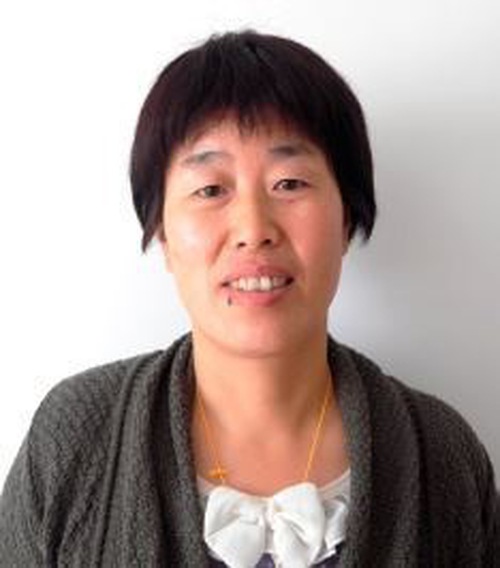 Ms. Gong Ruiping
Ms. Gong, 45, was reported for talking to a young man about Falun Gong on July 3, 2021. The police tracked her location through her cellphone and arrested her on July 20. Her two residences were ransacked and her Falun Gong items, including banknotes with messages about Falun Gong printed on them, were confiscated.
Ms. Gong stood trial at the Pinggu District Court on December 15, 2021. Her family wasn't allowed to attend. She appealed the sentence after the judge announced the verdict on February 21, 2022.
Since the persecution began in 1999, Ms. Gong has been incarcerated for over 9 years, including 4 years in prison and more than 5 years in detention centers, forced labor camps, and brainwashing centers. She also lost her job as a teacher. While she was detained, she was beaten, force-fed, and shocked with electric batons. She was injected with toxic drugs and forced to drink urine. A police officer sexually assaulted her.
After 11.5 Years of Incarceration, Heilongjiang Woman Sentenced to Another 4 Years
About a year and a half after Ms. Sun Shujie finished serving five years for her faith in Falun Gong, the Shuangyashan City, Heilongjiang Province resident was arrested again and sentenced to another four years.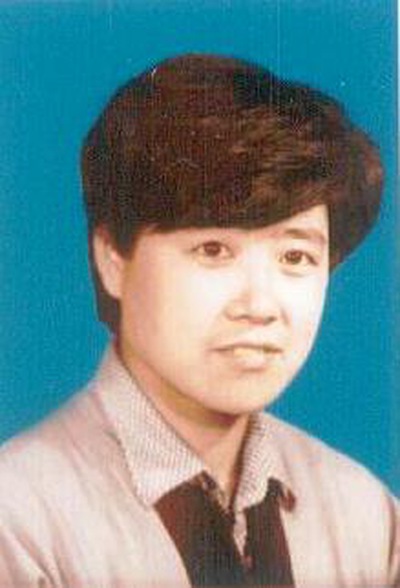 Ms. Sun Shujie
Ms. Sun was on her way to the local social security bureau on December 23, 2020, to seek the reinstatement of her pension that was suspended during her previous prison term when the police grabbed her and dragged her into a police car. They snatched her keys and ransacked her home without a search warrant. Only when her family pointed out that the home raid was illegal did deputy police chief Sun Yang produce a warrant. Ms. Sun's Falun Gong books and household items were confiscated.
After police chief Sun took Ms. Sun to the police station, he told his subordinates that they didn't have to interrogate her—they could just make up the interrogation record themselves. After holding her in isolation for a day without giving her any food or water, the police took Ms. Sun to the Shuangyashan Detention Center the next afternoon. She developed a severe medical condition at the detention center and was released on bail on January 28.
After Ms. Sun was indicted, the police arrested her again on March 30, 2021, and attempted to take her to the detention center, which still refused to accept her due to her extremely high blood pressure. The Jianshan Court gave her a copy of the indictment and put her on residential surveillance.
Ms. Sun was taken back into custody on August 21, 2021, and was later sentenced to four years. She appealed the verdict, but her appeal was turned down by the higher court. She was admitted to the Heilongjiang Women's Prison.
Ms. Sun, a 65-year-old former production manager at the Shuangyashan Mining Group, took up Falun Gong in July 1996. She credits the practice for curing her tuberculosis and enabling her to devote her energy to her work, for which she won several awards.
Since the onset of the persecution in 1999, she has been arrested 15 times for upholding her faith. She served three labor camp terms (of 1, 2.5, and 3 years) and a prison term of 5 years following her arrest in 2014.
While in custody she was beaten, restrained on a tiger bench, shocked with electric batons, stretched, and hung up. She was hospitalized 11 times and almost died.
While serving time in the Jiamusi Forced Labor Camp in 2003, Ms. Sun was given toxic drugs that made her delirious. This occurred shortly after her husband divorced her, unable to bear the persecution any longer.
Judges, Prosecutors, and the Police Blatantly Violate the Law
Woman Imprisoned After Higher Court Concealed Her Appeal from Her Family and Lawyer
After Ms. Jin Rong of Xi'an City, Shaanxi Province, was sentenced to six years on December 2, 2021, for her faith in Falun Gong, her family was eager to know whether she intended to appeal the verdict.
Not allowed to visit her, her family kept asking the Baqiao District Court that sentenced her and the Xi'an City Intermediate Court if she would file or had filed an appeal.
He Tao, the clerk for presiding judge Duan Wenwen of the district court, told the family that they would only reveal the information about her appeal to the lawyer who defended her during her trial. But when the family consulted the lawyer, he said he didn't know either.
Both the family and the lawyer then contacted judge Luo Chengxing of the intermediate court, who insisted that he had never received Ms. Jin's appeal.
On January 31, Ms. Jin's family received a call from the Lintong District Detention Center, informing them that she had filed an appeal and that she wanted her family to hire a lawyer for her.
Just when the new lawyer hired for her appeals case was on the way to visit Ms. Jin, he received notification that her appeal was rejected and she was scheduled to be taken to the Shaanxi Province Women's Prison on February 22, 2022.
Ms. Jin, in her 60s, was arrested on April 21, 2020, after being reported for talking to people about Falun Gong. This is the second time that she has been sentenced to prison. She was previously given four years in September 2014 and her latest arrest came only two years after she was released.
After Serving 3.5 Years, Yunnan Woman Secretly Sentenced to Another 4 Years
After nearly a year of incommunicado detention, Ms. Liu Guohua was sentenced to four years for her faith in Falun Gong. Her family was only recently informed of the verdict by the court.
Ms. Liu, a 54-year-old Binchuan County, Yunnan Province resident, was about to go to work in the family's field when the police pounded on the door, threatening to smash it if she didn't let them in.
As soon as Ms. Liu's husband opened the door, over 20 officers barged in. They handcuffed Ms. Liu and dragged her to the police car.
To protest the arbitrary arrest, Ms. Liu shouted, "Falun Dafa is good! Truthfulness, Compassion, Forbearance is good! Heaven will eliminate the Chinese Communist Party! Quit it to protect yourself!" That made the police accuse her of being against the Chinese Communist Party and they issued an arrest warrant for her.
During Ms. Liu's arrest, several officers searched the over ten rooms in her three-story home without a warrant. The search continued after Ms. Liu was taken away. Over 50 Falun Gong books, dozens of Falun Gong information cards, a laptop, a tablet, a DVD, over ten MP3s, multiple audio players, an e-book, and a cellphone were taken away. Before leaving, officer Yang Yu threatened her family, "Don't report this to the Minghui website!"
One officer said to Ms. Liu's family, "We don't want to do this, but it's an order from above. We were given a quota to arrest five practitioners."
Following Ms. Liu's arrest, the police refused to provide her family with any updates. It took nearly two weeks for them to find out that she was held at the Dali Prefecture Detention Center. When her family asked why they were not given a copy of her detention notice, the police claimed that they didn't know their address.
Ms. Liu's arrest terrified her mother-in-law, who was nearly 80. She suffered a heart condition and was hospitalized. As Ms. Liu's husband also suffers from a medical condition, the family, who relied on Ms. Liu for most of the household chores, is now left in a dire situation.
The police later submitted Ms. Liu's case to the Binchuan County Procuratorate. She was then indicted and secretly sentenced to four years by the Binchuan County Court.
Hebei Woman Secretly Sentenced for Speaking Up for Her Faith
Ms. Song Shuhua's family never received any updates on her case after she appeared in court on December 13, 2021, for her faith in Falun Gong. They hired a lawyer to represent her in March 2022, and the lawyer was surprised to find out that she had been sentenced to one year and ten months on February 25, 2022, but her family has never been made aware of the sentencing hearing or given a copy of her verdict.
Ms. Song, a 63-year-old resident in Laishui County, Hebei Province, was arrested on June 16, 2021, after being reported for talking to people at a community fair about Falun Gong.
During her hearing in the Zhuozhou Court on December 13, 2021, the judge said to Ms. Song, "If you promise not to practice Falun Gong anymore, we can release you and you can celebrate the New Year with your family."
Ms. Song refused to comply and replied, "Falun Gong is not a cult. It gives me good health and teaches me to be a good person. It's great, so of course I will continue to practice it!"
The judge adjourned the session without announcing the verdict.
Ms. Song's family hired a lawyer for her on March 7, 2022, only to discover that Ms. Song had already been sentenced to one year and ten months with a 10,000-yuan fine on February 25. The lawyer also learned that the deadline for filing an appeal had passed.
When the lawyer demanded a copy of her verdict, the judge refused to give it to him, but told her family to pick it up themselves. The judge also indicated that he had informed the lawyer that he had appointed to represent Ms. Song of her verdict. But Ms. Song's family said they were never aware that she had a court-appointed lawyer and that the court-appointed lawyer never contacted them about her verdict either. Moreover, the judge never informed the family of her sentencing hearing on February 25.
In addition to Ms. Song's ordeal, her daughter, Ms. Li Shuang, 29, has been held at the Xicheng District Detention Center in Beijing since her arrest on August 11, 2019, also for practicing Falun Gong.
Authorities Threaten to Arrest Shandong Woman's Family for Seeking Justice for Her
Ms. Gao Xixia, 59, of Linyi City, Shandong Province, was arrested on June 11, 2020, after being reported for distributing materials about Falun Gong. Although the police released her on bail the next day, they broke into her home and arrested her again on June 26 without a search warrant or detention warrant. Her debit cards and cash were confiscated.
Ms. Gao's family visited the police station many times, urging them to release her and not participate in the persecution, but to no avail. Her loved ones emphasized that Falun Gong wasn't on the Ministry of Public Security's list of cults and that the Chinese Publication Bureau had lifted the ban on Falun Gong books. Officer Li Qiang refused to meet with Ms. Gao's family.
The family then went to the Domestic Security Office, but the officers responsible for Ms. Gao's arrest also refused to meet with them. Due to the family's persistent efforts, the officers claimed that the arrest was ordered by the Political and Legal Affairs Committee, an extra-judiciary agency tasked with overseeing the persecution.
When the family tried to talk to Han Qihong from the Political and Legal Affairs Committee, he called the police several times and threatened to have them arrested.
Ms. Gao was tried in the Lanshan District Court on January 14, 2022. The judge rejected her family member's application to defend her in court and also prevented them from attending the hearing with the excuse they were listed by the police as witnesses against her.
The judge sentenced Ms. Gao to 3.5 years on February 21, 2022. She has appealed the verdict.
Shandong Man Sentenced to Four Years for Practicing Falun Gong That Cured His Depression
The lawyer representing Mr. Du Zhentian, a Zhaoyuan City, Shandong Province, resident, was recently informed that he had been sentenced to four years with a 15,000-yuan fine for practicing Falun Gong. Because Weifang Prison refused to take Mr. Du due to local outbreaks of COVID-19, he remains at the Longkou City Detention Center.
Mr. Du, 35, was arrested on September 8, 2021. The police handcuffed him, covered his head with a hood, and kept him in the hallway while they ransacked his home when no one was present. Many of his personal belongings were confiscated, including nearly 10,000 yuan in cash. His private car was also impounded.
While Mr. Du's two sisters and parents were also arrested on the same day, they were released shortly after.
The police revealed that they had followed Mr. Du for over six months before arresting him. He was taken to the Xinyang Hotel in nearby Longkou City the next day and held there for 42 days. His family frequented the police station and Domestic Security Office to inquire about his case but was told that it was confidential. They then hired a lawyer to visit him, only to be told that the lawyer would be denied visits as well. Worried about him, his parents aged quickly.
After one and a half months of incommunicado detention, Mr. Du's family received a notice that his arrest had been approved on October 20. They were also told that he had been transferred to the Zhangjiagou Detention Center.
The Longkou City Court scheduled a hearing of Mr. Du's case on December 17, 2021, but canceled it when his lawyer went to the courthouse on December 14 to review his case document. The court scheduled another hearing for February 18. It's not clear if the hearing ever took place before Mr. Du was sentenced.
Before taking up Falun Gong, Mr. Du suffered from severe depression after witnessing multiple arrests of his mother Ms. Wang Baolian for her shared faith in Falun Gong. He became withdrawn and had difficulty communicating. He dropped out of school and went to several hospitals in town to seek treatment, but none could offer him much help. Encouraged by his mother, Mr. Du began to practice Falun Gong and gradually recovered.
Targeted for Raising Awareness of the Persecution
Four Women Given Up to 8.5 Years for Using Banknotes Printed with Information about Their Faith
Four residents of Shanxi Province, including three from Linyi County and one from Taiyuan, were sentenced to prison for using banknotes with information about Falun Gong printed on them.
The three Linyi County, Shanxi Province, residents were sentenced by the Wanrong County Court in August 2021, following a hearing on May 12, 2021. Ms. Wang Cuixia, 50, was given eight years with a 30,000-yuan fine. Ms. Li Xiujun received two years with three years' probation and a 3,000-yuan fine. Ms. Han Guizhen was sentenced to one year with two years' probation and a 2,000-yuan fine.
Ms. Li was first arrested on April 10, 2020, after living away from home for several months to hide from the police. Her three cellphones and cash were confiscated. It is unclear when Ms. Han was arrested.
The police had begun to harass Ms. Wang on March 24, 2020. After she was forced to live away from home, the police made several attempts to arrest her but were unsuccessful. They kept going to her home to search it and harassed her family. She was arrested on November 9, 2020, while distributing informational materials about Falun Gong in a nearby town. She held a hunger strike in the detention center to protest the persecution and was force-fed several times.
The police accused Ms. Wang of providing banknotes printed with Falun Gong information to Ms. Li and Ms. Han. They submitted the three practitioners' cases to the Wanrong County Procuratorate. The police and judge Xue Yinduan denied Ms. Wang's lawyer from visiting her.
The fourth practitioner, Ms. Zhang Yuping, a Taiyuan City resident around 60, was arrested on June 12, 2021, for using the banknotes with messages about Falun Gong. She was sentenced to 8.5 years with a 30,000-yuan fine by the Yingze District Court on January 28, 2022. She has appealed the verdict.
Woman Imprisoned for Telling Others How Her Advanced Tooth Pulp Cancer Was Cured by Falun Gong
Ms. Guo Xin of Chengde City, Hebei Province, was transferred to a local prison on February 16, 2022, to serve a five-year term for raising awareness about the persecution of Falun Gong and how the ancient spiritual discipline saved her life from advanced tooth pulp cancer.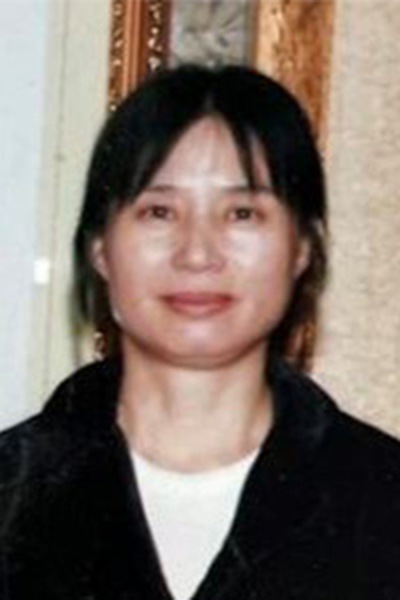 Ms. Guo Xin
Ms. Guo was arrested at home on January 11, 2019. She was later released on bail after the local detention center refused to admit her due to her health.
When Ms. Guo appeared in Shuangqiao District Court on July 10, 2019, she testified in her own defense. She described in detail how her pulp cancer was cured by Falun Gong. She said that she had small white pustules all over her gums. All of her teeth became loose. She even worried that her teeth might fall out while she was talking. The cancer also caused her front teeth to stick out and her face to become deformed. The doctor estimated that she may have less than two years left.
Tormented with excruciating pain and deep despair, she began to practice Falun Gong. Within a short time, the pain subsided and the infection was gone. The receding gums grew back and her loose teeth were stabilized.
Grateful to Falun Gong for saving her life, Ms. Guo made calendars with Falun Gong information on her own and distributed them, hoping that more people could benefit from knowing about the practice. She stated that she didn't violate any law in doing so and demanded that the judges follow their conscience and uphold justice.
On July 23, 2019, thirteen days after the hearing, the judge announced a 5-year sentence with a 10,000-yuan fine. While the court agreed for Ms. Guo to serve time at home, Tao Yibo, the deputy director of the Shuangqiao District Domestic Security Office, forcibly took Ms. Guo for a physical examination on December 10, 2021. After filling in some paperwork at the court, the police took her to the Chengde City Detention Center that same day. She was transferred to the Hebei Province Women's Prison on February 16, 2022.
Newlywed Anesthesiologist Sentenced to Three Years for Practicing Falun Gong
A doctor who'd been married for three months was arrested for speaking out about the persecution of his faith. His wife was dealt another heavy blow when he was sentenced to three years a year later.
Mr. Yao Hao, an anesthesiologist at Dongyang City People's Hospital in Zhejiang Province, took up Falun Gong not long ago and was arrested at home on January 27, 2021. The police claimed that he was reported for distributing Falun Gong materials on January 20 and they located him through the surveillance network.
Mr. Yao was taken to the Dongyang City Detention Center on January 28 and had his arrest approved on February 11, 2021. He was sentenced to three years with a 10,000 yuan fine in late November and taken to the Zhejiang Province No. 2 Prison in February 2022.
Beijing Nurse Sentenced to Three Years for Distributing Informational Materials
Ms. Wang Hefang, a nurse in Beijing, was arrested on August 26, 2021, after being reported for distributing informational materials about Falun Gong near a hospital. The police ransacked her home and searched her and her neighbor's carports.
The police summoned Ms. Wang's family on August 27, 2021, to sign her detention notice. They revealed that she had been transferred to the Pinggu District Detention Center. They also said that her attitude was bad (for not renouncing Falun Gong) and that she tried to lecture them (by clarifying the facts about Falun Gong).
Ms. Wang appeared in the Pinggu District Court on January 21, 2022, and was sentenced to three years with a 6,000 yuan fine on February 25. She has appealed the verdict.
Related reports:
Reported in February 2022: 33 Falun Gong Practitioners Sentenced for Their Faith
Reported in January 2022: 132 Falun Gong Practitioners Sentenced for Their Faith
Reported in 2021: 1,187 Falun Gong Practitioners Sentenced for Their Faith
Views expressed in this article represent the author's own opinions or understandings. All content published on this website are copyrighted by Minghui.org. Minghui will produce compilations of its online content regularly and on special occasions.