Mother of Canadian Resident Sentenced to 3.5-Year Prison Term
(Minghui.org) A former English professor in Yunnan Province and also mother of a Toronto resident, was recently sentenced to 3.5 years for practicing Falun Gong, a spiritual discipline that has been persecuted by the Chinese communist regime since 1999.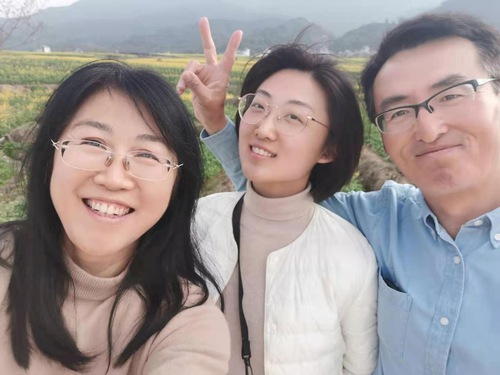 Ms. Liu Yan (left) with her daughter and husband
Ms. Liu Yan was the former director and associate professor of the Foreign Language Department of Yunnan University of Arts and Sciences. While taking a taxi on September 29, 2021, the driver, surnamed Luo, attempted to make unwanted advances toward her. Ms. Liu firmly rejected him and told Luo that she practiced Falun Gong and lives by its principles of Truthfulness-Compassion-Forbearance. In retaliation, Luo reported Ms. Liu to the police.
A dozen officers, including Ding Jianfeng and Guo Hongwei of the Wuhua District Domestic Security Office, arrested Ms. Liu the next day, while she was working at the environmental protection art museum that she and her husband operated. She was detained at the Kunming City Detention Center and denied visitation by her lawyer and family.
The Wuhua District Court sentenced Ms. Liu to 3.5 years in prison and a 5,000 yuan fine in April 2022, following a hearing on February 25. She was charged with "undermining law enforcement with a cult organization," the standard pretext used to criminalize Falun Gong practitioners. She is in the process of appealing the verdict.
Ms. Liu's daughter, Ms. Liu Mingyuan, who is pursuing a computer animation degree at Sheridan College in Toronto, has held press conferences since last October and written letters to government officials, calling for the immediate release of her mother.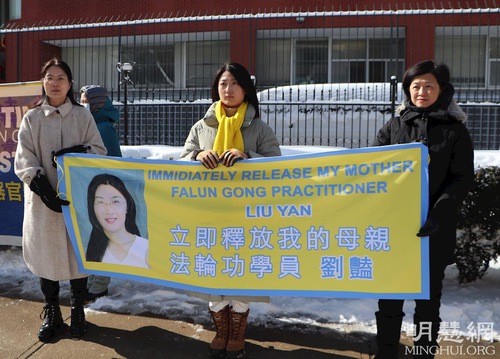 Ms. Liu Mingyuan calls for her mother's release during press conference in front of the Chinese Consulate in Toronto on February 18, 2022.
English Professor Targeted for Her Faith
Ms. Liu was offered a full scholarship by the University of Cincinnati in Ohio in 1992. Due to various reasons, she declined the offer and pursued a graduate degree at Northeast Normal University. After graduation, she became an English teacher at the People's Liberation Army Air Force Aviation University.
In graduate school, she contracted Hepatitis B and other diseases. Shortly after taking up Falun Gong, the condition went away and she passed the physical examination while applying to join the air force.
A few months after the persecution started in 1999, Ms. Liu was fired by her university. She later found a job at Lambton College (a Canadian college) and worked at its campus in Changchun City, Jilin Province. Yet the police continued to harass her.
To avoid the endless persecution, Ms. Liu and her husband moved to far-away Yunnan Province with their four-year-old daughter in March 2001. She taught at Yunnan Normal University, and won the Excellent Teacher and Excellent Employee Award in the business school six times. She also published several award-winning textbooks and significantly improved the students' English learning experience.
After local police found out that she practiced Falun Gong, they forced the school to fire her. To make a living, she and her husband, a renowned artist, opened a sculpture studio and organized painting exhibitions.
Related reports:
Toronto, Canada: Press Conference in Front of Chinese Consulate Demands Release of Local Woman's Mother Detained for Her Faith
Toronto Resident Calls for Release of Mother Indicted in China for Her Faith
Canada: On International Human Rights Day Canadian MPs Condemn the CCP for Persecuting Practitioners Via Video and Email
Artist Husband Imprisoned, His Wife, a Professor, Arrested Again
Renowned Artist's Family Suffers Cruel Persecution in Yunnan Province
Renowned Painter from Yunnan Province, Professor Liu Yong, Illegally Tried
Artist Liu Yong Given Four-Year Prison Sentence by Menglian County Court
Views expressed in this article represent the author's own opinions or understandings. All content published on this website are copyrighted by Minghui.org. Minghui will produce compilations of its online content regularly and on special occasions.