Toronto Resident Calls for Release of Mother Indicted in China for Her Faith
(Minghui.org) Ms. Liu Mingyuan is calling for the immediate release of her mother, who has been detained in China for more than two months for her faith in Falun Gong, a spiritual discipline that has been persecuted by the Chinese communist regime since 1999.
Ms. Liu, a computer animation student at Sheridan College in Toronto, Canada, spoke at a press conference in front of the Chinese Consulate on November 18, 2021. She said that her mother, Ms. Liu Yan, was arrested in Kunming City, Yunnan Province on September 30 for practicing Falun Gong.
Ms. Liu Mingyuan recounted her family's ordeals in China during the persecution, and sought help from the Canadian government to rescue her mother.
The Globe and Mail, Canada's most widely read newspaper, published an article titled "Protest at Chinese consulate to bring attention to jailing of Toronto student's mother" on its website the day before the press conference.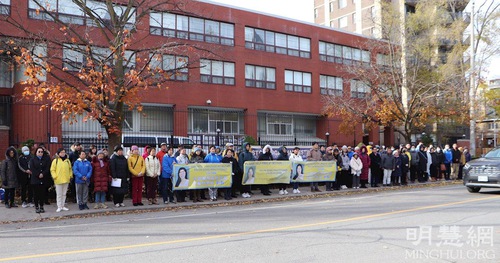 Press conference in front of the Chinese Consulate in Toronto
Ms. Liu Mingyuan speaks at the press conference calling for help in rescuing her mother from detention in China.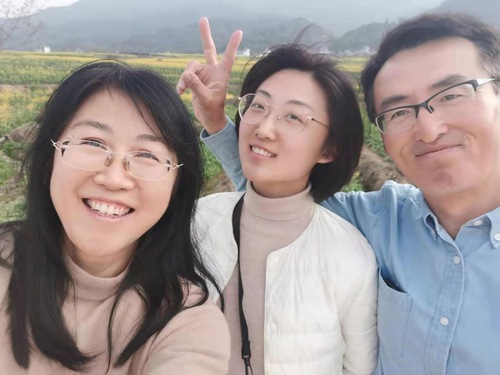 Ms. Liu Mingyuan and her parents
A Family's Suffering 
Ms. Liu Mingyuan talked about her family's ordeals in China, including that of her parents and two grandmothers, all for their faith in Falun Gong.
Her mother, Ms. Liu Yan, began practicing Falun Gong in 1994, when she was a graduate student at Northeast Normal University. Her long-term ailments, including hepatitis B and gynecological diseases, were cured after two months of practicing. 
After the persecution of Falun Gong began in 1999, Ms. Liu Yan went to Beijing to appeal for justice for Falun Gong in November 1999, taking two-year-old Mingyuan with her. She was arrested and taken back to Changchun City, Jilin Province where she lived at the time. 
Ms. Liu was an English teacher for the Chinese Air Force, but was later forced to demobilize because she refused to renounce her faith. Afterwards, she taught at Jilin University's Lymington College, a school jointly run by Memorial University of Newfoundland in Canada and Jilin University. She was also the director of the Foreign Affairs Office, and made many friends with Canadian teachers.
In order to avoid persecution, Ms. Liu Yan and her husband, Mr. Liu Yong, an accomplished artist and one of the top 100 painters in China, made a decision to move to Yunnan Province.
Ms. Liu Yan taught at Yunnan Normal University. As the director of the foreign language teaching and research department, she wrote the textbook Fluent Spoken English, which was published and reprinted three times and awarded as an "excellent textbook" for universities in Yunnan. However, the local government threatened the school with "trouble" if Ms. Liu was not terminated. She lost her job once again.
Her husband was arrested in August 2012, while working on a sculpture project in a border county in Yunnan. The police held him in the county police department as a suspect for distributing Falun Gong materials and talking to people about the persecution. He was later sentenced to four years in prison.
In prison, eight inmates monitored and abused Mr. Liu. He was forced to do unpaid hard labor. He once went on a hunger strike for more than a week to protest the inhumane treatment, but was force-fed with a feeding tube through his nose.
Ms. Liu Mingyuan recalled, "When my dad was still imprisoned, my mom was also detained by the police just after New Year's Day in 2015. She was sentenced to three years in prison for telling others about the persecution of Falun Gong."
In addition to her parents, Mingyuan's maternal grandmother was arrested in 1999 for practicing Falun Gong. She was incarcerated in the notorious Masanjia Labor Camp in Liaoning Province for two and a half years, during which time she suffered brutal torture.
Mingyuan's paternal grandmother was taken back to her hometown in the countryside because she did not give up Falun Gong. The local police kept her in custody for a year and a half. She later passed away.
Growing Up Facing Persecution
Ms. Liu Mingyuan described the impact of the persecution on her.
She said, "Although my parents did everything possible to create a happy environment for me to grow up in, I faced a social environment of injustice and oppression, which had a huge impact on my life during those twenty years. I had a hard time fitting in with my peers and always felt lonely and nervous. 
"The only thing that kept me calm and fulfilled was painting. After my mother lost her job, I didn't even want to draw anymore. My mother patiently guided and encouraged me, and enrolled me in the most professional art training course. But just a few weeks before my art exams for college entrance, my mother was arrested by the police and sentenced to three years in prison later.
"With my parents unjustly imprisoned, I was able to get into the China Academy of Art, one of the best art schools in China, with the highest score in my major. After the college entrance exams were completed, my high school teachers told me that the local police had come to the school twice attempting to harass me and block me from taking the entrance exams. But both times, the school did not let them bother me and did not tell me about it either, so that I could focus on my preparation.
"My teachers also told me that my mother had sensed that she was in danger before she was arrested. She invited my teachers out to dinner and told them the truth about Falun Gong's persecution and our family's situation. She wanted them to take care of me in case something bad happened to her. I still shed tears thinking about what happened back then. I couldn't imagine how my mother felt when she talked to the teachers at that time. While in college, I was also under a lot of mental pressure."
Fleeing China and Mother Arrested Again
Ms. Liu Mingyuan talked about how she came to Canada. "My parents decided to send me abroad to study and to live a normal life in a free country." 
"I knew that the Canadian government put a lot of importance on the issue of human rights. It has given voice and shelter to many groups from many countries suffering from persecution for their belief. It also sympathizes with and supports Falun Gong practitioners, so I decided to come to Canada."
Mingyuan was enrolled at Sheridan College in Toronto, which has a top computer animation program. During her first year of study, her animated short film won the "best animation" award and earned her a scholarship.
She continued, "Just as I was concentrating on improving my skills in 3D animation, I was shocked with the bad news – my parents, who were still rebuilding their lives, could not escape the continuous persecution."
The police arrested her mother and raided her home without a search warrant on September 30. They confiscated several computers and printers. Without any evidence, Ms. Liu Yan's arrest was approved on November 4 and she is now held at the Kunming City Detention Center.
Ms. Liu Mingyuan stated, "This is not just our family's plight. It is also the ordeal happening to millions of Falun Gong practitioners over the past twenty years. I hope more people in the international community can pay attention to it and help us. We need to end the cruel persecution and stop the dictatorial government from continuing to brutalize its own people. This prolonged persecution has been going on for almost 23 years, and every year, practitioners are being killed. This persecution must stop!"
She concluded, "I hereby implore the Canadian people, parliamentarians and the government to help me by calling on the Chinese Communist Party to release my mother and stop the persecution of Falun Gong!"
Falun Dafa Association of Canada: Release All Illegally Imprisoned Falun Gong Practitioners
Joel Chipkar, spokesperson for the Falun Dafa Association of Canada, also spoke at the press conference.
He said, "For more than two decades, Amnesty International, the U.S. government and the United Nations have been reporting on the CCP's illegal and violent persecution of Falun Gong practitioners across the country. The CCP has used intense hate propaganda to turn society against those who practice Falun Gong. Millions of Falun Gong practitioners have been kidnapped or imprisoned. Hundreds of thousands have been tortured while in detention, and thousands have reportedly been killed."
Mr. Chipkar mentioned that in addition to Ms. Liu Yan, another eleven relatives of local Canadian residents are being persecuted in China for practicing Falun Gong. "We are here to condemn the persecution of Falun Gong and demand the release of all Falun Gong practitioners, including Ms. Liu Yan."
All articles, graphics, and content published on Minghui.org are copyrighted. Non-commercial reproduction is allowed but requires attribution with the article title and a link to the original article.