Canada: On International Human Rights Day Canadian MPs Condemn the CCP for Persecuting Practitioners Via Video and Email
(Minghui.org) Two Canadian MPs (Members of Parliament), who co-chair the Friends of Falun Gong in Canada's Congress, expressed their support of persecuted Falun Gong practitioners via video and e-mail on December 10, 2021, International Human Rights Day, and condemned the CCP's (Chinese Communist Party) persecution.
The Canadian Falun Dafa Society held a press conference on International Human Rights Day. Three young people from Ottawa, Toronto and Vancouver spoke about the persecution their parents suffered in China for upholding their faith in Falun Gong (also known as Falun Dafa). Their parents are professors, artists, teachers and senior engineers. Some of them are still being held in prison because of the CCP's persecution.
Husband and Wife, Both Senior Engineers, Imprisoned for Upholding Their Faith
During the press conference, Liu (Jack) Zhiyuan, an undergraduate of Carleton University in Canada, asked the CCP to release his parents who are unlawfully detained in Beijing.
Liu Zhiyuan's father Mr. Liu Zhoubo and mother Ms. Cao Wen were arrested at home on November 19, 2021. Police ransacked their home and confiscated their mobile phones, Falun Dafa books and informational materials about Falun Dafa. Mr. Liu Zhoubo was accused of sending text messages about Falun Dafa via Bluetooth at a Beijing subway.
Zhiyuan's parents both graduated from Northeast Petroleum University in 1992. They worked as senior engineers for the China National Petroleum Corporation. His father Mr. Liu Zhoubo, is being held in Beijing No.3 Detention Center. His mother Ms. Cao Wen, is being held in the Beijing No.2 Detention Center.
Liu Zhiyuan said that his father is a rare talent who has mastered the core technology of oil fracking. His mother is also a professional technician in petroleum development projects.
Zhiyuan said that his father was sentenced to 9 years in prison for refusing to renounce Falun Dafa. "My father's life was like hell during those 9 years in prison," said Zhiyuan, "He was tortured, starved, and threatened with death. But he still held onto his belief. He was released in 2010 and continued to practice Falun Dafa with my mother."
Zhiyuan hopes that the Canadian government will help rescue his parents who are being unlawfully imprisoned in China. He said, "The persecution of Falun Dafa is illegal and must end."
Outstanding Educators Detained Again
During the press conference Liu Mingyuan, a student at Sheridan College in Toronto called to rescue her mother. Her mother, Ms. Liu Yan, taught at Jilin University - Lambton College and served as director of the Foreign Affairs Office. The college is jointly operated with the Memorial University of Newfoundland in Canada.  Fluent Spoken English, compiled by Ms. Liu Yan, was published by the Fudan University Press and republished three times. It was also rated as an excellent textbook for colleges and universities in Yunnan Province.
Both of Mingyuan's parents were persecuted in China for practicing Falun Dafa. Her father Mr. Liu Yong, was arrested in 2012 and sentenced to 4 years in prison for perseverance in his faith. Her mother, Ms. Liu Yan, was also sentenced to 3 years in prison in 2015. During their imprisonment, they were both tortured, underwent brainwashing, and were forced to do slave labor.
"Police arrested my mother again on September 30, 2021, because she persevered in practicing Falun Dafa. She is being held in the Kunming Detention Center in Yunnan Province."
Mingyuan said, "We had to move from place to place to avoid persecution since 1999. My family has suffered terrible persecution. My grandmother passed away because of the pressure, fear, and heartbreaking agony caused by the persecution. My maternal grandmother was frightened and traumatized, and was consequently paralyzed."
When she was two years old in 1999, Mingyuan was held in custody for a month with her mother. Two years later, police took Mingyuan hostage for several days in order to arrest her mother. The police did not succeed. When Mingyuan was a teenager, she was very worried about the safety of her parents whenever they came home late.
"This is not just our family's story," Mingyuan explained, "It is also the story of millions of Falun Dafa practitioners over the past two decades. Many of them were persecuted to death."
She hopes that all righteous Canadians and the Canadian government will speak out for her mother and all victims living under the CCP regime.
Vancouver Resident Calls for Help to Rescue Her Mother
Alice Zhang, a Canadian citizen living in Vancouver, called on the Canadian government to help rescue her mother, Ms. Tang Huafeng.
Ms. Tang Huafeng is a teacher. She used to suffer from various diseases but recovered after practicing Falun Dafa. She also became kind and peaceful.
Ms. Tang was arrested for raising awareness of the persecution on June 12, 2021. She is now being held at Jinzhong City Detention Center in Shanxi Province. Family visits are not allowed.
"My mother was held in a forced-labor camp from 2006 to 2008, and was sentenced to three and a half years in prison in 2015." Alice said, "Her Civil rights, freedom of belief, and freedom of speech were deprived of. Her pension, a result of her thirty years of hard work, was taken away too. My mother once passed out due to a heart attack during the detention."
She urged the CCP to immediately release her mother and all Falun Dafa practitioners who are unlawfully detained, "I also call on the Canadian government to take action to defend Canada's values of democracy, freedom and human rights, and to safeguard human dignity."
Canadian Members of Parliament: Speaking Up Is Our Responsibility
MP Garnett Genuis, co-chair of the Friends of Falun Gong in Canada's Congress.
MP Garnett Genuis, the co-chair of the Friends of Falun Gong in Canada's Congress, expressed his support for Falun Dafa practitioners through a video, "It is my responsibility to speak out."
He said that Falun Dafa practitioners have been victims of persecution by the CCP for over 20 years. They've been harassed, arrested, detained, tortured, forced to do slave labor among other things, for being involved in this peaceful spiritual practice. Thirteen Falun Dafa practitioners with ties to Canada are currently in custody in China. He said that Canada must stand up for the fundamental human rights of freedom of religion and conscience.
"Parliamentarians from every party have spoken out about the ongoing persecution of people who practice Falun Gong. We've called upon the government of Canada to deploy legal sanctions against perpetrators who, under the Chinese Communist Party, have orchestrated the torture and killing of Falun Gong practitioners. We requested the Canadian government to publicly call for an end of the persecution of Falun Gong."
In 1950, the United Nations General Assembly designated December 10 each year as International Human Rights Day, to commemorate the Universal Declaration of Human Rights adopted by the United Nations on December 10, 1948.
Guinness said, "Religious freedom is a fundamental human right. The Universal Declaration of Human Rights states that all human beings are born free and equal in dignity and rights, and that everyone has the right to freedom of conscience, thought and religion. Canada must continue to advocate for this fundamental human right. It is being denied to Falun Gong practitioners and many others in China."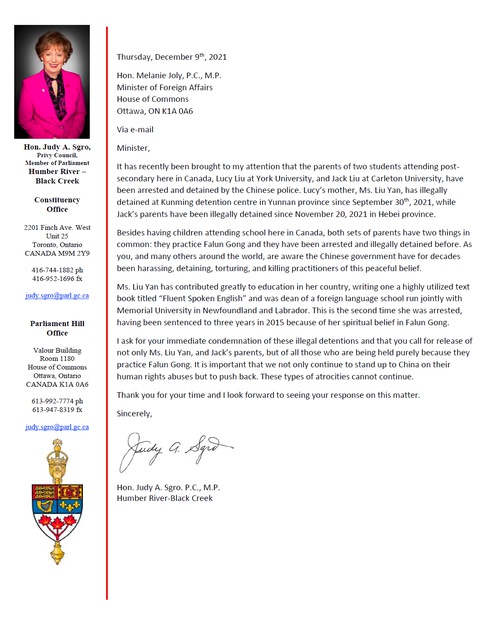 MP Judy Sgro sent an email to Prime Minister Trudeau. 
MP Judy Sgro, another co-chairman of the Friends of Falun Gong, sent an e-mail to Prime Minister Trudeau after learning of what happened to Liu Zhiyuan's and Liu Mingyuan's parents. She asked the Prime Minister to immediately condemn the CCP's unlawful detention of Falun Dafa practitioners.
In her email she called on Prime Minister Trudeau and, "asking for your immediate condemnation of these illegal detentions and that you call for the release of not only Ms. Liu Yan, and Jack's parents, but of all those who are being held purely because they practice Falun Gong. It is important that we not only continue to stand up to China on their human rights abuses but to push back. These types of atrocities cannot continue."
Background: What Is Falun Dafa?
Falun Dafa (also known as Falun Gong) was first introduced to the public by Mr. Li Hongzhi in Changchun, China, in 1992. The spiritual discipline is now practiced in over 100 countries and regions worldwide. Millions of people who have embraced the teachings that are based on the principles of Truthfulness, Compassion, and Forbearance, and learned the five gentle exercises have experienced uplifted health and well-being.
Jiang Zemin, former head of the Chinese Communist Party (CCP), perceived the spiritual discipline's growing popularity as a threat to the CCP's atheistic ideology and on July 20, 1999, issued an order to ban the practice.
Minghui.org has confirmed the deaths of thousands of practitioners as a result of the persecution over the past 22 years. The actual number is believed to be much higher. More have been imprisoned and tortured for their faith.
There is concrete evidence that the CCP sanctions the harvesting of organs from detained practitioners, who are murdered to supply the organ transplant industry.
Under Jiang's personal direction, the CCP established the 610 Office, an extralegal security organization with the power to override the police and judicial systems and whose sole function is to carry out the persecution of Falun Dafa.
Views expressed in this article represent the author's own opinions or understandings. All content published on this website are copyrighted by Minghui.org. Minghui will produce compilations of its online content regularly and on special occasions.