Former Music Teacher Sentenced for Distributing Informational Materials about Falun Gong
(Minghui.org) After a 75-year-old former music teacher was arrested for raising awareness about the persecution of Falun Gong, her daughter and nephew, who don't practice Falun Gong, were also arrested. Now all three of them have been sentenced to prison. 
Falun Gong, also known as Falun Dafa, is a spiritual discipline that has been persecuted by the Chinese communist regime since 1999.
Ms. Xu Qingfang, of Jinzhou City, Liaoning Province, was arrested by plainclothes officers on December 12, 2021, while distributing calendars with information about Falun Gong at a farmers' market. 
Upon hearing about her arrest, Ms. Xu's daughter, Ms. Meng Tao, rushed to the Daxue Police Station to inquire about her case. Ms. Xu's nephew, Mr. Xu Chi, also went there to reason with the police, but to no avail.
Mr. Xu then went to Ms. Xu's place, trying to put away her Falun Gong related items. But the police followed him and arrested both him and Ms. Meng, claiming it was because the two of them were trying to "destroy the evidence."
Ms. Xu and Ms. Meng were held at the Jinzhou City Women's Detention Center, while Mr. Xu was kept at the Jinzhou City Detention Center. 
Due to the abuse in custody, Ms. Xu developed a medical condition and was carried into the court room when she and her daughter and nephew were tried by the Linghai City Court on March 4, 2022. The judge sentenced Ms. Xu to five years, and Ms. Meng and Mr. Xu to six months each. 
Prior Persecution
Ms. Xu, a former music teacher at Taihe No. 2 Middle School, began to practice Falun Gong in 1996. She credits the practice for curing her many ailments, including rheumatic pain, thyroid tumor and hardening of the arteries in the brain. 
Shortly after the onset of the persecution, Ms. Xu was arrested and held in a brainwashing center for 40 days. She was forced to live away from home and put on the police's wanted list. 
When she went to Beijing to appeal for the right to practice Falun Gong on May 13, 2002, she was arrested after the police found a Falun Gong banner on her. She was sentenced to five years by the Taihe District Court. While held at the Liaoning Province Women's Prison, the guards beat her and forced her to sit on a small stool without moving for long hours or forced her to work without pay.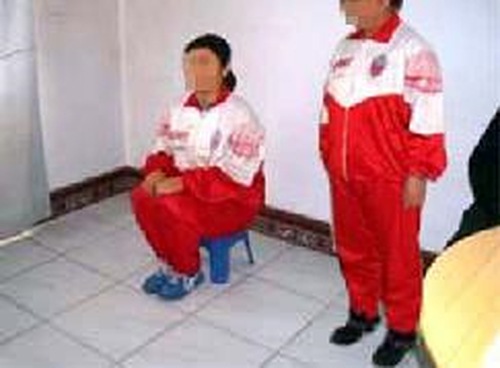 Torture reenactment: sitting on a small stool
Due to the abuses in custody, she suffered from declining memory and other symptoms after being released. Yet she never blamed the police or prison guards, but still tried to raise awareness about the persecution and urged the perpetrators to stop taking part in this crime against humanity.
Perpetrators' contact information:
Zhang Fengwu (张凤武), president of Linghai City Court: +86-416-8152001Xue Weiwei (薛伟巍), president of Linghai City Procuratorate: +86-416-8182177, +86-416-5528128, +86-416-13332188885Wu Yafan (吴亚凡), head of Taihe District Police Department: +86-416-5178899, +86-416-5179121Liu Changjie (刘长杰), head of Domestic Security Office: +86-13904161967, +86-416-5165688, +86-416-5179530
(More perpetrators' contact information is available in the original Chinese article.)
Related reports:
Jinzhou City, Liaoning Province: Seventeen Arrested in 23 Days
Views expressed in this article represent the author's own opinions or understandings. All content published on this website are copyrighted by Minghui.org. Minghui will produce compilations of its online content regularly and on special occasions.