In October 2020, 1,077 Falun Gong Practitioners Were Targeted for Their Faith
Nov. 16, 2020 | By a Minghui correspondent
(Minghui.org) According to information collected by the Minghui.org website, in October 2020 at least 433 Falun Gong practitioners were arrested and 644 harassed for their faith. Two hundred and eighty-two (65%) of the arrested practitioners remain in custody at the time of writing.
The October data brought the number of year-to-date arrest and harassment cases to 5,179 and 5,908 respectively.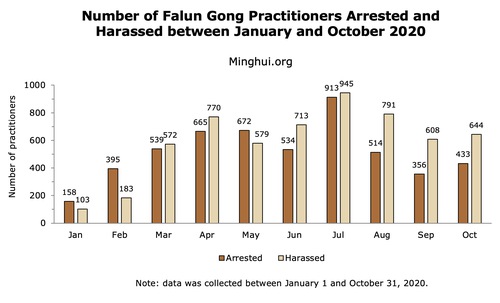 Among the 1,077 arrested and harassed practitioners, 198 had their homes ransacked. Fifty-three of those arrested and 39 harassed were over the age of 65, with the oldest being 92. Thirty-five practitioners had a total of 267,840 yuan confiscated by the police, ranging from 200 yuan to 100,000 yuan each, with an average of 7,653 yuan per person.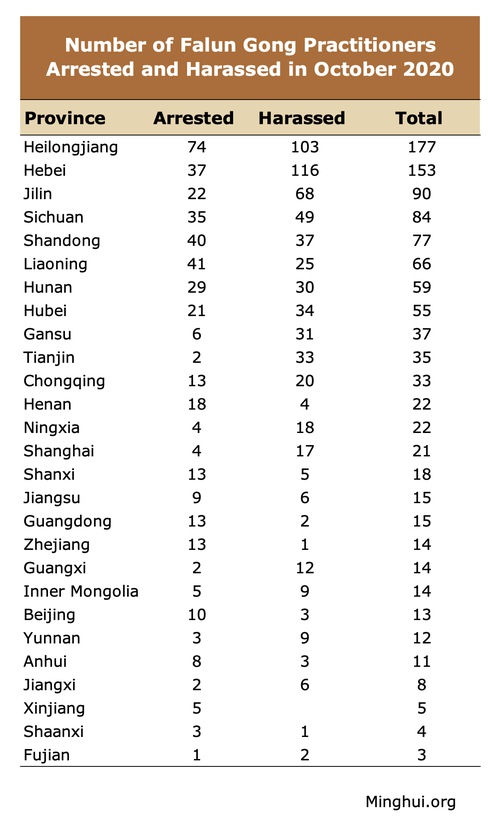 Similar to September 2020, Heilongjiang, Hebei, Jilin, Sichuan and Shandong remained the top five provinces with the most practitioners targeted in October, including 177 in Heilongjiang and 153 in Hebei Province. 
In Hengshui City, Hebei Province, the authorities have been pressuring practitioners to renounce Falun Gong. When the practitioners refused to comply, the authorities began to harass their family members to incite antagonism against the practitioners.
Several group arrests were reported in Liaoning, Hunan, Heilongjiang and Shandong Provinces.
Some practitioners were victims of police violence during their arrests. Ms. Yang Shufang of Macheng City, Hubei Province, was arrested on October 21, 2020 after a village cadre reported her to the police for talking to people about Falun Gong. En route to the Songbu Police Station, a police officer threatened her, "I'm going to bury you alive!" Ms. Yang was later released after the police forcibly took her fingerprints, blood sample, and her photo.
Below are snapshots of some of the arrests and incidents of harassment. Due to the information restrictions in China, the number of Falun Gong practitioners persecuted for their faith can't always be reported in a timely manner, nor is all the information readily available.
Cases of Individual Arrests
56-Year-Old Woman Arrested En Route to Daughter's Wedding
Ms. Li Yaping, 56, of Qinhuangdao City, Hebei Province, was arrested at the train station on October 1, 2020. Her home was later ransacked and she was detained for 10 days.
Ms. Li, a respected massage therapist who established her own Chinese medicine and massage clinic, was about to board the train to Beijing before transferring to Anhui Province to attend her daughter's wedding on October 4. However, she was intercepted and arrested at Shanhaiguan Train Station. Her daughter only learned that she was transferred to the Qinhuangdao Detention Center on October 11.
Two Elderly Residents Arrested, Forced to Wear "Tracking Watch"
Ms. Liu Guiqing, 79, and Ms. Yang Wenshu, 82, of Youyi County, Shuangyashan City, Heilongjiang Province, were followed and arrested as they were distributing Falun Gong informational materials on October 16, 2020.
The police ransacked their homes. Officers confiscated from Ms. Liu's home a computer, a printer, printer paper, photos of the founder of Falun Gong, Falun Gong books, and 200 yuan in banknotes with Falun Gong information printed on them, while Ms. Yang had her laptop, a printer, photos of the founder of Falun Gong, Falun Gong books, and nearly 1,000 yuan in banknotes with Falun Gong information printed on them taken away. 
Both practitioners were released that night. However, the police forced the practitioners to wear "tracking watches" and restricted their movement within Youyi County.
Yunnan Woman in Her 80s Arrested Again for Her Faith
Ms. Gao Qiongxian, 81, of Kunming City, Yunnan Province, was arrested at her home on October 27, 2020. She has been released at the time of writing.
When the police arrived at Ms. Gao's home, an officer first knocked on her door, and after confirming that she was at home, he left and soon returned with two more officers. They intended to bring Ms. Gao to the police station for questioning, as she had distributed Falun Gong flyers a few days before. Ms. Gao refused to go with them. One of them shoved her and pushed her into the police car.
An officer interrogated Ms. Gao with a very rude attitude at the police station. Ms. Gao said, "Young man, I'm your grandmother's age. You should learn to respect other people."
The officer changed his attitude a bit and asked how and when Ms. Gao began to practice Falun Gong. Ms. Gao told him that she used to suffer from many ailments and she learned Falun Gong to improve her health. She refused to admit any wrongdoing in passing out materials about Falun Gong. The officer let her go home after he finished asking questions.
This was the second time in seven months that Ms. Gao has been arrested for her faith. She was previously taken away from home on March 23 and held in the police station until March 25. Her family had to pay the police 1,000 yuan before she was released.
After Two Labor Camp Terms and Constant Harassment, Jilin Woman Arrested Again for Her Faith
Ms. Zhang Guixiang, a Changchun City, Jilin Province resident, was arrested at her home on October 20, 2020 by over 10 officers, most of whom were in plainclothes. They ransacked her place and took her to the Changchun City No. 2 Detention Center. 
The authorities said she would be released in 10 days, but when her family went to pick her up 10 days later, they were surprised to learn that she had been transferred to the Changchun City No. 4 Detention Center and is now denied family visits.
Ms. Zhang, 57, used to suffer many physical ailments, including heart disease, migraines, breast hyperplasia, inflammation of the tendon sheath, neck issues, and lumbar muscle strain. A colleague introduced Falun Gong to her, and three months into her practice, most of her conditions disappeared.
After the persecution started, Ms. Zhang was arrested on October 26, 2000 for going to Beijing to appeal for the right to practice Falun Gong and was later given two years at the Heizuizi Women's Forced Labor Camp. After being released four months later, she learned that her employer had fired her.
On the evening of July 21, 2002, a group of officers broke into Ms. Zhang's home and arrested her. The police also ransacked the place, and confiscated several Falun Gong-related items. Her daughter was terrified by the police raid and burst into tears.
At the police station, Ms. Zhang was shackled to a metal chair and interrogated. She passed out after they slapped her in the face and struck her head with a hard object. When she woke up, she realized that her nasal bridge had been fractured, and her face and clothing were covered with blood.
After 15 days of detention, Ms. Zhang was transferred to the Heizuizi Women's Forced Labor Camp again. Her term was extended by 50 days when she turned down the guards' request to persuade other practitioners to give up Falun Gong.
When Ms. Zhang was released on September 9, 2003, she found that her husband had lost a lot of weight and a fourth of her daughter's hair had turned gray because they both had been under tremendous stress during her detention.
The police and residential committee staff still constantly harassed Ms. Zhang and asked her to sign statements renouncing Falun Gong. Her family was always terrified when the police knocked on the door. She was forced to move six times between 2003 and 2007 to avoid the police.
Wife Arrested Months Before Husband's Prison Release for Their Shared Faith
Ms. Li Xiufang, a Meizhou City, Guangdong Province resident, was arrested at home on October 19, 2020 for her faith in Falun Gong. The police ransacked her residence and confiscated her Falun Gong-related items and photo of Falun Gong's founder.
Her latest arrest came only a few months before the end of her husband's five-year term for their shared faith in Falun Gong.
In the past two decades, Ms. Li, her husband, Mr. Zhu Xiansheng, and their daughter Ms. Zhu Surong have been repeatedly arrested and detained.
Both Ms. Li and Mr. Zhu were twice arrested together, in 2008 and 2015, respectively. Although Ms. Li was released both times, Mr. Zhu was sentenced to 5.5 years at the Meizhou Prison following his 2008 arrest and then 5 years in the Sihui Prison after the 2015 arrest.
He is scheduled to be released on December 14, 2020.
Hubei Librarian Taken to Brainwashing Center Following Seventh Arrest for His Faith
Mr. Zhang Huaping, a Wuhan City, Hubei Province resident, was taken to the Hubei Province Brainwashing Center as he refused to renounce his faith in Falun Gong.
When he returned to work after a week-long national holiday (October 1-8, 2020), Mr. Zhang, a librarian at the Hubei University of Technology, was approached by the police and school administration. They ordered him to give up his faith in Falun Gong, and threatened to fire him or take him to a local brainwashing center. As Mr. Zhang refused to comply, he was arrested on October 16, 2020. It took days for his family to find out that he has been taken to the Hubei Province Brainwashing Center.
The authorities claimed that Mr. Zhang's arrest was part of their nationwide "Zero-out" campaign, which was launched earlier this year as a coordinated effort to force every Falun Gong practitioner on the government's blacklist to give up their belief.
Prior to the latest arrest, Mr. Zhang was subjected to multiple arrests and detainments for upholding his faith.
66-year-old Man Arrested a Second Time in Six Months for His Faith
On October 13, 2020, Mr. Teng Yuguo, 66, a Shenyang City, Liaoning Province resident, was harvesting pumpkins with his wife in their garden when a group of police officers broke in and arrested him.
With his wife crying on the side, the police beat Mr. Teng and caused his face to bleed. Then they handcuffed and shackled him.
The police took him to the police car and drove him away. After four days of detention at the Dadong Detention Center, he was sent to the Sujiatun Detention Center on the outskirts of the city. The authorities prohibited his lawyer from visiting him, using the excuse of the coronavirus pandemic. His family is very worried about him now. 
Mr. Teng's wife was so traumatized that she is still scared and having trouble organizing her speech now.
Mr. Teng's latest arrest came less than one month after he returned home from six months in hiding to avoid being arrested. He had been previously seized by the same officers from the Minzhu Police Station in a group arrest of a dozen Falun Gong practitioners on April 23, 2020. The police ransacked his home and confiscated his computer, printer, and other personal belongings worth more than 5,000 yuan. His private vehicle and 12,000 yuan in cash were also impounded. Although the police returned his car, they refused to return everything else. 
Mr. Teng was released around 2 a.m. on April 27, after he was denied admission to the detention center due to a fever. The police, however, kept coming back to harass him, forcing him to live away from home and go into hiding.
Worried about him, his family asked a friend with connections with the police department to gather more information about his case. They were told that the police had already dismissed his case and it was safe for him to return home. He reunited with his family, only to be arrested again weeks later.
Gansu Woman Missing for Two Weeks and Counting
Ms. Ma Jun, 72, of Lanzhou City, Gansu Province, has gone missing since October 26, 2020. Her family suspects that she has been arrested for her faith in Falun Gong.
On October 9, 2020, Ms. Ma talked to a person on the street and gave him a calendar with information about Falun Gong. After another passerby saw her, he took the calendar from the previous person and reported Ms. Ma. He also followed Ms. Ma and tried to grab her when she was crossing the street. 
Ms. Ma ran into a public restroom and hid inside. The man who reported her, three officers from the Yanxilu Police Station who had just arrived, and a restroom janitor, all male, waited outside for two hours. As Ms. Ma still refused to come out, the janitor went inside and dragged her out. She was then brought to the Yanxilu Police Station.
The police reported Ms. Ma to the Domestic Security Office and asked them to come over to handle her case. The Domestic Security Office agents didn't show up until 8 p.m. They sent Ms. Ma back home in the evening and took away her Falun Gong books placed in the cabinet next to her sofa.
On October 10, three staff members of the residential committee came to Ms. Ma's home and ordered her to report to the police on October 12. When she went to the police station, the officer on duty asked her where she got the materials for distribution, whether she had more at home, and whether she had a computer. The officer also asked Ms. Ma to stop contacting other local Falun Gong practitioners.
For the next week, the residential committee staff returned several times to harass Ms. Ma. 
On the afternoon of October 23, Ms. Ma wrote a letter to the residential committee staff and prepared to hand deliver it to them herself.
When her family came to visit her on October 25, no one opened the door. For the next week, they came back a few times and Ms. Ma was still not home. On October 31, they finally opened her door and saw that the door of her cabinets near her bed and another cabinet that she used to put Falun Gong books were empty. The box on the table where she usually kept her copy of Zhuan Falun, the main book of Falun Gong, was empty. The photo of Falun Gong's founder and her laptop were also gone. The area between the front door and living room was very messy and had a lot of dirt on the floor. It seemed that many people had stood there. The floor in her living room was relatively clean and didn't seem to have had as much foot traffic.
Ms. Ma's family visited several local detention centers and still haven't found her whereabouts at the time of writing.
Prior to Ms. Ma's latest arrests, she was incarcerated in detention centers, brainwashing centers, and prisons for a total of 14 and a half years for refusing to renounce her faith in Falun Gong. 
77-year-old Woman Arrested Twice in Two Months, Facing Prosecution for Her Faith
Ms. Wang Yuqing, 77, of Anshun City, Guizhou Province, is facing prosecution after she was arrested for the second time in two months for her faith in Falun Gong. 
Ms. Wang was arrested in September 2020 after being recorded on a bus for talking to people and giving them information about Falun Gong. Although she was released on bail soon after, the police arrested her again on October 28, 2020. The Xixiu District Procuratorate approved her arrest on the same day, and charged her with "undermining law enforcement with a cult organization," a standard pretext used by the Chinese authorities to frame and imprison Falun Gong practitioners.
Ms. Wang is currently detained at the Anshun City No. 2 Detention Center. She was accepted despite being found to have a heart condition and lumbar disc herniation, as well as having difficulty walking. The detention center didn't allow her family to visit her and send in clothes and daily necessities for her. Her family is worried about her now. 
Prior to her latest arrest, Ms. Wang was arrested several times before, and sentenced to three years in 2013. She was so traumatized from the physical and mental torture in custody that she easily becomes terrified and trembles.
Group Arrests
Benxi City, Liaoning Province: Seven Falun Gong Practitioners Arrested in One Day
Seven Falun Gong practitioners in Benxi City, Liaoning Province were arrested on October 15, 2020.
Mr. Wu Chengjun and his wife Ms. Xiao Na were arrested around 7 a.m. by over 20 officers and community staffers. The officers ransacked the couple's home and confiscated more than 20 Falun Gong books, several printers, a computer, and Falun Gong materials.
The other practitioners who were arrested were Ms. Wang Baozhi, Ms. Li Xiaoxia, Ms. Zhang Guirong, Ms. Liu Yiling, and Mr. Li Pengfei.
Ms. Wang had her computer and other personal belongings confiscated.
Ms. Li was arrested by officers who arrived in four police cars. Many of her personal items were also confiscated.
Changsha City, Hunan Province: Seventeen Falun Gong Practitioners and One Family Member Arrested, and Two Harassed
Seventeen residents of Changsha City, Hunan Province were arrested on October 27 and 28, 2020 for their faith in Falun Gong. One practitioner's nephew, who doesn't practice Falun Gong, was also arrested. Two practitioners, 74 and 86, were also harassed on the same day.
It's reported that the police in Changsha had monitored the practitioners for a year with big data surveillance. The Changsha police consulted with the Hunan Ministry of Public Security and settled on a name list of practitioners for the orchestrated arrests. 
At around 10:30 p.m., more than twenty officers who had been waiting outside broke into Mr. Li Zhigang's home, when a practitioner opened the door after they finished studying Falun Gong teachings together. All of the officers were in plainclothes, except for one in police uniform. Ms. Cao Zhimin demanded to see their IDs and said it's illegal for them to break into a private residence. The officers didn't show their IDs but just said they were from the Liuyang Police Department. 
Ms. Cao and her husband Mr. Chen Yang shouted "Falun Dafa is good" to protest the persecution. The officers immediately pushed them to the ground, handcuffed their arms behind their backs and put black hoods over their heads. 
The police also arrested the remaining practitioners in Mr. Li's home, including Mr. Cao Zhifang and his wife Ms. Yang Fang, Ms. Long Langqiong, Ms. Yu Hui, and Ms. Wen Jing. 
Mr. Li was handcuffed and restrained on the sofa in the living room and his mother was kept in her own room. The remaining officers searched his home and confiscated many of his belongings, including Falun Gong books, computer, thumb-drive, and some cash. 
When the officers were about to take Mr. Li and his mother away, Mr. Li's sister and her husband, who don't practice Falun Gong, came to visit. The police said they were taking Mr. Li and his mother to the Furong District Police Department and didn't specify what would happen after that. As Mr. Li's mother is of advanced age, she firmly refused to go with the police. They relented and didn't arrest her. 
While Mr. Li's sister and her husband were at Mr. Li's home, the police also went to the couple's home and arrested their son Lu Junguang, a college student, after he told the police that he had used anti-censorship software to get access to the internet outside of China. The police informed Lu's parents the next day that they were putting him under house arrest. When Lu's father went to the police station and signed his house arrest notice, the police didn't release him as promised but sent Lu to the Liuyang Detention Center. 
Other practitioners who were arrested on October 27 include Ms. Xu Lihua, Ms. Gong Xianghui and her husband Mr. Lu Congying, Ms. Zhang Lingge, Ms. Zhang Furong, Ms. Li Donghui, Ms. Yuan Jing, and Ms. Liu Yanping. Another practitioner, Ms. Zhu Cuihua, was arrested and had her home ransacked on October 28. 
Two more practitioners, Ms. Xia Jingze, 74, and Ms. Li Zhonghua, 86, were harassed that same day. 
Nine Falun Gong Practitioners and One Family Member in Heilongjiang Province Arrested
Nine female Falun Gong practitioners in Jiamusi City, Heilongjiang Province, were arrested at a private home on October 14, 2020. A practitioner's husband was also arrested.
The practitioners are Ms. Liu Lijie and her 78-year-old mother, Ms. Yu Xiulan, Ms. Cui Shengyun, Ms. Zhang Shuhua, Ms. Cai Rong, Ms. Dan Yuqin, Ms. Qin Yuzhen, Ms. Li Xiurong, and 92-year-old Ms. Dong Shuxian. Ms. Liu's husband, Mr. Wang Xu, who was sitting in his car and using his phone, was also arrested. All the practitioners' homes were later ransacked.
The arrest was a joint cooperation between several police stations and departments. The police had waited at the building staircase for several hours before breaking into the home where the practitioners were gathering. 
Ms. Dong and Ms. Yu were released on bail the next day. Except for Ms. Cai who was placed on administrative detention for 10 days, the rest of the practitioners and Mr. Wang were placed on criminal detention.
At the time of writing, Ms. Dan, Ms. Liu, Ms. Qin, and Ms. Cui were released on bail while Ms. Zhang, Ms. Li, Mr. Wang, and Ms. Cai are detained at the Jiamusi City Detention Center.
At Least Nine Shandong Residents Forced to Pay a Bail Bond of 10,000 Yuan Each
Officers from the Dongchangfu District Police Department in Liaocheng City, Shandong Province broke into Ms. Hua Lipin's home at around 9:00 p.m. on October 16, 2020.
They arrested Ms. Hua Liqin, her husband, Ms. Chen Jun, Ms. Sun Xiu'e, Ms. Li Guihua, Mr. Zhang Liang, and another practitioner surnamed Xu (gender unknown). They ransacked several practitioners' homes, including three other practitioners, and confiscated Falun Dafa books and printed materials. 
The police took the practitioners' fingerprints and forced each of them to pay a bail bond of 10,000 yuan. Ms. Chen Jun refused to have her fingerprints taken or pay the bail. Some practitioners were released that night while others were released the next day.
Cases of Harassment
Former Radar Design Engineer Held by Police After Being Released from Prison
Mr. Ma Zhenyu was still monitored after he finished serving three years for mailing information about Falun Dafa to Chinese Communist Party (CCP) leaders. Mr. Ma, a former engineer at the Ministry of Information Industry of China, was released from the Suzhou Prison in Jiangsu Province on September 19, 2020 and sent back to his hometown in Nanjing of the same province. He is currently living in a residence assigned by the police and under intensive surveillance.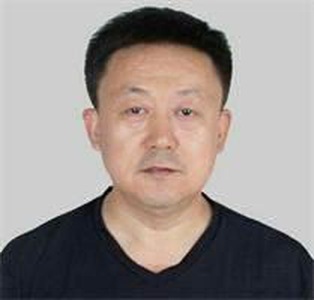 Mr. Ma Zhenyu
The police intimidated Mr. Ma's family, including his mother, who is in her 80s, and told them not to contact his wife. They also intimidated local Falun Dafa practitioners and ordered them not to contact or visit Mr. Ma, threatening them with arrest if they did so. 
Mr. Ma's wife, Ms. Zhang Yuhua, former Department Chair of the Russian Nanjing Normal University, is now residing in the U.S. She met with President Trump at the White House in July 2019 and told him how the CCP has persecuted her husband. Given her active efforts to raise awareness about the persecution of Mr. Ma, the authorities in China are trying to stop her from contacting him.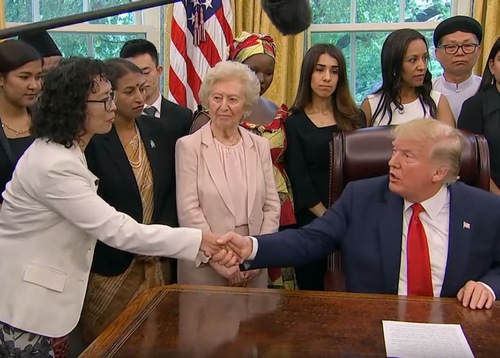 Ms. Zhang Yuhua meets with President Trump on July 17, 2019
Heilongjiang Authorities Attempt to Force Falun Gong Practitioners to Renounce Their Faith
Since August 2020, the authorities in Jiansanjiang, Heilongjiang Province have been harassing Falun Gong practitioners as part of the "Zero-out" campaign.
Ms. Jiang Xinbo moved to Shandong Province temporarily last year to stay with her daughter, who graduated from college and had gotten a job there. On October 3, Ms. Jiang's husband and brother, instructed by Qianjin Farm CCP officials, traveled two thousand miles to Shandong to urge Ms. Jiang to sign the guarantee statements. After Ms. Jiang refused, officials suspended her husband's job at Qianjing Farm School. They also sent a letter to Ms. Jiang's daughter's workplace, threatening to have her fired from her job.
Ms. Jiang has been sentenced to prison twice, for a total of seven years, for her faith in Falun Gong; and twice she was taken to brainwashing centers.
Another practitioner, Ms. Pan Shurong, lives with her daughter and son-in-law. On October 10, two officials from her daughter's workplace visited her and demanded that she sign the guarantee statements. When Ms. Pan refused, they threatened, "Both your daughter and son-in-law have good jobs. If you don't sign the statements, they may lose their jobs." Ms. Pan's whole family has been very stressed about the persecution.
Elderly Sichuan Woman Harassed for Her Faith
Ms. Xu Kairong, in her 70s, of Shifang City, Sichuan Province, was harassed at home on October 26, 2020, when she was working to grow wood ear mushrooms. Ms. Xu's harassment is also a part of the "Zero-out campaign."
The police first said they came to check on how she was doing. Then one officer warned her not to "walk around."
Knowing that he was referring to her going out to talk to people about Falun Gong, Ms. Xu responded, "I have my own feet, so why can't I walk around?" She went on to say that the Chinese publication bureau had revoked the ban on Falun Gong books in 2011 and that there was nothing wrong with her spreading information about the practice.
She urged the police not to participate in persecuting Falun Gong as they'd be held accountable for their actions. When the officers expressed disbelief in her comment, Ms. Xu asked them to write down their names so she could seek justice against them in the future. The officers refused to reveal their identities and repeated that they were just there for a welfare check. They then left.
Related reports:
964 Falun Gong Practitioners Targeted for Their Faith in September 2020
1,184 Falun Gong Practitioners Targeted for Their Faith in August 2020
1,410 Falun Gong Practitioners Targeted for Their Faith in July 2020
5,313 Falun Gong Practitioners Targeted for Their Faith in First Half of 2020
938 Falun Gong Practitioners Targeted for Their Faith in May 2020
1,178 Falun Gong Practitioners Targeted for Their Faith in April 2020
747 Falun Gong Practitioners Targeted for Their Faith in March 2020
The Persecution of Falun Gong Continues in China Despite Coronavirus Pandemic
194 Falun Gong Practitioners Targeted for Their Faith in January 2020
Related article in Chinese: