1,184 Falun Gong Practitioners Targeted for Their Faith in August 2020
Sept. 20, 2020 | By a Minghui correspondent
(Minghui.org) According to information collected by the Minghui.org website, 463 Falun Gong practitioners were arrested and 721 harassed for their faith during the month of August 2020. Two hundred and ninety-two practitioners remain in custody at the time of writing.
Among the 1,184 arrested or harassed practitioners, 211 had their homes ransacked. A total of 18 practitioners were extorted for a total of 154,812 yuan, averaging 8,600 yuan per person. Six practitioners were extorted of between 10,000 and 50,000 yuan each.
Sixty-six of the targeted practitioners were between 65 and 86, including 42 arrested and 24 harassed. Twenty-three practitioners were in their 80s.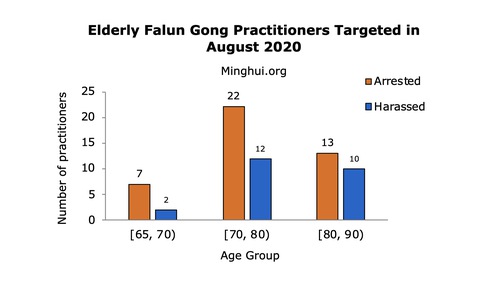 The practitioners came from all walks of life, including engineers, teachers, and government employees.
Hebei, Shandong, Heilongjiang, Liaoning, and Sichuan were the top five provinces with the most practitioners targeted.
In Shanghai, the police forcibly collected the practitioners' blood samples; took their photos, fingerprints, and palmprints; and recorded their voices, handwriting, and heights in a new round of harassment. Some practitioners suspect that the collecting of so much personal information is related to the organ harvesting crimes, as well as for the authorities to establish a comprehensive surveillance network of the practitioners in China.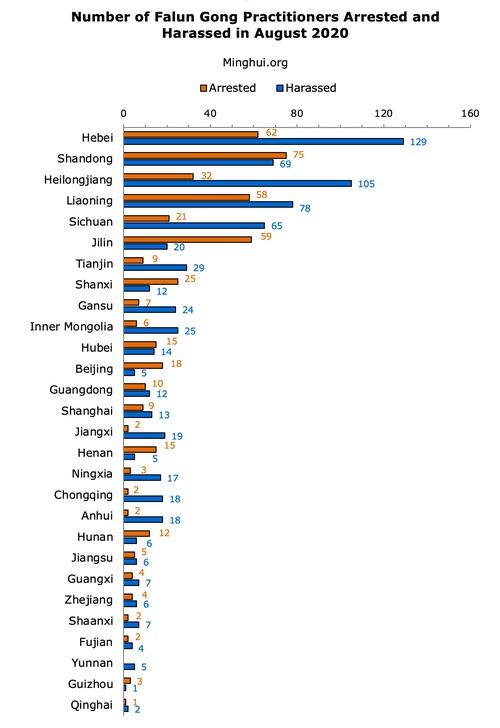 The Nationwide "Zero-out" Campaign
In recent months, the Political and Legal Affairs Committee (PLAC), an extra-legal judiciary agency tasked with persecuting Falun Gong, initiated the "Zero-out" campaign across the country, unleashing a concerted effort to force every single practitioner on the government's black lists to renounce Falun Gong.
In Youyi County, Heilongjiang Province, nearly 20 practitioners have been harassed since July 2020. At each practitioner's home, the police first asked if they still practiced Falun Gong. When the practitioners said they did, the officers told them that if they signed the renunciation statement and promised not to practice Falun Gong, they wouldn't be harassed further.
When the practitioners refused to comply, some officers threatened to arrest them and take them to brainwashing centers. Other officers threatened to suspend the practitioners' pensions and get children fired from their jobs or denied an education.
One officer said to a practitioner, "If you don't sign it, you will disappear if we give the order."
Ms. Yang Wenshu, a practitioner in her 80s who has moved out of town, and Mr. Lin Zehua, who became bedridden after being tortured in Jiamusi Prison for eight years, were also harassed.
To try to force Ms. Li Shuqin to sign the statement, Lu Donglei, the head of Youyi Town Police Station, forced Ms. Li's children to return from out of town to cooperate with him.
In Datong City, Shanxi Province, the local PLAC provided funding on August 25, 2020, to host brainwashing sessions in a hotel. Practitioners on the police's black list, as well as some of their family members, were taken to the hotel to be subjected to closed-door brainwashing.
To force the practitioners to sign the statement renouncing Falun Gong, authorities in Beihai City, Guangxi Province, ordered each practitioner to bring one family member to their local police station. If the practitioner refused to comply, the police would order their family member to sign it. The police also ordered the practitioners to sign the statement in front of a photo of Falun Gong's founder to make them feel even more guilty about betraying their faith or to humiliate them.
Other cases of harassment have also been reported in Tianjin, Shandong, Shanxi, Inner Mongolia, and even Qinghai, a high-altitude and sparsely populated northwestern province where persecution cases aren't often reported.
Below are snapshots of some of the arrests and incidents of harassment. Due to the information restrictions in China, the number of Falun Gong practitioners persecuted for their faith can't always be reported in a timely manner, nor is all the information readily available.
Arrested and Detained for Their Faith
69-Year-Old Woman Experiencing Medical Problems in Detention and Facing Prosecution
Ms. Zhao Xin, a 69-year-old resident of Jilin City, Jilin Province, was arrested on August 16, 2020, for distributing materials about Falun Gong at a local market. The police ransacked her home and confiscated her Falun Gong materials.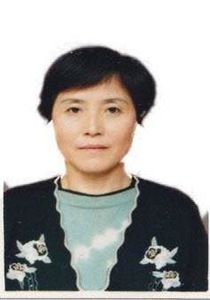 Ms. Zhao Xin
Ms. Zhao was taken to Jilin Detention Center that night and her family was not allowed to send her any clothing. As she only had on short sleeves and pants when she was arrested, she had to buy clothes.
Within seven days of Ms. Zhao's arrest, the Chuanyin District Police Department submitted her case to the Procuratorate, saying that they had sped up the process due to the coronavirus outbreak.
When Ms. Zhao's 's lawyer visited her on September 5, 2020, he learned that she had been suffering from dangerously high blood pressure and often felt dizzy. She also revealed that she had abnormal vaginal bleeding.
Ms. Zhao's husband suffers from high blood pressure and requires special care. He had a convulsion when the police raided their home. With Ms. Zhao currently in police custody, her husband is struggling to care for himself. Her family is calling for the Procuratorate to dismiss her case and release her.
Zhejiang Woman Secretly Detained
Ms. Wang Wenjun of Shaoxing City, Zhejiang Province, was arrested at home at around 1:00 p.m. on August 4, 2020. Her family was informed the next day that she has been criminally detained. On August 6, they were told that Ms. Wang would be taken to a brainwashing center. When they asked the police where the brainwashing center was located, an officer said it was a secret.
In the week after Ms. Wang's arrest, her family frequented the local police station, police department, and residential committee's office, but still couldn't find her. One officer revealed that she was being held in the office of Shangyu District Political and Legal Affairs Committee. It remains to be investigated where exactly she is being detained.
Jilin Couple Arrested Twice in Four Months, Face Prosecution
A couple in Yushu City, Jilin Province, was arrested at home on August 6, 2020, and are now facing prosecution for their faith in Falun Gong.
This is the second time Mr. Liu Dapeng and his wife, Ms. Li Chunhuan, have been arrested within the past four months. They were arrested in early April 2020 after being reported for distributing Falun Gong materials. Because the local detention center refused to accept them due to the coronavirus outbreak, they were released two days later and prohibited from leaving Yushu City.
It's been reported that the police submitted their cases to the Procuratorate shortly after their latest arrest. Mr. Liu is still detained at the time of writing, while Ms. Li was released after she was found to have hepatitis B.
The police revealed to Ms. Li that they had arrested her again in an attempt to close a case from 18 years ago.
On September 20, 2002, Mr. Liu and his sister, Ms. Liu Shuanghui, were arrested for practicing Falun Gong. He was sentenced to 11 years and Ms. Liu to 8 years. Ms. Li was also targeted by the police, but she escaped arrest. Her husband was released on April 29, 2011.
Ms. Li was arrested in 2003 and tortured during interrogation. In the Jilin City No. 3 Detention Center, she held a hunger strike to protest the persecution and was force-fed. She almost died from the force-feeding and only then was she released.
Liaoning Woman Arrested at Airport Before Trip to Visit Her Sons
Ms. Cao Yueling, a Fushun City, Liaoning Province, resident, was arrested at the local airport on August 24, 2020. She had planned to take a flight at 2:30 p.m. to visit her twin sons in Shanghai.
The police took Ms. Cao to her residence and ransacked it. Many of her Falun Gong books and materials were confiscated.
The police also attempted to arrest Ms. Cao's mother, Ms. Chen Yan, who had been released just three months prior, after serving a three-year term for practicing Falun Gong. Ms. Cao's father stopped them.
Ms. Cao is being held in an unknown detention facility in Xinbin County.
Blood Samples and Biometrics Forcibly Taken
Police in the Pudongxin District of Shanghai collected Falun Gong practitioners' blood samples and biometrics in early August 2020.
One officer revealed that they had received the order from their superiors two months ago. Some practitioners were forced to report to the police after being pressured by their families. If they refused to report to their local police stations, officers went to their homes or took them to the police stations to collect samples of their blood and other information.
While collecting a blood sample from Ms. Shen Fang, 70, on August 2, 2020, one officer said it was a "national policy," and another officer said, "We just won't follow the law, we are going to eliminate you all!"
Another Shanghai resident, Ms. Wang Zhiliang, 72, had her blood drawn on August 7, 2020. A woman claiming to be a residential committee staff member knocked on Ms. Wang's door at around 10:00 a.m. on August 7. She first asked whether Ms. Wang needed to have a physical exam. After Ms. Wang said she did not, she demanded to see Ms. Wang's household registration and said they were conducting a census.
Ms. Wang opened the door to let the woman in, only to have four male officers rush in. Her daughter was terrified and locked herself in her room.
After taking Ms. Wang to the Gaoxing Police Station, the police took photos of her, both from the front and side. The officers also recorded her height, weight, shoe size, fingerprints, and palmprints before collecting a sample of her blood.
This incident left Ms. Wang and her family traumatized. Her neighbors who witnessed her being taken away by the police were frightened. They turned away and avoided talking to her when they saw her in the hallway.
Persecution of the Elderly
Two Women, Including One in Her 80s, Interrogated
Ms. Yang Guangmei, 80, and Ms. Luo Ying of Mianyang City, Sichuan Province, went to Guandi Town nearby to distribute informational materials and talk to people about Falun Gong on August 21, 2020, only to be reported. The police arrived quickly and shoved both women into the police car, despite Ms. Yang's advanced age.
They were taken to the Guandi Police Station, where the police searched their bags and confiscated their Falun Gong materials before reporting them to the Domestic Security Office in the Fucheng District in Mianyang City.
An agent named Zhao Houjun came half an hour later. He asked Ms. Yang and Ms. Luo for their names and addresses, as well as where they got the Falun Gong materials. The practitioners refused to answer his questions.
The police then took them to the Shitang Police Station in the Fucheng District and interrogated them in separate rooms. Both women were restrained on metal interrogation chairs. Ms. Luo resisted when the police tried to put shackles on her. They then stepped on her feet and forcibly put a pair of handcuffs on her ankles.
The police videotaped the interrogations, but the women refused to cooperate. They were taken back to the Guandi Police Station and released at 10:00 p.m., after the release notice from the Domestic Security Office was received.
Man in His 70s Detained Incommunicado
Mr. Si Xiangchao, a resident of Jining City, Shandong Province in his 70s, has been detained incommunicado since his arrest on August 11, 2020.
This isn't the first time that Mr. Si has been targeted for his faith. Mr. Si was given one year and three months of forced labor after he was arrested for passing out information about Falun Gong in 2010.
He was arrested two more times, on December 6, 2011, and in 2014, also for distributing Falun Gong materials.
Mr. Si was arrested on October 17, 2016 for handing out calendars with information about Falun Gong and was detained in the Jinxiang County Detention Center for 12 days. The police ransacked his home when no one was around. His Falun Gong materials, a media player, and 2,000 yuan in cash were confiscated.
Mr. Si was harassed in 2017 for filing a criminal complaint against Jiang Zemin, the former head of the Chinese Communist Party, for ordering the persecution of Falun Gong in 1999.
He was arrested again in December 2019 after being reported for handing out Falun Gong materials. The police impounded his electric motorcycle and slapped him in the face three times.
Women in Their 80s Harassed
Ms. Li Qidian, a Taian City, Shandong Province resident, around 80, had her home ransacked and Falun Gong books confiscated on August 5, 2020. Even though her husband is bedridden and incapacitated, the officers took Ms. Li to the police station to interrogate her. She was released at around 5:00 p.m.
Before leaving the police station, Ms. Li asked the police to return her copy of Zhuan Falun, the main text of Falun Gong, but they refused to. The police also denied her request to have a list of the items they'd confiscated from her.
Ms. Ding Jiayi, 86, of Maoming City, Guangdong Province, found three plainclothes officers outside of her apartment building monitoring her on August 21, 2020.
For the next two days, different people came to her neighborhood and asked the security personnel about her and her daughter. Because Ms. Ding lives by herself, her three children often come to visit her on the weekends. This ongoing surveillance distresses her and her children when they come to visit her.
Threatened at Work
Engineer Denied Promotion and Sent to Do Janitorial Work for Upholding Her Faith
Ms. Ma Yongyan of Jinchan City, Gansu Province, works at the local power plant. She was arrested on August 2, 2020, and had her home ransacked. She was interrogated for two days, followed by 15 days of detention.
Several days after she was released, a Guilinlu Police Station officer and several security personnel from her company tried several times to force the 52-year-old engineer to sign statements to renounce Falun Gong. Because she refused to abandon her belief, she has only been allowed to do janitorial work, and has since been under constant surveillance.
Prior to Ms. Ma's arrest, she was harassed and threatened with the loss of her job multiple times in July 2020 by local police and security personnel at her workplace.
Also for upholding her faith over the past two decades, Ms. Ma was arrested multiple times and detained for a total of 288 days. The management at the power plant stopped considering Ms. Ma for promotion beginning in 2002. After more than 20 years, she only earned as much as a new hire. She was given the lowest bonus in the entire department and was not allowed to take days off. Her total losses due to the persecution are estimated to be about 180,000 yuan.
Elementary School Teacher Threatened by Her Principal
Ms. Liu Hening, a 39-year-old elementary school teacher in Ningjin County, Hebei Province, was harassed by agents from several government agencies and the local education bureau in August 2020. The officials threatened to take her to the local brainwashing center if she didn't sign the statement to renounce Falun Gong.
On August 5, 2020, Sheng Ming, the head of the Ning County 610 Office, an extralegal agency created to persecute Falun Gong, said to Ms. Liu, "As long as the Communist Party still exists, the Falun Gong issue won't be redressed. Are you still practicing Falun Gong? You don't have to tell me anything else. I'm asking you, 'Do you still practice Falun Gong?'"
The next day, the school principal told Ms. Liu, "The local education bureau had a meeting about you yesterday afternoon. There is an order from the city government that says you are to be sent to the brainwashing center. We also have to send one person from the school to go with you. Neither of you will be able to return until you renounce Falun Gong."
The principal then took Ms. Liu to the local Political and Legal Affairs Committee and forced her to sign the statements against her will.
Related reports:
1,410 Falun Gong Practitioners Targeted for Their Faith in July 2020
5,313 Falun Gong Practitioners Targeted for Their Faith in First Half of 2020
938 Falun Gong Practitioners Targeted for Their Faith in May 2020
1,178 Falun Gong Practitioners Targeted for Their Faith in April 2020
747 Falun Gong Practitioners Targeted for Their Faith in March 2020
The Persecution of Falun Gong Continues in China Despite Coronavirus Pandemic
194 Falun Gong Practitioners Targeted for Their Faith in January 2020