1,410 Falun Gong Practitioners Targeted for Their Faith in July 2020
Aug. 22, 2020 | By a Minghui correspondent
(Minghui.org) The month of July 2020 marked the 21st anniversary of the persecution of Falun Gong, an ancient spiritual and meditation discipline that has been targeted by the Chinese communist regime since July 20, 1999.
In this month, 729 Falun Gong practitioners were arrested and 681 harassed for their faith. At the time of writing, 460 practitioners remain in custody and 7 have been forced to go into hiding to avoid further persecution.
Among the 1,410 targeted practitioners, 452 had their homes ransacked. Two practitioners, including Ms. Li Wenjing of Tianjin and Ms. Liu Jieyue of Weifang City, Shandong Province, had their power shut off by the utility company, when the police came to arrest and harass them.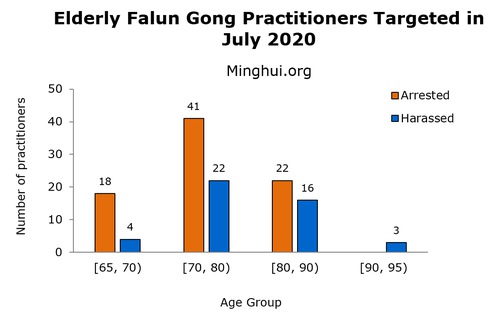 Eighty-one of the arrested practitioners (11.1%) and 45 of the harassed (6.7%) were 65 years or older, with three practitioners harassed between 90 and 94 years old.
Ms. Wang Xiangju, a Dunhua City, Jilin Province resident in her 80s, was slapped in the face by the police following her arrest on July 15. Ms. Jiang Suzhen, a Suzhou City, Jiangsu Province resident in her 70s, was arrested on July 19 after being reported for talking to people about Falun Gong. The police grabbed her hands tightly behind her back. She couldn't bear the pain and became dizzy. Her blood pressure also increased.
Children weren't spared in the persecution either. Ms. Zheng Huixiang's three grandchildren, between one-and-a-half years and five years old, were taken into custody together with her, during a group arrest in Gaomi City, Shandong Province on July 22.
A pregnant woman, Ms. Sun Zhongli, of Dalian City, Liaoning Province, was forced to live away from home after the police harassed her on July 11, 2020. Her husband was left to take care of their two children, 4 and 9 years old, by himself.
Forty-four practitioners had a total of 2,681,490 yuan confiscated by the police. Ms. Zhao Xiqing, an 85-year-old Wuhan City, Hubei Province resident, had 250,000 yuan confiscated. Mr. Zhou Xiaoqi, a Changchun City, Jilin Province practitioner, had 184,000 yuan seized. Eight other practitioners had between 10,000 yuan and 70,000 yuan taken from them.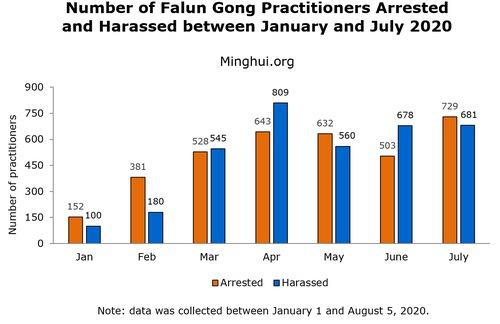 Compared to the first six months that averaged 473 arrests and 478 harassment cases per month, July reported arrests and instances of harassment that were 1.5 and 1.4 times higher, respectively, indicating intensified persecution around the persecution anniversary considered by the communist regime as "a sensitive date."
Group arrests were also more prominent than earlier months, especially in the top five provinces with the most cases reported, including Jilin, Shandong, Liaoning, Heilongjiang and Hebei.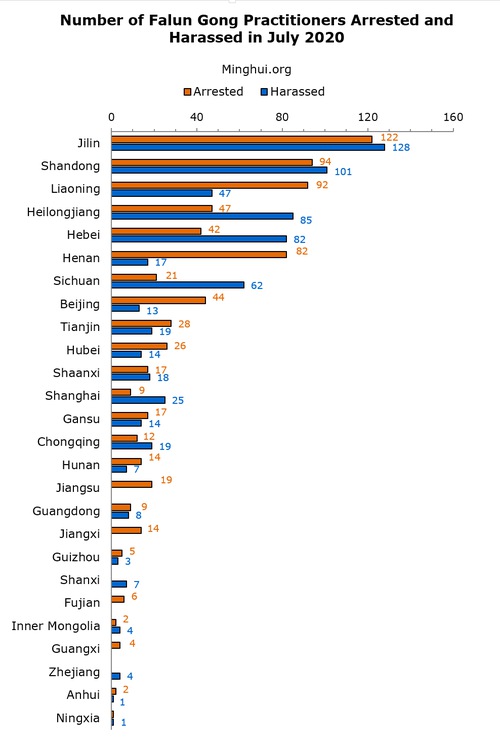 In regions around Changchun City, Jilin Province, where Falun Gong was first introduced to the public in May 1992, several group arrests of practitioners took place in Changchun, Nong'an County (under the administration of Changchun), Shulan City (about 120 miles from Changchun), and Yanbian City (260 miles from Changchun) between July 16 and July 20.
Mr. Ma Yi, a Changchun practitioner arrested on July 15, was beaten by the police, had his head hit against the wall and dragged around on the concrete floor. He had severe injuries on his knees as a result.
Other group arrests included the over thirty practitioners arrested in Dalian City, Liaoning Province between July 10 and 11; ten arrests in Hulin City, Heilongjiang Province between July 12 and 13; twelve arrested in Beijing between July 19 and 21; nearly fifty practitioners and their families family members arrested in Gaomi City, Shandong Province on July 22; ten arrested in Nanjing City, Jiangsu Province on July 22; and over ten arrested in Xi'an City, Shaanxi Province on July 26. Seven of the practitioners arrested in Xi'an were between 78 and 86 years old.
One of the practitioners in Dalian arrested on July 11 had 2 million yuan in cash confiscated. More details remain to be investigated.
All of the practitioners arrested in Gaomi City had their blood samples taken. Some practitioners had money extorted by the police, ranging from 1,000 to 5,000 yuan. The police only accepted cash. The practitioners' families suspected that the police didn't want to leave digital evidence of their extortion.
One officer said to a practitioner when being asked to show their police IDs, "Why do you have so many problems? It's so easy for us to straighten you [Falun Gong practitioners] out. We can do anything we want. Even if we torture you to death, no one would dare say anything."
Ms. Xu Na, an award-winning artist arrested in the police sweep in Beijing, lost her husband, Mr. Yu Zhou, to the persecution around the Beijing Olympics in 2008 and has served two prison terms for a total of eight years previously for practicing Falun Gong.
In addition to the arrests around the "sensitive date," practitioners in Henan, Guizhou and Heilongjiang also reported arrests and harassment of the nationwide "zero-out" campaign.
In the new "zero-out" campaign ordered by the central Political and Legal Affairs Committee (PLAC) in Beijing, local community workers and police officers were mobilized to visit Falun Gong practitioners on the government's blacklist. They collected the practitioners' information and attempted to force them to sign prepared statements to renounce Falun Gong. Some practitioners' family members were also harassed and threatened.
In the persecution of Falun Gong, the PLAC, an extrajudicial agency overseeing state security and judiciary branches, has played a central role in making and executing persecution policies.
According to The Epoch Times, the PLAC and 610 Office, another extralegal agency created specifically to persecute Falun Gong, and multiple provinces, including Shandong, Hainan, Guangdong, Zhejiang, and Anhui, posted rewards of up to 100,000 yuan for people to report Falun Gong practitioners for spreading information about the persecution.
Below are the snapshots of some of the arrest and harassment cases. Due to the strict information blockade in China, the number of Falun Gong practitioners persecuted for their faith can't always be reported in a timely manner, nor is all the information readily available.
Elderly Targeted
85-year-old Woman Arrested and Had 250,000 Yuan Confiscated
Ms. Zhao Xiqing, an 85-year-old resident of Wuhan City, Hubei Province, was studying Falun Gong's teachings with seven other practitioners (with three in their 80s), when dozens of officers broke into her home on July 14, 2020.
The police ransacked Ms. Zhao's home and confiscated her savings of 250,000 yuan in cash. Although Ms. Zhao was released the next day, the police refused to return the money to her.
While trying to escape the arrest, one practitioner jumped out of Ms. Zhao's window on the second floor and suffered a bone fracture in her calf. She was treated in the hospital and taken back home by her family around midnight.
Ms. Xiong Guiju, who accompanied that practitioner's family to the hospital, was arrested and had her home ransacked on the morning of July 15. She was refused admission by the local detention center due to her high blood pressure and was released on the evening of July 17.
All the other practitioners arrested at Ms. Zhao's home have been released by July 20.
80-year-old Woman Arrested on the Street and Interrogated for Hours
Ms. Cheng Sigui, 80 and of Lu County, Sichuan Province, was passing out Falun Gong materials on the street on the morning of July 19, 2020, when three people clad in black came over and snatched her purse.
It turned out the three men were police. They took her keys and ransacked her home after taking her to the local police station. No one was home, and the police confiscated her Falun Gong books, the photo of Falun Gong's founder, and the media player she used to play Falun Gong meditation music.
Another group of officers forced Ms. Cheng to hold the Falun Gong related materials she brought in hand and took pictures of her. They also forced her to walk around and recorded her gait. Her other personal information, including voice, fingerprints, and palm prints, were also collected.
The police questioned where Ms. Cheng got the Falun Gong materials. She refused to answer but told the police that she recovered from her breast cancer after practicing Falun Gong and that she didn't do anything wrong in upholding her faith.
Ms. Cheng was released on bail around 11 p.m. The police refused to return her Falun Gong books when she asked for them before leaving the police station.
Ms. Cheng used to work at the Luzhou natural gas mines. Both her husband and son died from cancer at a young age. Also plagued by cancer herself, she was delighted to have her health recovered after taking up Falun Gong.
Prior to her latest arrest, Ms. Cheng was arrested on August 30, 2015, for having Falun Gong related materials with her. She was deceived by the police into attending two court hearings on March 31 and October 27, 2016, both of which lasted less than ten minutes. The Jiangyang District Court sentenced her to two years in prison, with 3,000 yuan fine, on December 6, 2016.
Practitioners in Their 80s and 90s Harassed
On July 11, 2020, the police harassed Ms. Lian Shuxian, a Dalian City, Liaoning Province resident in her 90s. Six officers ransacked her home and filled the police car with items confiscated from her home, including her computer, printer, cellphone, mp3 player, Falun Gong books, and materials, as well as Falun Gong founder's photo.
Four days later, Mr. Yang Yongqing, a 94-year-old Zhaoyuan City, Shandong Province resident, was also harassed. The police took his copy of Zhuan Falun, the main text of Falun Gong, as well as the mp3 player that he used to play the Falun Gong exercise music.
Ms. Song, 82, is a resident of Sanhe City, Hebei Province. Eight officers harassed her at home on July 20, on the grounds that someone had reported her for distributing Falun Gong related materials in her neighborhood.
One officer attempted to take pictures of and videotape Ms. Song's home, but she stopped him. Another officer ordered Ms. Song to tear off the Falun Gong posters on her wall. She also refused to comply. The officers then searched her rooms and took a picture of Zhuan Falun, without taking the book away.
The police returned a few minutes later and demanded to know Ms. Song's phone number. When she refused to tell them, the police took pictures of her phone address book and then left.
Targeted for Speaking Out
Three Falun Gong Practitioners Arrested in Retaliation for Exposing Death of Practitioner in Police Custody
Eight police vehicles surrounded a residential building in Yuzhou City, Henan Province around 5 a.m. on July 16, 2020. Several Falun Gong practitioners, who lived in the building, were arrested.
Ms. Liao Xiangye and Ms. Qiao Shuhong's doors were kicked open by the police. Ms. Qiao Yun and her son, Mr. Xu Mengliang, who doesn't practice Falun Gong, were also arrested.
Later that evening, the police and property management staff knocked on each resident's door and asked questions. The police threatened to arrest everyone who lived in the building.
According to sources, the arrests and harassment were triggered by the death of Ms. Zhang Zhiwen, who lived in the building and died in police custody four days after her arrest on May 13, 2020. The police suspected the aforementioned practitioners of exposing Ms. Zhang's death on Minghui.org.
Ms. Zhang's family was devastated by her death and has filed a complaint with the Xuchang City Procuratorate, demanding a thorough investigation of her death and that the perpetrators be brought to justice. It's not clear whether they have been intimidated in the new round of arrests and harassment.
Prior to arresting the practitioners, the police had installed two surveillance cameras outside of the residential building. Two more cameras were recently installed.
Luo Dongjun and Wang Xiaowei of the Yuzhou Domestic Security Office, who took the lead in Ms. Zhang's arrest, also participated in the new round of the arrests.
At the time of writing, Ms. Qiao Shuhong has been sent to the Xuchang City Detention Center. Ms. Qiao Yun has been released, but her son remains in the Yuzhou City Detention Center. Ms. Liao's situation is not clear.
Two Shandong Residents Arrested and Their Homes Raided for Spreading Information about Their Faith
Ms. Zhang Deying and Ms. Shi Zhanhua, of Jinan City, Shandong Province, distributed informational materials about Falun Gong in a residential area at around 8 p.m. on July 6, 2020. When they left the subdivision, they were surrounded by eight plainclothes officers. The officers handcuffed them behind their backs and brought them to the Xinglong Police Station.
Around 10 p.m., the officers ransacked Ms. Zhang's home. They confiscated her dozens of Falun Gong books, a photo of Falun Gong's founder, and her cellphone.
The police next proceeded to raid Ms. Shi's home at around midnight. They spent the next two hours searching everywhere. Ms. Shi's dozens of Falun Gong books, pamphlets, media players, MP3 players, four cellphones and a computer were confiscated.
Ms. Shi's family said that the officers appeared to be very excited after finding 14,200 yuan in cash in two different locations. One of them shouted, "We're having a big festival today!"
The police later told the two practitioners that they had spotted them distributing Falun Gong materials a long time ago through surveillance cameras. They had already known the practitioners' addresses and the situation of their family members living with them. The police had begun to follow them one week ago, before deciding to arrest them on the evening of July 6.
Ms. Zhang and Ms. Shi were restrained to metal chairs and interrogated for more than 24 hours, without being given any food or water. A dozen officers took turns watching them. Ms. Zhang kept clarifying the facts about Falun Gong to the police, while Ms. Shi remained silent.
The police called the practitioners' families at around 8 p.m. on July 7 and asked them to bring 10,000 yuan to the police station in exchange for the practitioners' release. The families didn't comply.
The police called the practitioners' families again two hours later and said they didn't have to bring the money, but just come to bring the practitioners home. Their families went to the police station and were ordered to pay a 500-yuan fine and sign a 15-day detention notice.
The practitioners left the police station with their families at around midnight. They then went back and asked the police to return their Falun Gong books, confiscated cash, and their home keys. The police rejected the request and said they would return the items when their cases were closed.
Five officers returned to Ms. Zhang's home and searched her basement at around 8 a.m. on July 8, but didn't find anything that they wanted.
Police Violence
Hebei Man in Serious Condition One Week After His Arrest for Practicing Falun Gong
Mr. Ding Yuming, Ms. He Yurong, and Ms. Ren, of Huailai County, Hebei Province, were walking on the street on July 14, 2020, when they were suddenly arrested and sent straight to a brainwashing center. While Ms. He and Ms. Ren were released shortly after, Mr. Ding remained in custody.
The brainwashing center staff body-searched Mr. Ding and confiscated his 100 yuan in cash, keys, and cellphone. They didn't provide him with bedding for five days, starved him, and also forbade him from taking showers. When he refused to watch propaganda videos demonizing Falun Gong, the brainwashing center staff beat him and hit his head and body with their shoes.
Mr. Ding was sent to solitary confinement for shouting "Falun Dafa is good" when the brainwashing center's director came for a visit. The staff there threatened to kill him if he "caused more trouble for them." His daughter wasn't allowed to visit him.
After repeated abuse, Mr. Ding became seriously ill and was hospitalized on July 22. It's not clear where he is being detained at the time of writing.
Beijing Woman's Door Smashed during Arrest
A group of officers broke into Ms. Zhou Jing's home in Beijing on the evening of July 16. The glass on her front door was smashed and her home was raided.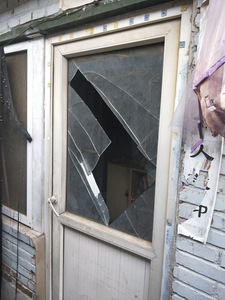 Smashed front door
The officers brought Ms. Zhou, 44, to their police station without allowing her to change out of her pajamas. She refused to cooperate in the interrogation. The police collected a sample of her DNA without her consent. They attempted to send her to a police center that evening but relented after realizing she had a fever.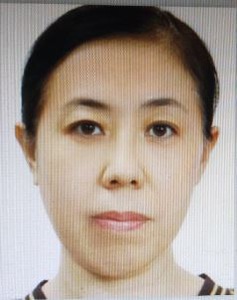 Ms. Zhou Jing
"We Won't Release Her Even if She Dies (in Custody)"
Around 7 a.m. on July 18, 2020, the police entered Ms. Liu Shuzhi's home with a master key and arrested the Jilin City, Jilin Province resident. Her son was also arrested for trying to prevent the police from taking her away. All of Ms. Liu's Falun Gong related materials and 10,000 yuan in cash were confiscated.
One officer said to Ms. Liu's family before leaving, "We don't have the say. The order to arrest her came from those in the province."
Ms. Liu's family went to the police station a few days later to seek her release, only to be told by one officer that, "We've reported her case to the higher-ups and were told we can't release her even if she dies (in custody)."
Biometrics and Blood Samples Collected
Ms. Xue Fenglian, of Baoding City, Hebei Province, was harassed at home on July 21, 2020. The police claimed that she was reported for practicing Falun Gong. While one officer showed a search warrant, it didn't have Ms. Xue's name. Despite Ms. Xue's protest, the police ransacked her home and confiscated her Falun Gong related items and a laptop.
The officers brought Ms. Xue to their police station and interrogated her. They collected her blood sample, palm and feet prints, as well as took pictures of her eyes. The officers also attempted to record her voice, but Ms. Xue refused to talk.
Back in April 2020, another practitioner in Baoding, Ms. He Lihong, also had extensive biometric data collected by the police, including her iris.
According to an article titled "The CCP Wants You—and Your Eyes Too" published by Bitter Winter on February 25, 2020, the Chinese Communist Party is "collecting iris information about all Chinese, including children, and storing it in gigantic databases."
The Bitter Winter article noted, "Iris is the colored circular part of the eye that surrounds the black pupil. Unlike facial information and fingerprints, there is no way you can change your iris—which makes for the most reliable biometrical data, together with DNA, and a great tool for controlling citizens in a police state such as China."
Also in Jining City, Inner Mongolia, Mr. Wu Gaoming had his blood sample, fingerprints, palm prints, voice, photo, iris image, and height taken by the officers, who arrested him at home on July 29. They also asked him about his daily activities, including whether he did physical exercises, when did he go out and the places he usually went to.
More Harassment Cases
Jilin Women Harassed and Ordered to Brainwashing Sessions
Five women in Huadian City, Jilin Province, were harassed in July 2020 for practicing Falun Gong.
On July 4, the police attempted to force Ms. Li Fengqin, in her 70s, to sign a document and threatened that they wouldn't let her son go to work if she refused to sign it. Ms. Li didn't comply.
Ms. Quan Jinzi and her daughter received several harassing phone calls from the residential committee director in July.
Several residential committee members harassed Ms. Quan's daughter at home in late July, when they didn't find Ms. Quan in her own home. Seeing that Ms. Quan's grandson was preparing for the civil service exam, the residential committee director threatened that he wouldn't be allowed to become a government employee as long as Ms. Quan still practiced Falun Gong.
The director told Ms. Quan's daughter that they were hosting a brainwashing session, which still had three spots open. "This is her last chance. If she goes and fulfills the requirements, we will remove all her information on our system."
Ms. Quan's daughter replied, "My mother can't go to your class due to her age."
The director then offered to send people to Ms. Quan's home for one week to host the session. He also threatened to arrest Ms. Quan and take her to a detention center if she refused to attend the session.
On July 10, Ms. Wu Shuqin's family received a harassing phone call from a man who demanded to know if Ms. Wu still practiced Falun Gong and why she did. Her family replied that she practiced Falun Gong to improve her health. The man said he would contact them again at any time and urged them to tell Ms. Wu to be prepared to attend their brainwashing session.
Ms. Wang Fengqin was approached by an officer with a camera. The officer showed her a video clip of someone putting up information about Falun Gong and asked if it was her. Ms. Wang said it wasn't.
Another practitioner, whose name is unknown, was also harassed and ordered to attend a brainwashing session. She replied that she was busy taking care of her grandchild and didn't have time to go. The residential committee members who harassed her said they could take care of her grandchild for her. The practitioner's son said he wouldn't believe them and told them not to harass his mother anymore.
Related reports:
5,313 Falun Gong Practitioners Targeted for Their Faith in First Half of 2020
938 Falun Gong Practitioners Targeted for Their Faith in May 2020
1,178 Falun Gong Practitioners Targeted for Their Faith in April 2020
747 Falun Gong Practitioners Targeted for Their Faith in March 2020
The Persecution of Falun Gong Continues in China Despite Coronavirus Pandemic
194 Falun Gong Practitioners Targeted for Their Faith in January 2020