Engineer Again Imprisoned for His Belief in Falun Gong; Lawyers Retaliated Against for Representing Him
December 15, 2018 | By a Minghui correspondent in Jiangsu Province, China
(Minghui.org) Once imprisoned for seven years, a radar design engineer in Nanjing City was jailed again in June 2018 for practicing Falun Gong, a mind and body improvement system that has been persecuted by the Chinese communist regime since 1999.
Mr. Ma Zhenyu's appeals lawyer wasn't able to get his law license renewed because he represented Mr. Ma and other Falun Gong practitioners. It took Mr. Ma's wife, who also practices Falun Gong and who escaped to the U.S. to avoid arrest, five months to find a new lawyer to file a motion to reconsider her husband's case.
The new lawyer, who was once arrested for representing other Falun Gong practitioners, and whose wife and daughter moved to the U.S. to avoid harassment by police, was threatened with license revocation should he continue to represent Mr. Ma.
Mr. Ma's wife, Dr. Zhang Yuhua, is very worried about the personal safety of her husband and the new lawyer. She herself was arrested in China in 2001 for refusing to renounce Falun Gong. While she was held in a hospital, the police injected her with unidentified drugs, which made her muscles and tongue stiff and sped up her heart rate. She lost consciousness due to the pain.
Dr. Zhang is continuing to call for her husband's release and an immediate end to the persecution of Falun Gong.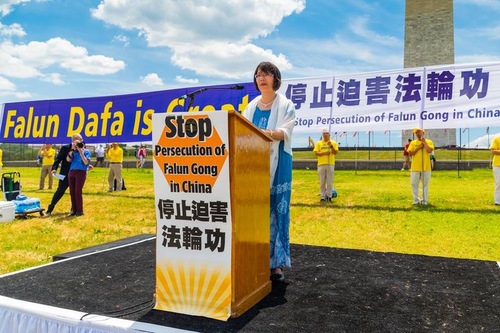 Mr. Ma's wife, Dr. Zhang Yuhua, at a rally in Washington D.C. in July 2018
Repeatedly Targeted for His Faith
Mr. Ma is 56 years old and worked as a chief engineer of the 14th Research Institute of China Electronic Technology Group in Nanjing. He started practicing Falun Gong in 1995 and saw his health improve significantly. A strong body also enabled him to do even better at work.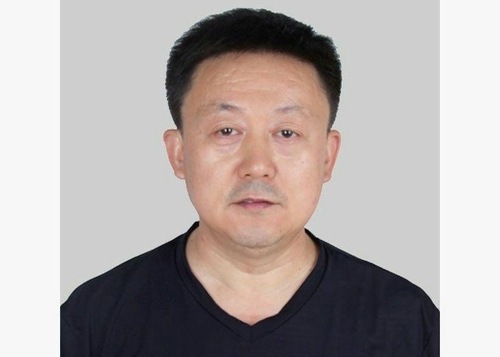 Mr. Ma Zhenyu
His life was turned upside down when the persecution of Falun Gong began in 1999. Mr. Ma was repeatedly arrested for refusing to renounce his faith. His latest imprisonment was preceded by a total of nine years of detention – in a brainwashing center for six months, in a forced labor camp for 1.5 years and in a prison for seven years. During his detention, he was physically tormented to near death repeatedly.
Second Prison Term Upheld and Lawyer's License Not Renewed
Mr. Ma was last arrested in September 2017 and sentenced to three years in prison in June 2018 for mailing six letters to government leaders to express his concerns about the persecution of Falun Gong.
He filed an appeal with Nanjing Intermediate Court, which ruled two months later to uphold the original sentence.
Mr. Ma's appeals lawyer, Mr. Lin Qilei, asked to meet with him at Nanjing Third Detention Center. The guards there claimed that Mr. Ma had already been transferred elsewhere, but they refused to reveal which prison he was sent to.
Mr. Lin wasn't allowed to pass the annual inspection of lawyers later that year because of his defending Falun Gong practitioners. He was thus unable to get his license renewed.
New Lawyer Overcomes Difficulties to Represent Mr. Ma
Mr. Ma's wife, Dr. Zhang, found a new attorney in November. Mr. Xie Yang, who lives and works in Hunan Province, initially hesitated to take the case because his law firm had banned him from taking Falun Gong cases due to pressure from the authorities.
Mr. Xie had suffered brutal suppression in the past because of his active role in defending Falun Gong practitioners. He was once arrested, detained, physically tortured and threatened. Like Dr. Zhang, his wife and daughter are also in exile in the United States.
Mr. Xie later made up his mind, believing that standing up for justice was the right thing to do, regardless of the risk. He found a fellow lawyer who agreed to represent Mr. Ma with him.
Denied Visits with Client and Later Threatened with License Revocation
Mr. Xie used his connections and found out that Mr. Ma was being held at Suzhou Prison in Suzhou City, Jiangsu Province.
Mr. Xie and his fellow lawyer flew to Nanjing on November 13 and then took a train to Suzhou. He found out by chance that several people were videotaping them right before they were about to board the train. He knew right away that he had been targeted and shadowed. The agents also got on the train, but didn't follow them to the prison.
The prison guards didn't allow Mr. Xie to meet with his client, claiming that the person in charge of visitation was busy. Mr. Xie asked whether the prison had informed Mr. Ma's family of the prison location. A guard replied that a notice had been mailed to Mr. Ma's hometown in Shanxi Province, and that his older brother had already come to visit him.
Mr. Xie relayed Mr. Ma's wife's concern for his safety, and another guard promised the same treatment to Mr. Ma as they would give to any other inmate.
As Mr. Xie was leaving, a third guard stopped him and wanted to "look at his license again." The guard took several pictures of Mr. Xie's license.
As soon as Mr. Xie returned home, he received a warning from Hunan Province Political and Legal Affairs Committee, a non-judicial agency tasked with the persecution of Falun Gong, demanding him to stop representing Mr. Ma or face license revocation.
Related reports:Mr. Ma Zhenyu Detained for the Fifth Time
Engineer Mr. Ma Zhenyu Interrogated at Xiaguan Detention Center
Chief Engineer Fired, Repeatedly Arrested, and Imprisoned for His Faith
Once Imprisoned for 7 Years, Radar Design Engineer Jailed Again for His Faith
Rally at Washington Monument on 19th Anniversary of Peaceful Resistance Calls for End of Persecution
Several Dafa Practitioners from Nanjing Fourteenth Research Institute, Jiangsu Province Persecuted