Falun Gong is an ancient advanced self-cultivation practice of the Buddha School that is guided by the principles of Truthfulness, Compassion, and Forbearance... The original teachings of Falun Gong clearly state that killing others or committing suicide are prohibited. Therefore, anyone who attempts to frame or attack Falun Gong by claiming it encourages suicide or homicide dares not have people read Zhuan Falun or other original Falun Gong texts. Those who would smear Falun Gong know that despite the declining morality, many people still have a conscience, and will not believe the lies once they know the truth.
As part of several days of activities in New York to celebrate World Falun Dafa Day, thousands of Dafa practitioners worked together to create a large-scale Falun (the symbol of Falun Dafa) and the Chinese characters for Truthfulness, Compassion, and Forbearance. The event was moving for participants and onlookers alike.
Nearly 10,000 Falun Dafa practitioners from around the world gathered in New York City for a rally and parade in honor of Falun Dafa's public introduction and the 20th World Falun Dafa Day. The rally spotlighted the persecution of Falun Gong in China.
A once-healthy man was brutally tortured while imprisoned for his faith. He was emaciated and nearly blind when he was released. Nevertheless, the police continued harassing him and arrested him one more time before his passing.
~ Dafa Day Celebrations ~
~ Dafa Day Recognition ~
~ Parades & Other Community Events ~
~ Dafa Day Celebrations ~
~ Dafa Day Perspectives ~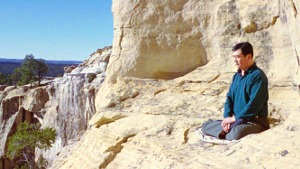 Master Li quietly watching the world from amidst the mountains after leaving New York following July 20th, 1999. (Published January 19, 2000)