Master Li Hongzhi Speaks at 2019 New York Falun Dafa Experience Sharing Conference
May 19, 2019 | By Minghui correspondent Cai Ju
(Minghui.org) The 2019 New York Falun Dafa Experience Sharing Conference was held in Barclays Center in Brooklyn on May 17, 2019. About 10,000 Falun Dafa practitioners participated. Master Li Hongzhi, the founder of Falun Dafa, gave a lecture and answered questions for approximately two hours.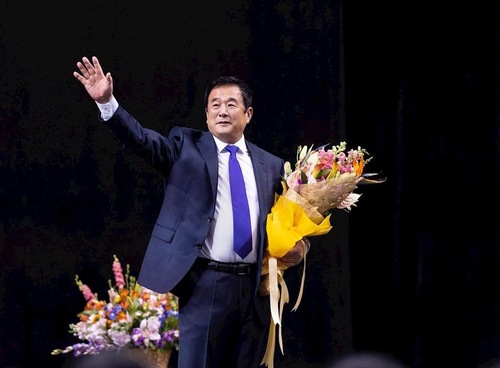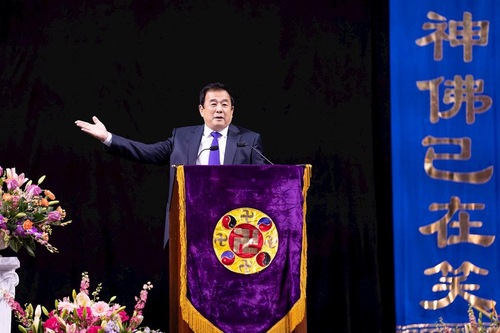 Master Li lectured and answered questions during the 2019 New York Falun Dafa Experience Sharing Conference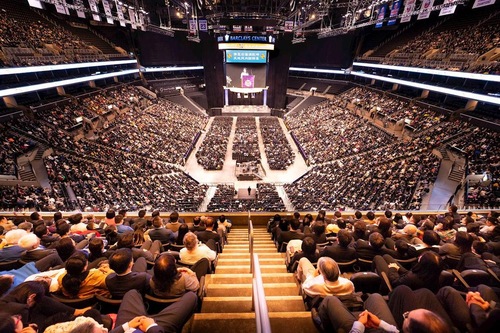 Conference venue
Everyone in attendance stood up and applauded warmly when Master Li arrived at the conference venue at around 10:50 a.m.
Vases of fresh flowers decorated the stage along with a large "2019 New York Falun Dafa Experience Sharing Conference" banner in both English and Chinese. Master Li's poem "Dafa is Great" was written in gold characters on large blue banners on either side of the stage:
"Falun Dafa is greatGradually enters the human realmThe sentient beings need not worryGods and Buddhas are smiling"(Hong Yin Vol. II, Version A)
A large LCD display said "Heaven and Earth Celebrate the 27th Anniversary of Falun Dafa's Introduction to the Public" in English and Chinese, which could be seen from all directions. Depictions of divinities and the heavens were on LCD displays around the stadium.
Practitioners Share Their Cultivation Experiences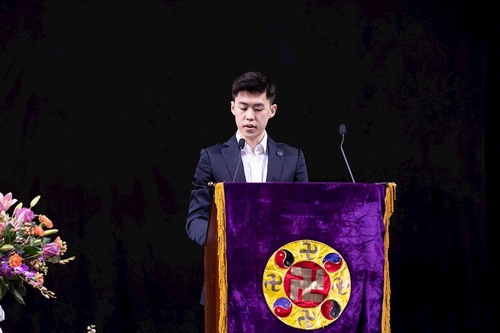 A practitioner reads his paper.
This year's conference was an awe-aspiring gathering. Twelve practitioners—from New York, Boston, Atlanta, the United Kingdom, Germany, Israel, India, Japan, and Hong Kong—shared their experiences in promoting the Shen Yun show, working in the media, and raising awareness at tourist destinations. Among them were veteran practitioners who have been cultivating for more than 20 years, as well as young practitioners who are quickly catching up and working on projects. There were simultaneous translations of the speeches in nine languages.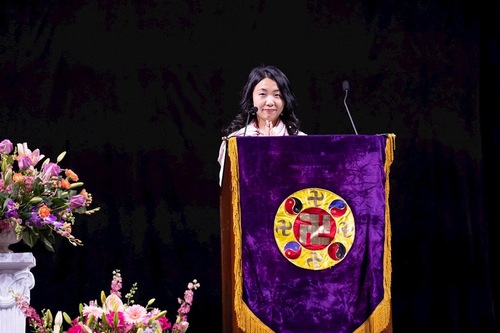 A practitioner reads her paper.
Working on Media Projects
Ms. Zhang, from the United States, began to practice Falun Dafa in 1996, and immigrated to Australia in May 1999. She has been involved in many truth-clarification efforts, from making billboards and designing the New Tang Dynasty TV (NTD Television) website, to raising awareness at tourist destinations.
She said she had encountered some conflicts and challenges when coordinating the NTD Television New Year's Party in Melbourne in 2006, but the party was eventually a success. She said she looked within afterward, and improved her character, leading her to mend her relationships with fellow practitioners.
Her mother passed away in 2011, which had a tremendous impact on her. She began to cherish the opportunity to cultivate with other practitioners. After the ups and downs, her thoughts became clear, and she was able to learn Dafa from deep within her heart. She has no resentment, only gratitude.
Ms. Hu, from Hong Kong gave up her high-paying job in a company to become a sales associate at The Epoch Times. She learned to let go of ego and cooperate with others to clarify the truth in mainstream society and assist in marketing the newspaper.
Hong Kong once again hosted the preliminary round of the dancing competition for NTD Television in 2018. Before the event, the practitioners involved were cautious and did not disclose any information, so as to avoid sabotage. They successfully rented a sports center venue and clarified the truth to the staff. Despite some twists and turns, the dance competition was successfully held in Hong Kong.
Relinquishing the Attachment to Pursuit When Clarifying the Truth to the British Parliament
Rob Gray from the United Kingdom shared his experience of coordinating a forum in the British Parliament on China's forced organ harvesting from living practitioners. He said that at first he could not contact other practitioners. He later realized that as a coordinator, he should be sincere about helping others, as cooperation and support between fellow practitioners is very important.
Gray and his team encouraged each other not to be obsessed with the results, but to clarify the truth in the process and save sentient beings. More and more lawmakers have come to understand the facts. The British Parliament discussed China's forced organ harvesting, which was covered by the mainstream media in the UK.
Improving While Involved in the Shen Yun Project
Shen Yun dancer Fu Yu shared his experience of staying at home while his broken tendon healed. He looked within and noted his attachment to the project. The biggest lesson from this was that he understood what cherishing something means. His perseverance and belief in Dafa helped him through a difficult time.
Zheng Hongmei from Germany started to help with logistics for Shen Yun and cherished the opportunity. She worked hard and became a reliable member of the logistics team. She went from simply cooperating to actively cooperating and striving to improve in everything.
She also spoke about dealing with friction with other practitioners. She discovered that she held sentimental attachments to the team, due to their long-term cooperation.
Saving Sentient Beings
Ms. Venus Upadhayaya from India quickly got involved in media work after she started practicing Falun Gong in 2011. She shared her experience of being the sole person working for The Epoch Times in India.
She became a reporter for the India Epoch Times in April 2014 and was dismissed six months later. She then went to work for a company until she was contacted to set up a branch of NTD television in India. She said to fulfill her prehistoric vows she started to work for NTD television.
Studying the teachings and overcoming conflicts helped her team to mature. The short film to raise awareness produced by the team got 10 million hits. She said she appreciates Master's guidance, allowing her to save sentient beings while working on media projects.
The conference ended at shortly after 5:00 p.m.