New York: Rally Marks Twentieth World Falun Dafa Day
May 20, 2019 | By a Minghui correspondent in New York
(Minghui.org) Nearly 10,000 Falun Dafa practitioners from around the world gathered in New York City on May 16, 2019, where they held a rally and parade in honor of the 27th anniversary of Falun Dafa's public introduction and the 20th World Falun Dafa Day.
The rally was held at Dag Hammarskjold Plaza Park in front of the United Nations headquarters in Manhattan.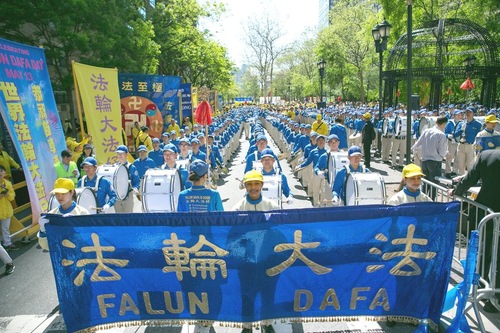 The Tian Guo Marching Band performs during the rally at Dag Hammarskjold Plaza Park.
Speakers included Ms. Chang Chin-hwa, President of the Taiwan Falun Dafa Association; Ms. Theresa Chu, a human rights lawyer from Taiwan; Mr. Kan Hung-cheung, spokesperson for the Hong Kong Falun Dafa Association; Mr. Alan Adler, Executive Director of Friends of Falun Gong USA; and Dr. Wang Zhiyuan, President of the World Organization to Investigate the Persecution of Falun Gong (WOIPFG).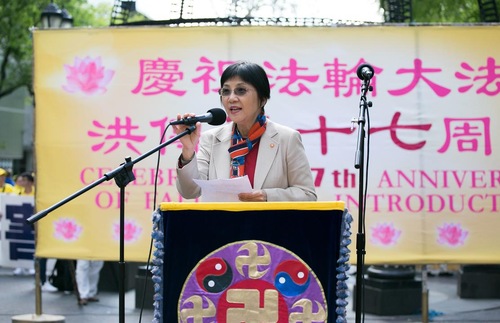 Professor Chang Chin-hwa, president of the Taiwan Falun Dafa Association, condemned the Chinese Communist Party for torturing and killing Falun Gong practitioners and harvesting their organs.
Professor Chang has practiced Falun Dafa for 20 years. In her remarks, she condemned the Chinese Communist Party (CCP) for arresting, detaining and torturing tens of thousands of Falun Dafa practitioners, as well as harvesting organs from practitioners while they were still alive.
She also expressed support for the 303 million Chinese who have chosen to quit the CCP and its youth organizations in light of the crimes committed by the regime.
Stand with Us Against the Persecution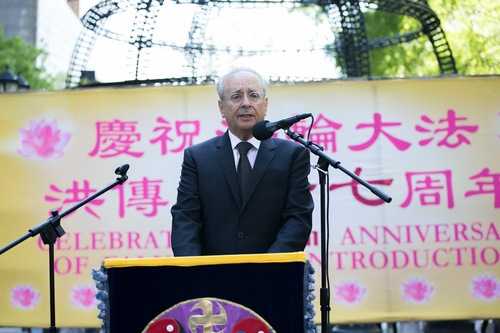 Mr. Alan Adler, Executive Director of Friends of Falun Gong USA.
Mr. Alan Adler, Executive Director of Friends of Falun Gong USA, said that practicing Falun Dafa has made people and their families happier and healthier.
He noted that before the persecution began, one out of 13 people in China practiced Falun Dafa. If the practice would have been allowed to grow naturally, it would have improved the happiness and stability of Chinese society. However, in the twenty years that the CCP has persecuted Falun Dafa, millions have been detained, imprisoned, and deprived of their income.
Nevertheless, he said practitioners have responded to th brutality with sincerity, kindness and tolerance.
Mr. Adler noted that because of practitioners' 20 years of peaceful efforts, people now admire them and even stand up to support them. He called for more of the public to join practitioners: "When one more person learns the truth, there will be one less person deceived, and there will be more people standing up against the persecution."
More People Learning About Dafa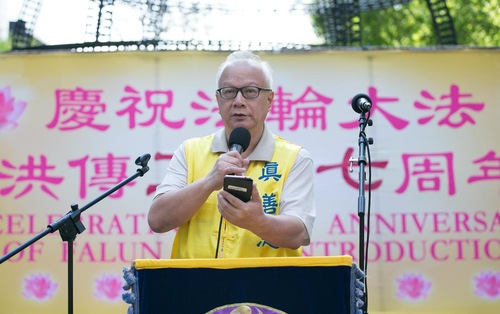 Mr. Kan Hung-cheung, spokesperson for the Hong Kong Falun Dafa Association, said he was delighted to see righteousness on the rise throughout the world.
Mr. Kan Huang-cheung pointed out that practitioners' efforts to let people know about Falun Dafa has helped promote the universal values of Truthfulness-Compassion-Forbearance and the revival of divinely-inspired culture, bringing hope to humanity. He said he was delighted to see righteous spirit rising throughout the world and is optimistic that the end of the persecution is approaching.
He said that practitioners in Hong Kong who help people quit the CCP have observed that an increasing number of Chinese have come to understand the persecution Falun Dafa practitioners have endured.
He highlighted that when the CCP forced the enactment of an extradition law that targets Falun Dafa practitioners and human rights defenders in Hong Kong, more than 100,000 people took to the streets in protest.
He called upon governments and citizens around the world to support kindness, stop the persecution of Falun Gong, and help bring the chief perpetrator to justice.
Gratitude to Master Li
Falun Dafa practitioners around the world have expressed their gratitude to Master Li Hongzhi, the founder of Falun Dafa, for introducing the practice to the public.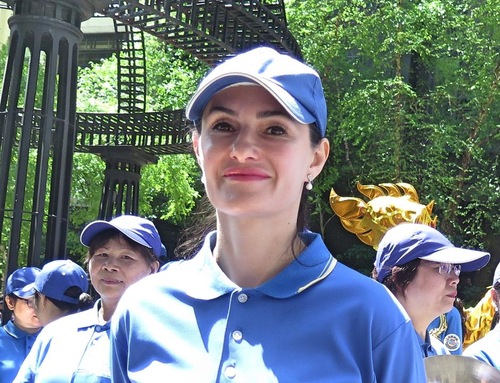 Cameria, a practitioner from Canada said, "Thank you, Master!"
Cameria from Canada has practiced Falun Dafa for five years. She joined the Tian Guo Marching Band four years ago. She exclaimed, "Today's activity is beautiful! I feel great to be here. Thank you, Master! He has given me so much!"
Simon from Australia has participated in many rallies over the past 20 years. He said that each experience was wonderful. "We hope to let everyone know about Truthfulness-Compassion-Forbearance," he said.
Simon said he began reading Falun Dafa's main book, Zhuan Falun, in 1998. He decided to stop practicing Tai Chi and began practicing Falun Dafa.
Police Officer: Today Is a Wonderful Day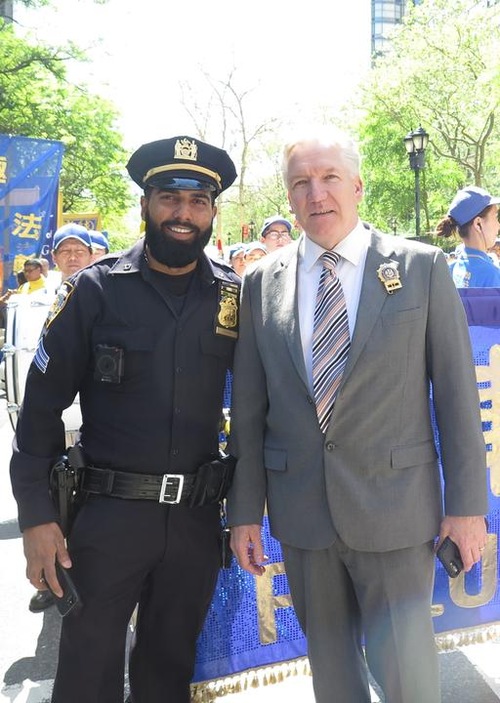 Police officers Frank Bogucki (right) and Ravi Singh are posted at Falun Dafa Day events every year.
Officer Frank Bogucki, who was in charge of maintaining order for the rally, looked relaxed as he chatted with his colleague, Ravi Singh. He said that they come to the event every year. "Today is a wonderful day!" he said.