Japan, Indonesia, Taiwan and India: Celebrating World Falun Dafa Day
May 20, 2019 | By Minghui correspondents in Asia
(Minghui.org) Falun Dafa (also called Falun Gong) practitioners in Japan, Indonesia, Taiwan, and India celebrated World Falun Dafa Day in commemoration of the 27th anniversary of Falun Dafa's public introduction and to wish its founder, Master Li Hongzhi, a happy birthday.
Nagoya, Japan
Practitioners in central Japan gathered in Sakae District of Nagoya for a celebration on the afternoon of May 12. They distributed fliers in the busiest downtown district of Nagoya, told the public about the Chinese Communist Party's (CCP) persecution of Falun Dafa, and collected petition signatures calling for an end to the persecution.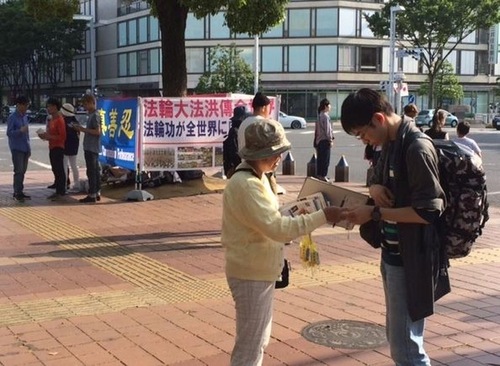 Practitioners collect petition signatures in Sakae District of Nagoya.
The practitioners displayed large banners reading, "Falun Dafa is Good," "Truthfulness Compassion Forbearance," "Falun Dafa Around the World," and "SOS: Stop Persecution of Falun Gong" in Chinese and Japanese.
Jakarta, Indonesia
In celebration of World Falun Dafa Day, practitioners in Jakarta held an event on May 12, where they demonstrated the Falun Dafa exercises and gave out informational brochures and paper lotus flowers.
Falun Dafa exercise demonstration in Jakarta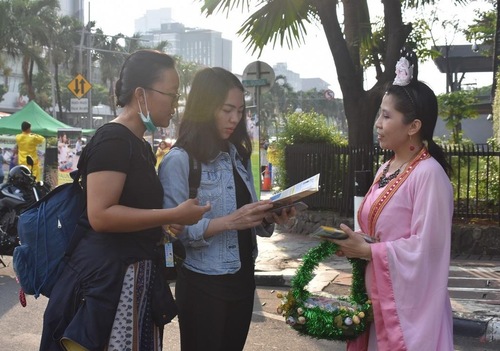 A practitioner talks to passersby about Falun Dafa.
Practitioners talked to passersby about Falun Dafa and explained how they had benefited from the practice. Many came to find out more and get a paper lotus flower. Some wanted to learn Falun Dafa and joined the group exercises.
At the end of their activity, practitioners gathered to send a collective happy birthday greeting and express their gratitude to Master Li.
Chiayi, Taiwan
Practitioners in the Chiayi area of Taiwan held a group study and experience sharing session in the morning before taking a group picture at Renyitan Reservoir Monument on the afternoon of May 12.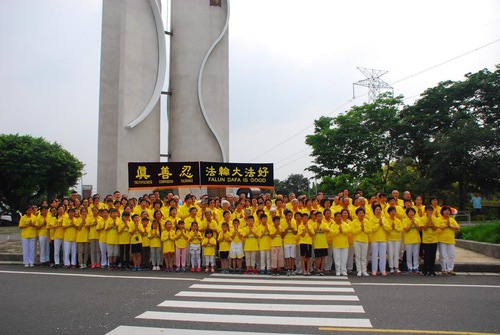 Falun Gong practitioners wish Master Li a happy birthday.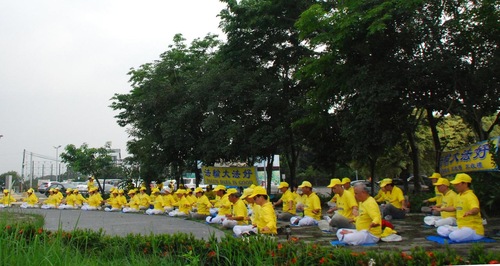 Group exercises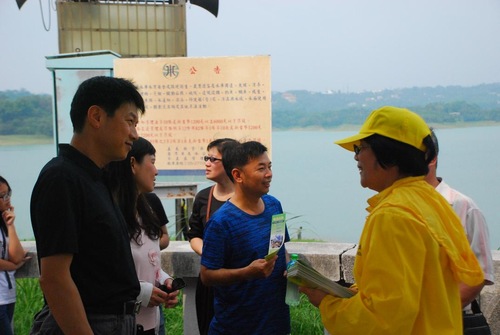 Practitioners talk to Chinese tourists about Falun Dafa.
While most practitioners demonstrated the exercises as a group, some distributed fliers and balloons printed with the messages, "Falun Dafa is Good" and "The World Needs Truthfulness-Compassion-Forbearance." Some tourists learned how to make paper lotus flowers.
Young practitioners of the Minghui school flew kites on the lake shore. Colorful banners were attached to the kites, reading "Falun Dafa is Good." Some people said they could feel the peaceful atmosphere and positive energy.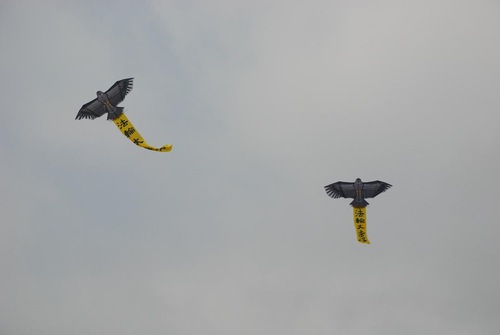 Kites with banners reading "Falun Dafa is Good."
Yunlin County, Taiwan
Practitioners in Taichung, Changhua County and Yunlin County held a large parade in Douliu City of Yunlin County on May 11. Their activities were warmly received by local residents. Many who saw the parade shouted, "Falun Dafa is good," "Keep up the great job," and "I support Falun Gong!"
The parade was led by the Tian Guo Marching Band, followed by large, bright banners. A team of practitioners were dressed as heavenly maidens. A waist drum troupe gave dance performances with a powerful rhythm and neat movements. The parade moved along a 4-kilometer route and lasted two hours.
Many spectators got a chance to learn about Falun Dafa through the parade, and some wanted to learn the practice.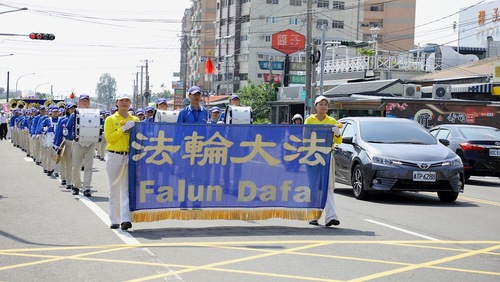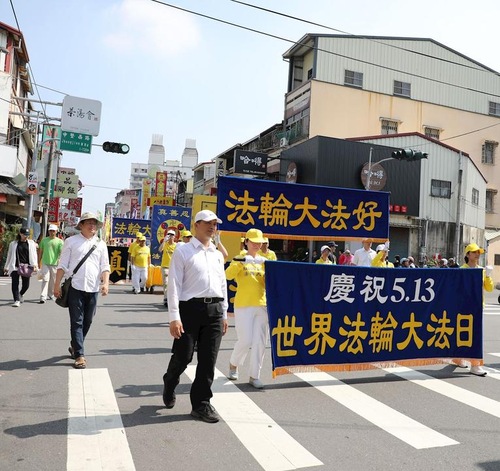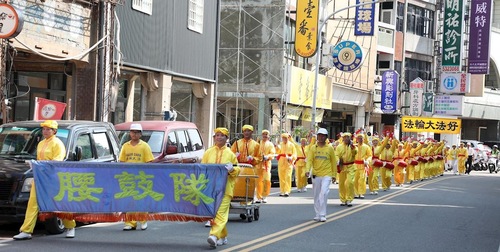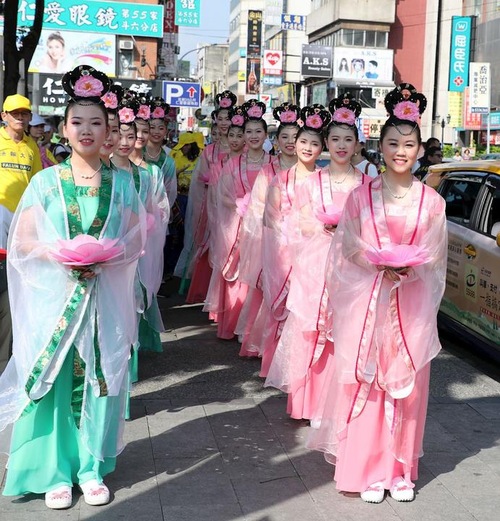 Parade in Douliu City, Yunlin County.
India
Practitioners in Nagpur held group exercises and a study session on May 13 despite the high temperatures.
Practitioners in Pune, Bangalore, Kolkata, Delhi and Mumbai distributed fliers, raised awareness of the CCP's persecution of Falun Dafa in China, and provided instruction in the Falun Dafa exercises.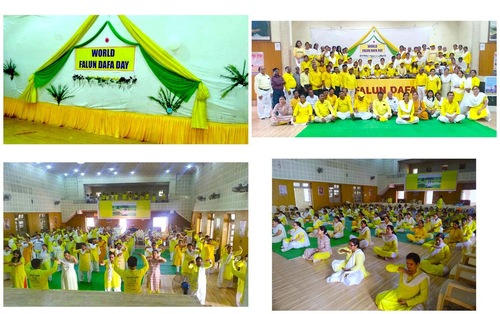 Activities in Nagpur celebrating World Falun Dafa Day
Practitioners introduce Falun Dafa in Pune and in Bangalore on May 13.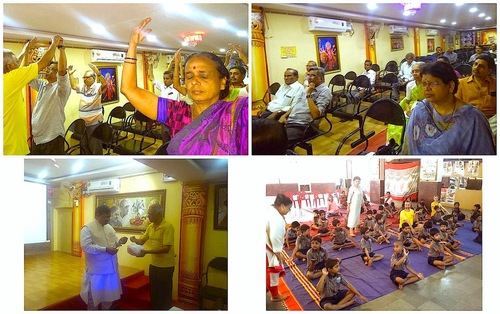 Teaching the Falun Dafa exercises in Hyderabad and Mumbai
Practitioners in Hyderabad gave an introductory presentation at the music academy Tyagaraya Gana Sabha. The audience learned about Falun Dafa and the persecution in China, and learned how to do the exercises.
Mr. Murthy, the president of the academy, watched the video and learned the exercises with faculty and students. He thanked practitioners with flowers.
Related articles in Chinese:日本名古屋学员庆祝世界法轮大法日(图)雅加达法轮功学员庆祝世界法轮大法日(图)世界法轮大法日-台湾嘉义学员谢师恩(图)敬谢师恩台湾中部学员大游行-欢庆世界法轮大法日(图)