New York: 5,000 Practitioners Take Part in Character Formation Event on Governor's Island
May 20, 2019 | By Minghui correspondent Zhang Yun
(Minghui.org) About 5,000 Falun Dafa practitioners gathered on Governors Island in New York on May 18 to form a giant Falun emblem and the Chinese characters for "Truthfulness, Compassion, and Forbearance" – the core principles of Falun Dafa. This was part of a series of activities in New York to mark the 20th annual World Falun Dafa Day – celebrating Falun Dafa's introduction to the public in May 1992.
Falun Dafa, also known as Falun Gong, is a meditation system that consists of gentle exercises and emphasis on practitioners cultivating themselves according to the principles of Truthfulness, Compassion, and Forbearance. It is now practiced by over 100 million people in more than 100 countries. The Falun emblem is the symbol of Falun Dafa. Encompassing the symbols of Buddhism (the srivatsa) and Taoism (the yin-yang symbol), it is considered a miniature of the universe.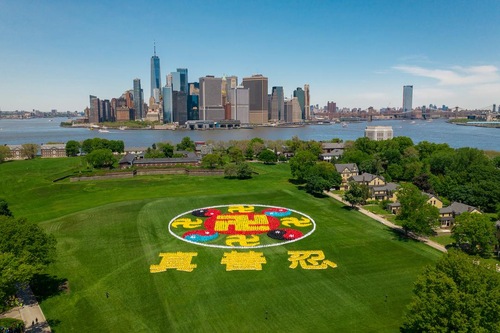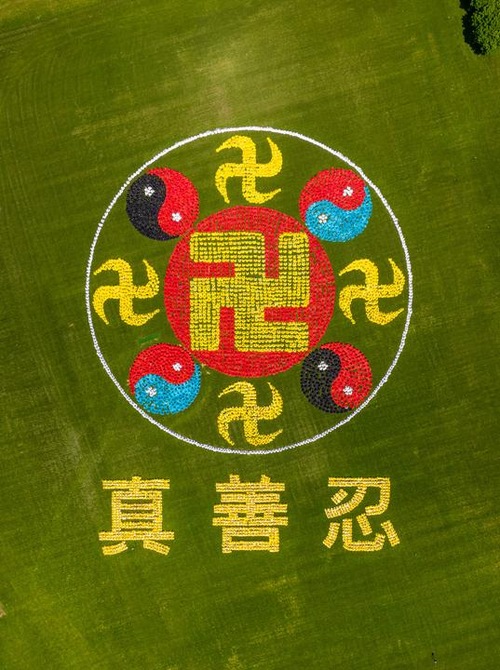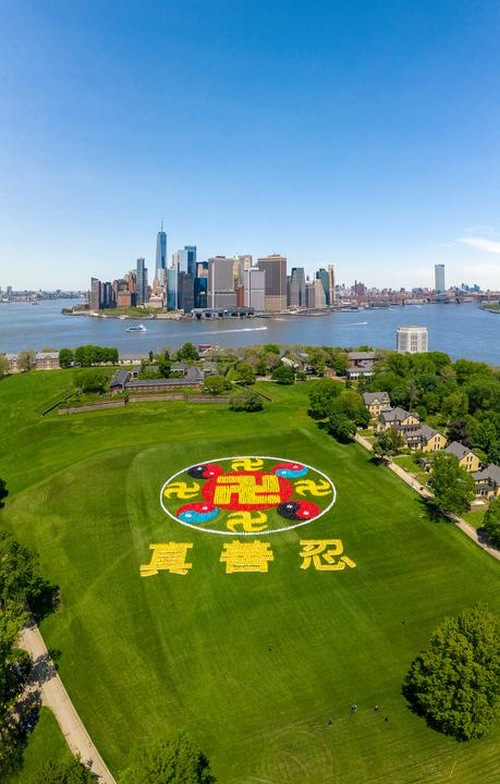 Character formation by about 5,000 Falun Dafa practitioners on Governors Island on May 18, 2019. The Falun, or Law Wheel, is the symbol of Falun Dafa cultivation practice, while the three Chinese characters in the foreground stand for Truthfulness, Compassion, and Forbearance – the core principles of Falun Dafa.
Great Cooperation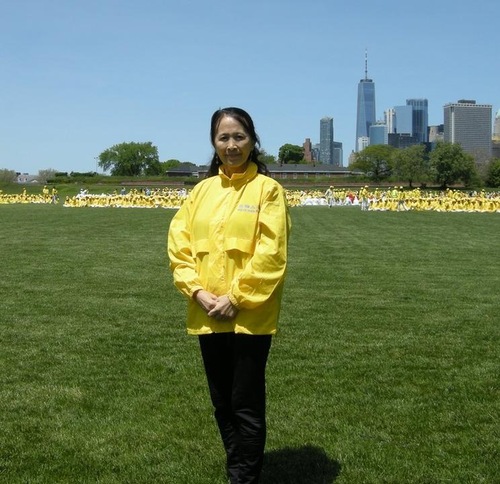 Yi Rong, general coordinator for the character formation event, said that practitioners worked together beautifully during the activity.
The character formation activity was scheduled to take place from 9 a.m. to 4 p.m., but the 5,000 practitioners involved were able to assemble both the Falun emblem and the three Chinese characters within two hours, according to general coordinator Yi Rong. "We have had this idea for years—forming a Falun emblem by practitioners. It was great that about 10,000 practitioners attended the events of the past few days, so we were able to achieve this successfully. It was a result of our excellent cooperation," she explained.
Yu Yuebin, another coordinator, said that the day's success is a manifestation of practitioners living by the principles of Truthfulness-Compassion-Forbearance. "It could not have happened without the cooperation and endurance of everyone," he added.
Jiang Wei, producer of the event, said that the practitioners had to work closely together to form such a large Falun emblem. "One of the challenges was that practitioners had all different kinds of ideas," he shared. "As we let go of our ego and instead complemented each other, the result turned out really well."
Pan Jun, who was responsible for the formation of the Falun emblem, said that he and other members of the planning team had been on the island three times. The first time, there was a measurement error, which led to various ideas and plans. On the second trip, everyone was able to work together and get behind just one idea.
"Which method to use was not the most critical thing," said Pan. "My understanding is that as long as we work together and help each other, we will succeed. This is the power of working together as one body."
Energy Field
Juan Pulido said that Falun Dafa dramatically changed him.
Juan Pulido, 20, is a sophomore in college studying in Miami, Florida. Having practiced Falun Dafa for three years, he was very excited to be a part of this activity. "I could feel the strong energy pushing towards me, one wave after another, and I was surrounded by it," he said. He also knew everyone was sending forth strong righteous thoughts, which was magnificent and impressive.
Juan said it was a long and arduous journey for him to become a practitioner. After his parents divorced, he lived with his grandma and uncle, and lost interest in life. As a result, he started smoking and drinking, as well as taking drugs. The entire family was worried about him, but could not change what was happening.
"But, somehow," he said, "I knew that I was looking for a path, although I did not know where it was. I met someone at a library in Miami who handed me a Falun Dafa flier. I read it, became very interested, and began to practice Dafa."
The changes were dramatic. He began to cherish life, and felt responsible for himself. He let go of all his bad habits, and he respected the people around him. "My mother said that I was like a new person and everyone in the family was proud of me," he continued. Now, he is working in a nursing school, looking forward to contributing to society, and telling others about Falun Dafa.
Juan said he was fortunate to become a Falun Dafa practitioner and is very grateful towards Mr. Li Hongzhi, the founder of Falun Dafa. "He showed me what is right and what is wrong," explained Juan.
Life Renewed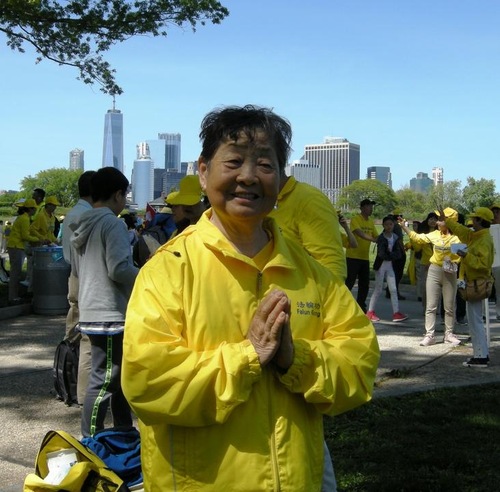 Li Yufang, an 88-year-old Canadian Falun Dafa practitioner, said she has benefited tremendously from Dafa.
Li Yufang, 88, from Canada, said that she was glad to take part in the entire festivities. "From the experience-sharing conference yesterday to the event today, I felt very comfortable and I am filled with energy," she said. In particular, she usually had difficulty doing the sitting meditation for one hour at home. But this time, she was able to sit with both legs crossed in the full lotus position throughout the entire one hour.
Originally from Anhui Province in China, Ms. Li used to go to a Christian church every day. But her health did not improve and a number of illnesses kept bothering her, including heart disease, headache, and swelling of her face. She eventually was hospitalized because of the pain.
A friend visited her in April 1994, and told her about Falun Dafa. Out of curiosity, Li Yufang began to practice it, but she could not do the sitting meditation due to swollen feet. She said, "When I joined the group exercises on the third day, however, I felt energy coming down from my head through my entire body. Within one month, all my illnesses had disappeared."
Having benefited from Falun Dafa herself, Ms. Li often goes to tourist sites in Toronto, to talk to people about Falun Dafa and to debunk the hate propaganda that has been widely spread by the Chinese Communist Party (CCP).
Learning the Practice
Kriscijanpalacek, from Pakistan, was on a business trip in Washington D.C., but decided to visit New York. Impressed by the group exercise practice and the character formation, he became very interested and talked with a practitioner.
After hearing that Falun Dafa is practiced in over 100 countries around the world, with the teachings translated into dozens of languages, Kriscijanpalacek was very excited. He wrote down the link to the Falun Dafa website, and was glad to hear that the teachings and exercise instruction video are available for free on the website. "I will absolutely begin to practice it," he remarked.