(Clearwisdom.net)
(Continued from Part 1: http://www.clearwisdom.net/emh/articles/2008/3/14/95344.html )
On March 9, 2008, Divine Performing Arts (DPA) opened the first show of the Chinese Spectacular at the Huisun Auditorium at National Chung Hsing University in Taichung City, Taiwan, to great anticipation and eagerness from people of all walks of life. The 4,000-seat Huisun Auditorium was filled. The sell-out crowd was testimony to how people around the world are warmly welcoming the DPA.
(Clearwisdom.net) On March 10, 2008, many renowned artists and politicians attended the third Divine Performing Arts Chinese Spectacular show in Taichung, Taiwan. The deputy manager of the Taiwanese Museum of History and Taiwan Genealogical Collections Lin Chin-tian, and renowned artist from Taiwan's central region Yang Yan-nang attended the show together. The two good friends are well-known painters. Below is an interview with Lin Chin-tian and renowned artist Yang Yan-nang.
(Clearwisdom.net) Merry Electronics Co. Ltd. is a company that develops ultra-thin compact speakers and receptors in Taiwan and is one of the world's leading producers with a leading brand in communications and electro-acoustics. Forbes 2005 listed it as one of the "Best 200" in the category of below 1 billion USD of sales revenue in Asian and Pacific regions. Now the companies who have the leading five cell phone brands in the world are all clients of Merry Electronics. Liao Luli, Chairman of Merry Electronics, who just returned to Taiwan from abroad, attended the fourth performance in Mid-Taiwan with vice chairman Wei Wenjie. After the show, he accepted an interview and said that the Divine Performing Arts had attracted attention and admiration from Chinese all over the world.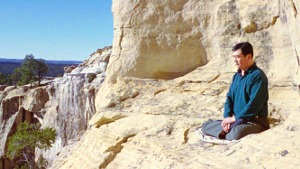 Master Li quietly watching the world from amidst the mountains after leaving New York following July 20th, 1999. (Published January 19, 2000)