Taichung, Taiwan: Professional Artists Enjoy the Chinese Spectacular (Photos)
March 16, 2008 | By Tang Ling
(Clearwisdom.net) Beginning on March 9, 2009, Divine Performing Arts held five Chinese Spectacular shows in Taichung, Taiwan. The shows have won countless complimentary comments, warm applause and admiration. Many professional artists came to watch the show. Famous photographer Hsu Jui-chieh commented, "I'm very touched! The current society stresses self-interest. It is very hard to find a perfect performance company like Divine Performing Arts. I will conduct a study from the viewpoint of photography and try to make contribution to the country and civilization like Divine Performing Arts."
Wordless feeling and very moved
Hsu Jui-chieh has been working in photography for a long time and extended enthusiastic praise for the show: "I had a wordless feeling and was very moved!" He stressed that he was engaged in photography and would review the show from a different angle. He said, "The show presented beauty both in costume and performance, as well as true beauty from the heart. So there was truth, kindness and beauty."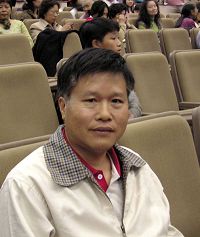 Well-known photographer Hsu Jui-chieh
Mr. Hsu said, "Indeed, it is very hard to see such a spirit in the current society. We all should acclaim the Divine Performing Arts."
Mr. Hsu was impressed with the dance, "The Loyalty of Yue Fei." He said, "In the larger environment, such a performance is rare. Certain values have disappeared in politics and society under the media's instigation. Political parties prioritize their own interests, and the media have no restraint." He mentioned that everyone in current society conducts themselves from the basis of personal interest, instead of from good traditions. He said he would let more people know about the meaning of the show.
Painter: Divine Performing Arts touches people's kindness and graceful nature
Painter Li Feng-fu, who started painting in high school, loves traditional Chinese culture. He said after watching the final show in Taichung, "I was surprised at the performers' gestures, which deeply presented human being's kindness. The performance touches human nature. I was really moved."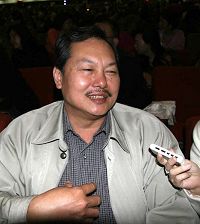 Painter Li Feng-fu
Ceramic Artist: Worth the trip to see the show
Chen Ching, Director of Ceramic Flute Cultural Exchange Association, commended Divine Performing Arts' performance after watching the show on March 12: "The whole stage effect created enjoyment in all the sensory organs. It was definitely worth the trip. Each performance has its unique characteristics. I was surprised. It was admirable."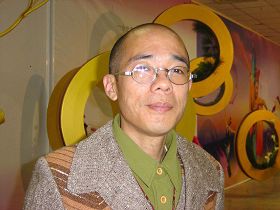 Chen Ching, Director of Ceramic Flute Cultural Exchange Association
He was most impressed most with the dance, "Descent of the Celestial Kings." He said, "I was touched by the first performance. They must have made a great effort [to put on this production]; the staff behind the scenes worked very hard to arrange the program and music coordination. Thus, we could enjoy such graceful art performances."
Mr. Chen said he would bring his relatives and friends to watch the show next time.