(Clearwisdom.net) The New Zealand premiere of the Divine Performing Arts (DPA) was on stage at the ASB Theater in Auckland on the evening of April 17, 2008. It was the second DPA performance in Auckland, after the first one, almost a year ago. The program filled with pure compassion and truthfulness, along with the magnificent background, moved the hearts of the people of various ethnic groups in Auckland.
(Clearwisdom.net) Adelaide, the capital of South Australia, is renowned as a city of the arts. It is a city in which world class artistic performances take place each year, and views on artistic standards are set high. On April 14, 2008, Divine Performing Arts of New York presented the Chinese Spectacular at Adelaide's Festival Theatre, and attracted elite people from various fields. Applause filled the theatre throughout the show, and each performance was enthusiastically received with praise. Former MP of the South Australian Parliament, The Hon. Julian Stefani said, "The whole show is very interesting and is a most wonderful, magnificent show." He felt the show was outstanding, "In my view, one of the best performances that I've ever seen."
(Clearwisdom.net) On April 17, the Divine Performing Arts company held the first show of the Chinese Spectacular in Auckland, New Zealand. Many local Chinese enjoyed the show.
Ms. Huang, a fashion model, is a big fan of Chinese traditional music and dance. She said that the Spectacular was excellent. "It is a precious opportunity to enjoy genuine Chinese dance in New Zealand," she said.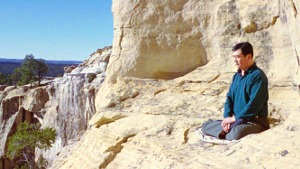 Master Li quietly watching the world from amidst the mountains after leaving New York following July 20th, 1999. (Published January 19, 2000)