New Zealand: Divine Performing Arts Premieres in City of Sails (Photos)
April 20, 2008 | By Minghui correspondents Tao Yi and Wang Weibo
(Clearwisdom.net) The New Zealand premiere of the Divine Performing Arts (DPA) was on stage at the ASB Theater in Auckland on the evening of April 17, 2008. It was the second DPA performance in Auckland, after the first one, almost a year ago. The program filled with pure compassion and truthfulness, along with the magnificent background, moved the hearts of the people of various ethnic groups in Auckland.
The "Descent of the Celestial Kings" widened the audience's eyes. The songs "May You Understand" by Soprano Huang Pi-ju and "Rest in Knowing" by tenor Hong Ming prompted warm applause. The performers answered three curtain calls of cheers and applause. The beautiful story and dance, "Lady of the Moon" and "Nymphs of the Sea" also earned several waves of applause.
The audience absorbed in the show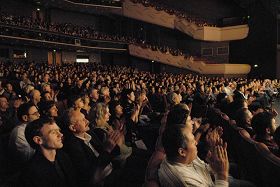 The audience absorbed in the show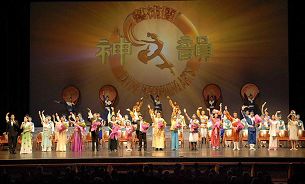 Performers answer curtain calls
Greeting letters continued to arrive on the eve of the DPA show. Ten political VIPs, including MPs of the Labor Party, Green Party and New Zealand First, sent congratulatory letters to the DPA, wishing the show a great success.
Grant Pakihana Hawke, chairman of Ngati Whatua o Orakei, wrote a poem in Te Reo Maori. It reads, "To our guests from afar, The Divine Performing Arts Chinese Spectacular descends, alighten your many sacred feet onto the sacred land of Mother earth, Aotearoa the land of the long white cloud, New Zealand."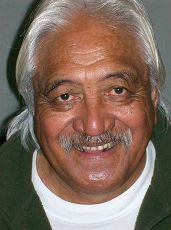 Grant Pakihana Hawke, Maori leader of Ngati Whatua o Orakei
Ms. Tina Uta, president of a newspaper in Auckland, one of the sponsors of the Chinese Spectacular, watched the show with the wife of the print house owner. They said the show was miraculous and unique. Tina said she learned more about Chinese history and culture. She was most fascinated by "Nymphs of the Sea."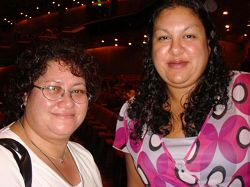 Ms. Tina Uta and the wife of one of her colleagues
Mr. McNaughton, who plays the main character of Scotty (Scott) in the popular drama "Shortland Street," said the Spectacular was "excellent" and regretted not taking his son to see it. The show, he said, was very "educational." "... the nature of the Chinese dance is so flowing and peaceful. That is the feeling that I get. Just the flowing and the movements, it is just so lovely," notes Mr. McNaughton.
He mentions that he has done martial arts in the past and hence he loved the acrobatics and the gymnastics.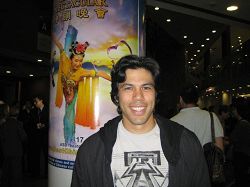 Mr. McNaughton
Classical dancer and composer from India, Madurai R. Murali Duran, who has directed large dance dramas, was at the show with one of his students. They will perform in Auckland later this month. He said, "The show is spectacular, wonderful. Actually we have learned so many things from the production. It is so good." "The perfection of the choreography and coordination, everything is so good. Especially the formations and also the finishings. It's wonderful."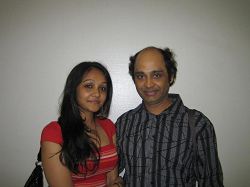 Classical dancer and composer from India, Madurai R. Murali Duran and his student