(Clearwisdom.net) On around January 5, 2008, Falun Gong practitioner Mr. Bai Heguo was tortured to death at the Nan'guanling Prison in Dalian City, Liaoning Province. It was disclosed that not only was there a bump on Mr. Bai's head, but there was also a cut on his tongue and one outside his mouth. His leg had been kicked until it was broken, and his testis had been crushed. He was emaciated. It would appear that Mr. Bai Heguang was beaten to death.
(Clearwisdom.net) Since Ms. Hu Huoying suddenly went missing while in police custody on February 29, 2008, her daughter has been unable to discover her whereabouts. Every time her daughter has asked the police, the reply is, "Your mother is not in Duchang. She was sent to Jiujiang." Ms. Hu's daughter is extremely worried about her situation.
(Clearwisdom.net) Ms. Cui Yaning, a Falun Gong practitioner from Jinzhou City, Liaoning Province, had already been arrested and in a forced labor camp twice before. In the forced labor camp she was subjected to torture at the hands of the guards during her five years' incarceration. On February 25, 2008, she was arrested for the third time. Jinzhou City police officers were responsible for the arrest, although Guta District police issued the arrest order. Ms. Cui is now being held in the city No. 1 Detention Center. She will be illegally sentenced.
~ Accounts of Persecution ~
~ Solemn Declarations ~
~ Shen Yun Performing Arts ~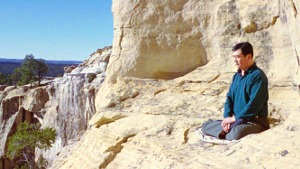 Master Li quietly watching the world from amidst the mountains after leaving New York following July 20th, 1999. (Published January 19, 2000)