Auckland, New Zealand: Chinese Audience Members Have High Regard for the Divine Performing Arts (Photo)
April 19, 2008 | By Minghui reporters Chen Zhenghong and Tao Yixin
(Clearwisdom.net) After 16 shows of the Chinese Spectacular in Australia, the Divine Performing Arts arrived in New Zealand on April 17. Altogether the company will present four shows at ASB Theatre, Aotea Center, in Auckland within three days.
Many local Chinese people have attended. Daniel Liu, a local artist, had high praise for the show. To him, the combinations of the colors and the background scene designs were the most impressive. "They were unique and different from any other shows I have seen. The match between the color of the background and the performers' costumes was amazing," he said.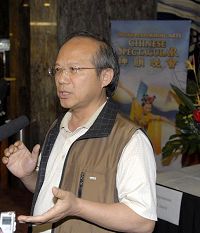 Mr. Daniel Liu, a local artist
Mr. Liu said the show exhibited the 5000-year-old Chinese history and culture. "It is a special show. It showed the history, myths, and legends."
"Most of the performers of this arts company grew up overseas, but they respect and try to promote Chinese culture. In the 21st century, it is very necessary to introduce Chinese culture to the world from a different angle," said Mr. Liu.
Mr. Liu thought that the performers of the arts company are very well trained and that their performances give people from different cultures and religions a better understandings of Chinese culture. Mr. Liu said that Chinese people should help to promote the Divine Performing Arts so that more people could learn about true Chinese culture.
Mr. George Guo, an Asian Department specialist of the National Bank, attended the show with his wife.
He said, "The show perfectly demonstrated Chinese culture. It was splendid. Every performance was excellent, especially the ones describing the Tang Dynasty cultures. Chinese people are sometimes called Tang people. So, restoring the culture of the Tang Dynasty is to restore Chinese culture."
Kevin, a sociology professor from Mainland China, who is visiting his daughter in New Zealand, attended the show. He was deeply touched by the song "Awakening." He said, "I must say that looking for the truth is necessary. Some people dare to speak the truth, but some don't. The song is very good. As a sociologist, I am responsible to the society. I think standing up for the truth is very important for society."
"This show demonstrated the essence of Chinese culture. But it can only be seen overseas. You cannot see such a show in China. Of course, you cannot demonstrate the whole culture through one show. But the show demonstrated its essence."