Reported in March and April 2022: 767 Falun Gong Practitioners Arrested or Harassed for Their Faith
(Minghui.org) According to information collected by Minghui.org, 767 incidents of Falun Gong practitioners being arrested or harassed for their faith were reported in March and April 2022.
Falun Gong, also known as Falun Dafa, is a spiritual discipline that has been persecuted by the Chinese communist regime since 1999. Countless practitioners have been arrested, harassed, sentenced, and tortured for upholding their faith. But due to strict information censorship in China, the incidents can't always be reported in a timely manner, nor is all the information readily available.
The 767 practitioners hail from 26 provinces and municipalities. Shandong and Sichuan recorded the most arrest and harassment cases (98 each), followed by Heilongjiang (92) and Hebei (81). Another twelve regions had double-digit cases and ten provinces had single-digit cases.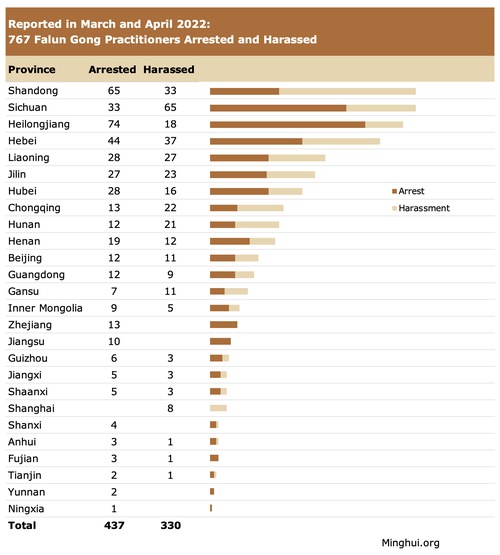 Out of the 767 cases, 437 were arrest cases, including 55 arrests that took place in 2021 and 382 in 2022. Among the cases that occurred in 2022, 21 arrests were in January 2022, 52 in February, 142 in March and 164 in April, and the remaining three cases' occurrence months remain unclear. A total of 181 practitioners also had their homes ransacked. At the time of writing, 200 practitioners still remain in custody. 
One hundred and seven (107) of the arrested practitioners (24.4%) were 60 or older, including 62 in their 60s, 34 in their 70s, and 11 in their 80s. 
For the 330 practitioners harassed for their faith, 43 incidents were in 2021 and 287 in 2022 (including 13 in January 2022, 52 in February, 101 in March and 114 in April). The incident months of seven cases in 2022 aren't clear. Sixty-six of the practitioners had their homes ransacked. 
Forty-six (13.9%) of the harassed practitioners were above 60, including 14 in their 60s, 15 in their 70s and 17 in their 80s. 
Ms. Cui Jinshi, an 88-year-old resident in Harbin City, Heilongjiang Province, died four hours after she was arrested for studying Falun Gong teachings with six other practitioners.
Days before and after Ms. Cui's tragic death, two group arrests were recorded in two other cities in the same province, Daqing and Qiqihar. The arrests in Qiqihar were reported to be a new operation dubbed "Net Closing In Operation," as the authorities continued their attempts to eradicate Falun Gong.
One targeted Beijing resident is Ms. Han Fei, a U.K. resident's mother, who has been facing frequent harassment since September 2021. The harassment further intensified during the Winter Olympics in January and February 2022. Although she was released shortly after her most recent arrest in April 2022, she still faces continued surveillance for refusing to renounce Falun Gong.
A Hubei resident named Mr. Liu Haiquan is the sole breadwinner for his extended family. Although his elderly father, in his 80s, frequented the police station to demand his release, the authorities still held him in custody, leaving his family in a dire situation. 
Mr. Wu Zhanting, a Liaoning resident who has become incapacitated due to a stroke, wasn't spared from being harassed. 
Several examples of the various kinds of cases of persecution reported in March and April 2022 are presented below:
Elderly Targeted for Their Faith
88-year-old Woman Dies Four Hours Following Arrest for Her Faith
Ms. Cui Jinshi, an 88-year-old Harbin City, Heilongjiang Province, resident died four hours after she was arrested for studying Falun Gong's teachings with six other practitioners. The police broke into Ms. Cui's home at around 1 p.m. on April 13, 2022 and took away her Falun Gong books, a photo of Falun Gong's founder, and cash. Ms. Cui fell while trying to stop the police, saying "Don't take my books away! Don't take Master's photo away!"
At 5:45 p.m., Ms. Cui's second son, Mr. Piao Hu, received a call from the police and was told that his mother was being resuscitated at the 242 Hospital. He rushed to the hospital. Five minutes later, the doctor came out and pronounced Ms. Cui's death. The son went into the operating room and saw Ms. Cui's body. Her face was pale. Her throat was cut open. And she was only wearing one shoe.
Mr. Piao said his mother had been healthy in the past 20 years thanks to her practice of Falun Gong. Despite her age, she lived on her own and walked fast. It's unknown exactly what the police did to her that caused her death in just four hours.
85-year-old Woman Suffers Stroke Following Repeated Harassment
Ms. Han Guiyun, an 85-year-old retired teacher in Yingkou City, Liaoning Province was sentenced to three years in prison and fined 10,000 yuan in June 2021. The police and court people kept harassing her at home before, during and after her trial. She was unable to stand up straight and had intensive back pain, as a result of the distress induced by the non-stop police harassment.
Ms. Han suffered a stroke on February 21, 2022 and was hospitalized for over 20 days. As the authorities suspended her monthly 4,600 yuan pension beginning in July 2021, she couldn't afford the prolonged medical treatment and was discharged.
Ms. Han is now bedridden and relies on liquid food to sustain her life, after most of her teeth fell out in the past year due to the mental distress. She also couldn't recognize people, had trouble expressing herself clearly, and struggled with poor hearing.
81-year-old Woman Harassed After Wrongful Prison Sentence, Ordered to Return Her Pension
Ms. Zhang Jianhua, an 81-year-old resident of Lanzhou City, Gansu Province, was sentenced to three years in July 2018 for practicing Falun Gong. At the Gansu Province Women's Prison, Ms. Zhang was deprived of sleep and starved. The inmates even forced her to drink urine and used the toilet brush to brush her mouth several times.
After Ms. Zhang was released on June 17, 2021, the police kept harassing her and taking her photos against her will, while she was struggling to overcome the trauma of the horrific torture in prison, 
In addition to the harassment, the local social security bureau ordered her to return the over 40,000 yuan pension she received while serving time, even though there was no legal basis for the demand. 
Elderly Woman Taken to Brainwashing Center After Serving Time for Her Faith
Ms. Zhu Guangrong was scheduled to be released on March 9, 2022 after serving 2.5 years for practicing Falun Gong. When her family went to pick her up on that day, they didn't see her and were instead told that Ms. Zhu was to be held at a brainwashing center for three more months. The authorities also refused to reveal the address of the brainwashing center.
Ms. Zhu, a 72-year-old Wuhan City, Hubei Province resident, was arrested on September 10, 2019, when she tried to urge the police to release another practitioner, Ms. Fu Yousheng. The police ransacked both women's homes around noon and took them to the Wuhan City No.1 Detention Center. Ms. Zhu was later sentenced to 2.5 years and Ms. Fu to 3.5 years.
Since the beginning of 2021, the authorities in Wuhan have added 10 brainwashing centers to incarcerate steadfast practitioners of Falun Gong. According to available information, at least 71 practitioners were detained and tortured in various brainwashing centers between January and September 2021.
Group Arrests
The "Net Closing In Operation" in Qiqihar City, Heilongjiang Province 
Since April 11, 2022, at least nine Falun Gong practitioners in Qiqihar City, Heilongjiang Province have been arrested for their faith. While all have been released on bail at the time of writing, the police are planning to submit their cases to the prosecutor and seek prison sentences against them.
In early 2022, the Qiqihar City Police Department held a meeting attended by all local police forces in seven districts and nine counties to ramp up arrests of Falun Gong practitioners.
Chen Dong, the deputy mayor of Qiqihar and head of the Qiqihar City Police Department, ordered the police to follow, monitor and harass local practitioners, especially those who persisted in raising awareness about the persecution during the pandemic. 
The operation gained support from Guo Xiaofeng, the head of the Qiqihar City Political and Legal Affairs Committee, an extra-judiciary agency overseeing the public security and judiciary branches and also orchestrating the persecution policy of Falun Gong. 
Dubbed "Net Closing In Operation," the latest police sweep was carried out by the Longjiang County Domestic Security Office, the Tiefeng Police Department, the Nanpu Police Station, the Donghu Police Station, the Wulong Police Station and several other police stations in the Tiefeng District. 
It has been reported that the police have fabricated "evidence" against the practitioners, alleging that Zhang Wanjie was the ringleader of a criminal organization in which all the other practitioners were active members. Some practitioners noticed that the police already had the interrogation record ready before ever asking them questions. 
Daqing City, Heilongjiang Province: At Least 25 Falun Gong Practitioners Arrested in One Day
At least 25 Falun Gong practitioners in Daqing City, Heilongjiang Province were arrested on April 20, 2022. Some police officers were wearing protective gear during the arrests, and they deceived the practitioners into opening their doors by claiming they were there to investigate if the homeowners had close contact with people who had tested positive for COVID-19.
Many of the arrests were carried out by officers from Huizhan Police Station. The sweep started at 6 a.m. and lasted until afternoon. Most of the practitioners have been released at the time of writing, as the local detention centers refused to accept them due to the pandemic. One officer claimed that over 100 practitioners were arrested, but the detailed name list is still being investigated.
Police Violence
Hunan Woman Beaten by Police, Suffers Multiple Bone Fractures
Ms. Zeng Xiaoying, a Huaihua City, Hunan Province resident, suffered multiple bone fractures after being beaten by police.
Ms. Zeng was arrested on April 19, 2022 for distributing informational materials about Falun Gong in a mall. Four officers interrogated her at the police station. While three of them left later on, one officer in plainclothes stayed and ordered her to sign the prepared deposition. 
As she refused to comply and tore up the fabricated deposition, he began to beat her. He hit her on her chest. When she was knocked down, her jade bracelet was broken and her wrists swelled. She lay on the ground and was unable to get up. 
When Ms. Zeng returned home in the evening, her family had to carry her upstairs. They took her to the hospital the next day, where the doctor found six fractures on the joints on the right side of her body, one fracture on her chest, and another fracture in one rib in the back.
Chengdu Man Beaten at a Hotel-turned Detention Site, Incurred Injuries in His Leg and Gallbladder
Mr. Liu Jia, a 53-year-old man in Chengdu City, Sichuan Province, suffered fractures in his left leg and inflammation of the gallbladder, after being beaten by the police for practicing Falun Gong. He was operated on and had his gallbladder removed. Now he is facing prosecution after the Pengzhou City Procuratorate approved his arrest.
Mr. Liu was arrested on January 6, 2022, while driving to the nearby Pengzhou City for an errand. The police ransacked his home in the afternoon, confiscating his seven computers, three cellphones, a printer, a set of Falun Gong books, 2,000 yuan in cash and his car. 
Mr. Liu was brought to the fourth floor of "Urban Cloud Hotel" in Pengzhou and put on residence surveillance. There was a surveillance camera in the room. All of the windows were covered and no light came in. Several people took turns monitoring him. 
As Mr. Liu refused to tell the police the password to his cellphones, they took him to a room without a surveillance camera and beat him, causing fracture of his left leg and inflammation of his gallbladder. He was then taken to the hospital to have his gallbladder removed.
Mr. Liu was kept in the hotel for 18 days. With his lawyer's intervention, the police transferred him to the Pengzhou City Detention Center on January 24. When he was admitted, both of his legs were severely swollen and he was unable to stand or walk on his own. There was also swelling on his right knee. The guards didn't require him to go through a physical examination, but took off all of his clothes in the lobby and took pictures of his legs. 
One day before Mr. Liu was transferred away, another practitioner, Ms. Huang Sulan, who was arrested on January 20 and held in the same hotel, suddenly died there on January 23.
Liaoning Man Beaten for Asking the Police to Return His Confiscated Falun Gong Items
Mr. Liu Quanwang, a former coal mine worker in Huludao City, Liaoning Province, was beaten by the police when he demanded the return of items confiscated from him for his faith in Falun Gong.
Mr. Liu and four other practitioners were arrested on the evening of April 7, 2022, after being reported for distributing informational materials about Falun Gong. The police ransacked his home at around 9:30 a.m. on April 8 before releasing him later in the day. 
His Falun Gong books, photos of Falun Gong's founder, three computers, two printers, several cellphones, five media players, over twenty flash-drives, dozens of bottles of ink, as well as 700 yuan of paper currency printed with information about Falun Gong were confiscated. 
Due to strict information censorship in China, many practitioners use creative ways to raise awareness about the persecution, including printing short messages on paper currency.
Mr. Liu and another practitioner went to the Jitun Police Station on April 22 and demanded the police to return his personal belongings. As the police pushed them outside, the practitioner who went with Mr. Liu fell down the stairs and rolled on the ground for two or three meters.
Mr. Liu shouted "Falun Dafa is good" in protest. The police handcuffed him and brought him to a room in the police station full of Falun Gong materials confiscated from the practitioners. They beat and kicked him. As they verbally abused Mr. Liu and Falun Gong's founder, they also spit on photos of the founder of Falun Gong . Mr. Liu tried to stop them, but to no avail.
After a while, two officers pushed Mr. Liu to the police car, took him to a small hill and released him.
Other Persecution Cases
Beijing Resident and Mother of a UK Resident Faces Ongoing Harassment and Surveillance for Her Faith in Falun Gong
Although Ms. Han Fei was released one day after she was arrested for practicing Falun Gong, the Beijing resident and mother of a U.K. resident faces continued surveillance. Prior to her latest arrest on April 22, 2022, she has been repeatedly harassed in the past three years for upholding her faith.
Her daughter, Ms. Li Hui, who currently resides in the U.K., is calling on the Chinese authorities to stop harassing her mother.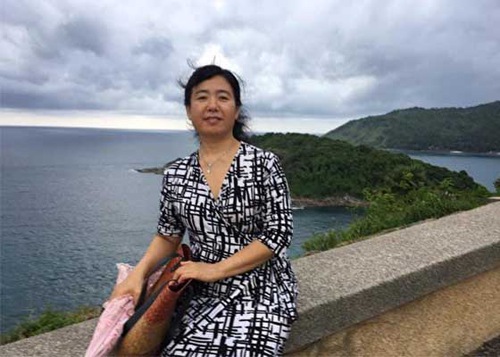 Ms. Han Fei
Xu Yong of the Chaoyang District Domestic Security Office and two officers from the Pingfang Police Station broke into Ms. Han's home at around 11 a.m. on April 22. They tore up the Falun Gong-themed painting and calendar on the wall and took away a photo of Falun Gong's founder.
Xu opened Ms. Han's drawers with a master key and confiscated her Falun Gong books, cellphone, iPad, and computer. Around 300 yuan in cash was taken away. The police later returned her electronic devices but withheld her Falun Gong books.
Several officers handcuffed Ms. Han and took her to the hospital for a physical examination and a COVID-19 test. When she refused to comply, the police chief Zhang Hao ordered the medical workers to do it forcibly. When taking her blood sample, a police officer choked her neck with his elbow, with her hands cuffed behind her back. She nearly suffocated.
Even with Ms. Han's strong protest against the violence, the police didn't stop the physical examination and they videotaped the entire process.
At around 2 p.m., the police called Ms. Han's husband and asked him to report to the police station after work. When he went there, the police asked him when he and Ms. Han got married, what she did every day, the people she had contact with, and the situation of their daughter Ms. Li, who also practices Falun Gong.
When Ms. Li called Ms. Han's cellphone (which had been returned to Ms. Han's husband) that evening, her father told her about her mother's arrest. Ms. Li said she sensed that her father was being intimidated by the police and under tremendous pressure.
The next morning, the police asked Ms. Han to identify a relative to be her guarantor for her bail release. She refused to acknowledge the bail release or her arrest, saying that the police had been violating the law all along. The police later found a staff member of her local residential committee to sign her case documents and released her at around 4 p.m.
Even after the police had released Ms. Han, they stayed outside of her home to monitor her daily life. She isn't allowed to leave home freely.
It's reported that the police arrested Ms. Han because she wrote a letter to the chief of Chaoyang District Police Station and urged him not to participate in the persecution. During her arrest, one officer said to her, "I know you [Falun Gong practitioners] are good people, but we still have to do it [arresting you]. If I don't do it, others will."
Ms. Han was previously arrested on December 4, 2019, and held in the Chaoyang District Detention Center for 23 days. Since then, she has been constantly harassed by the police. She was followed when she went out, including when she was doing grocery shopping. The people who monitored her included her neighbors, residents in her neighborhood, and unemployed people.
The harassment and surveillance became even more intense during January and February 2022, when Beijing was hosting the Winter Olympics. Ms. Han told her daughter that people stayed outside of their home around the clock. Plainclothes officers followed her when she went out and they also took her photos and videotaped her.
In addition to the harassment around the Winter Olympics, Ms. Han was also arrested during the Beijing Olympics in 2008 and given two years of forced labor.
Incapacitated Man Faces Non-stop Harassment for His Faith
Mr. Wu Zhanting, a Chaoyang City, Liaoning Province resident who has become incapacitated due to a stroke still faces constant harassment for his faith in Falun Gong.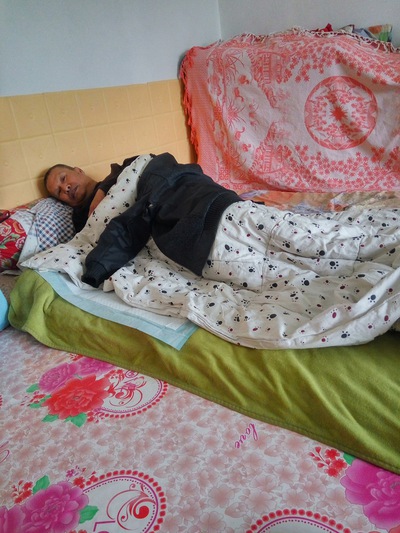 Mr. Wu Zhanting
Shortly after the Chinese New Year in February 2022, Wu Dali, an officer of the Xidayingzi Police Station and also a relative of Mr. Wu, came to take his photos, pretending to show concern for him.
Two staff members from the local justice bureau came a few days later and also took Mr. Wu's photos. They ordered his family to sign a case document on his behalf, but the family refused. The officials then put the pen in Mr. Wu's hand, who couldn't talk anymore, only to find that he could no longer hold the pen either.
In the past few years, the local authorities kept harassing Mr. Wu. His family said they couldn't remember how many times someone had suddenly showed up at the door and harassed them. While the officials all claimed to care about this family, no one ever provided any help to them.
Mr. Wu's 87-year-old mother-in-law often cried for him. "My son-in-law is a very kind person. That is very hard to find. But he is now persecuted like this, without doing any bad things." she said.
Sole Breadwinner for Extended Family Faces Prison Sentence After One-Year Detention
Mr. Liu Haiquan, a Xianning City, Hubei Province, resident, has been illegally detained for over a year and is now awaiting a verdict for practicing Falun Gong. Because Mr. Liu was the sole breadwinner in his extended family, they are struggling to make ends meet. 
Mr. Liu was arrested at work on April 13, 2021, shortly after he answered a call from a stranger asking if he could install satellite dishes. 
Accusing him of installing satellite dishes for people to receive NTDTV, an uncensored U.S.-based Chinese TV station, the police put Mr. Liu in criminal detention in the Jiayu County Detention Center on April 26. 
Mr. Liu's father, in his 80s, frequented the Domestic Security Office and the local detention center to demand his release but to no avail. He then wrote an appeal letter to the city government and still hasn't received any response. 
The letter explained that Mr. Liu's wife and nephew (his brother's son) both have an intellectual disability and that his brother has been suffering from uremia. 
The father said that Mr. Liu didn't have an obligation to care for his brother and nephew, but after he started to practice Falun Gong, he became increasingly considerate and selfless. He invited his brother and nephew to live with his family so it'd be easier for him to take care of them. Through Mr. Liu Haiquan's actions, his brother and nephew truly witnessed the power of Falun Gong in teaching people to be good and kind. 
Mr. Liu was made to stand trial at the Tongcheng County Court in late December 2021 and is still awaiting the verdict. 
In late January 2022, a few days before the Chinese New Year, Mr. Liu's father managed to meet with Liu Ning, the head of the Xianning City Domestic Security Office, and demanded his son's release so he could spend the holiday with the family. Liu claimed that he was no longer in charge of the case. He also changed his phone number, possibly to avoid answering calls from Mr. Liu's father.
Related reports:
Reported in Jan/Feb 2022: 782 Falun Gong Practitioners Arrested or Harassed for Their Faith
Reported in 2021: 16,413 Falun Gong Practitioners Arrested and Harassed for Their Faith
All content published on this website are copyrighted by Minghui.org. Minghui will produce compilations of its online content regularly and on special occasions.