France: Falun Gong Practitioners Raise Awareness of Persecution Outside European Parliament
(Minghui.org) The European Parliament passed a resolution on May 5 condemning the Chinese Communist Party's (CCP)-sanctioned forced organ harvesting. Citing the final judgment of the China Tribunal issued in March 2020, the resolution believes, "forced organ harvesting had been committed for years throughout China on a significant scale and that Falun Gong practitioners had been one – and probably the main – source of organ supply."
Falun Gong practitioners set up booths outside the European Parliament headquarters in Strasbourg, France on May 4 and 5 to inform the public about the ongoing suppression of their counterparts in China. Impressed by the group exercises and posters, passersby, including parliament members, talked with practitioners and showed their support.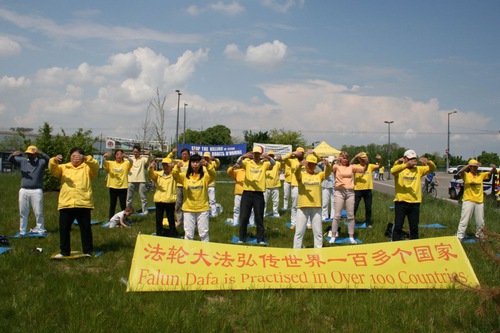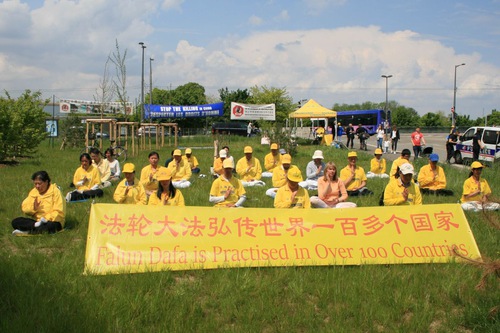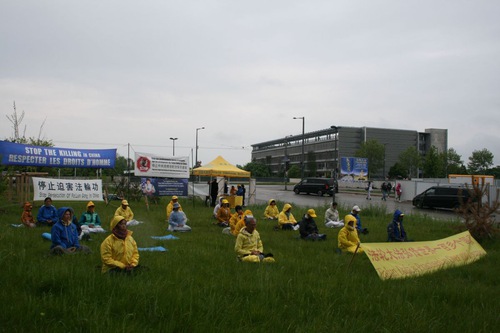 Exercise demonstration by Falun Gong practitioners outside the European Parliament in Strasbourg, France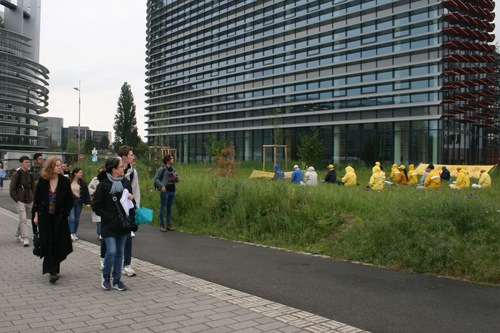 Pedestrians were drawn to the practitioners' event.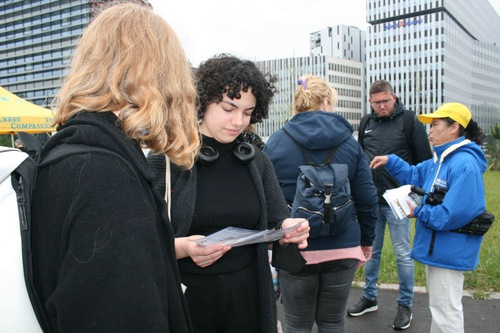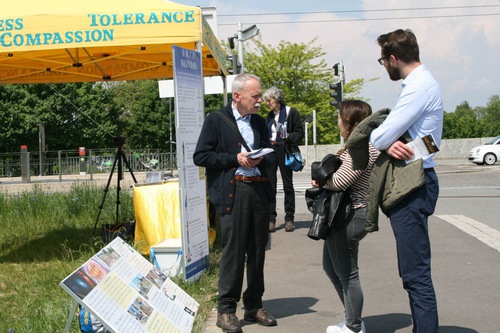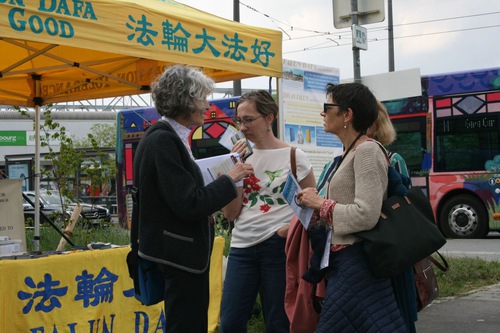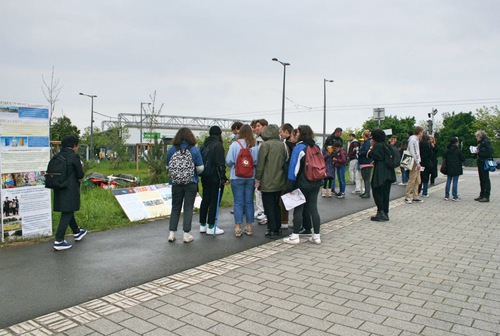 People read posters and talked with practitioners to learn about Falun Gong.
Forced organ harvesting by the CCP was first exposed to the public in 2006. Independent investigators have made many phone calls to China and confirmed the existence of the appalling crime. Many detained Falun Gong practitioners in China were often subjected to unusual physical examinations, including blood sampling, X-rays, and ultrasounds. It is believed that the purpose of the examinations was to evaluate the practitioners' suitability as potential organ donors (without their consent).
In the resolution, the European Parliament "expresses its serious concerns about the reports of persistent, systematic, inhumane and state-sanctioned organ harvesting from prisoners in the People's Republic of China, and, more specifically, from Falun Gong practitioners."
A Major Crime in Modern Society
"Reports indicate that forced organ harvesting in China may amount to crimes against humanity," remarked sponsor Maria Arena and co-sponsor of the resolution during the parliamentary discussion on May 5, "Beijing must immediately stop this abominable and unlawful practice, committed mainly against the detained Falun Gong practitioners. The Chinese authorities must also comply with the organ procurement requirements and its human rights commitments, as well as allow international experts to conduct independent monitoring."
She recommended establishing an independent task force to monitor this, and abolish laws that allow organ removal without consent. She also hopes that members of the European Union can work together to stop organ tourism. "As this is the third European Parliament call to stop this egregious human rights violation in China over the past decade, it is time for the European Union to publicly condemn it and act to prevent transplant tourism by Europeans," Arena added.
Co-sponsor Peter van Dalen said that many people have lost their lives because of organ harvesting by the CCP. To stop such a crime, it is important for the European Union and its members to pass resolutions. The conclusion drawn by the China Tribunal has indicated that Falun Gong practitioners are victims of the crime. It is therefore very urgent to discuss this issue and take action.
van Dalen said during an interview that discussing the issue during parliamentary meetings in itself has already exerted influence. The Chinese communist regime may not like the open discussion, but the European Foreign Affairs Council should bring up the topic during every meeting with China.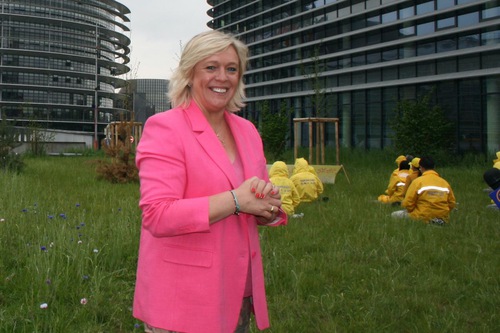 Hilde Vautmans, another Member of European Parliament (MEP) from Belgium, said she supports Falun Gong practitioners.
Another Member of European Parliament (MEP), Hilde Vautmans, also paid close attention to the resolution. "In Europe you have to wait very long for an organ donation. But in China, it happens in a couple of weeks. How is that possible?" she asked during the parliamentary discussion on May 4, "China is harvesting organs from prisoners – notably from Falun Gong – on a significant scale. We all hope this kind of atrocity would be documentary of the past."
"More than 70 years after the World War II, a leading country is committing a crime – a crime against humanity – and gets away with it, because the international community is closing its eyes," she continued, adding that this highlights the importance of a resolution.
Before the voting on May 5, she came to a Falun Gong practitioners' booth and expressed her support for practitioners. Such an urgent motion vote was very important, she remarked. To speed up the process, the discussion focused only on the forced organ harvesting by the CCP. World War II ended 70 years ago. How could such a crime still happen in 2022? she added.
She said it was important to tell more people about this, especially those who wanted organs. She said that those who planned organ tourism should cancel their trips; otherwise, they might obtain organs from living people, either Falun Gong practitioners or other detained Chinese citizens.
Because this is a severe violation of human rights, passing such a resolution has a special significance, Vautmans explained.
Passerby: The Entire World Needs to Know This
While the European Parliament was discussing the resolution, a passersby also heard about what was going on in China from practitioners. One passerby, Véronique Schied, talked with a practitioner for a long time. She said the human rights abuse by the CCP had deprived people of their basic freedom for better physical health. "That is, the CCP took away the most basic human rights from every one – the rights of peace and happiness. This is too frightening," she said.
She also liked Falun Gong's principles of Truthfulness-Compassion-Forbearance. "They help us to care about each other and bring things back on track. It is a very positive attitude," she explained.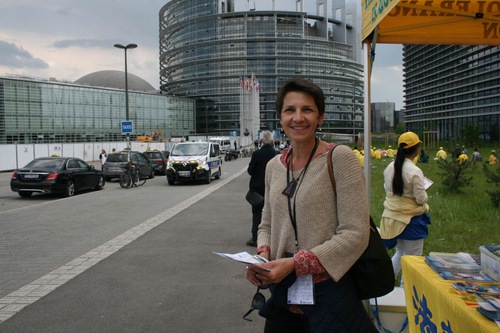 Véronique Schied said she was happy Falun Gong practitioners were sharing with others the principles of Truthfulness-Compassion-Forbearance.
Because freedom of belief is a basic human right, she said she hoped the European Parliament would pass this important resolution. "This is important for everyone," she said, "The entire world needs to know this – what is going on in China."
Some other passersby, including parliament members and staff, also stopped and talked with Falun Gong practitioners. Some had heard about the CCP's brutality, but did not know the regime had committed the crimes of forced organ harvesting. One parliament member from Germany said events like this – group exercises and raising awareness of the persecution – are very important. The parliament member encouraged practitioners to continue doing so, and help more people hear the information.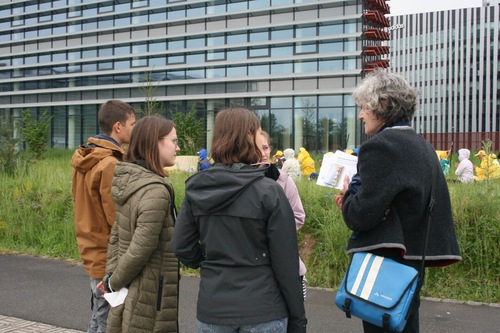 A group of students talked with a practitioner to learn about the persecution of Falun Gong in China.
One driver from Ukraine said what is going on in his country helped him better understand how Falun Gong practitioners are being persecuted in China. From the principles of Truthfulness-Compassion-Forbearance, he also found hope for future.
Views expressed in this article represent the author's own opinions or understandings. All content published on this website are copyrighted by Minghui.org. Minghui will produce compilations of its online content regularly and on special occasions.