Elderly Woman Taken to Brainwashing Center After Serving Time for Her Faith
(Minghui.org) Ms. Zhu Guangrong was scheduled to be released on March 9, 2022 after serving 2.5 years for practicing Falun Gong. When her family went to pick her up on that day, they didn't see her and were instead told that Ms. Zhu was to be held at a brainwashing center for three more months. The authorities also refused to reveal the address of the brainwashing center.
Falun Gong, also known as Falun Dafa, is a spiritual discipline that has been persecuted by the Chinese communist regime since 1999.
Ms. Zhu, a 72-year-old Wuhan City, Hubei Province resident, was arrested on September 10, 2019, when she tried to urge the police to release another practitioner, Ms. Fu Yousheng, who was arrested earlier for distributing Falun Gong materials at the local train station. The police ransacked both women's homes around noon and took them to the Wuhan City No.1 Detention Center. Ms. Zhu was later sentenced to 2.5 years and Ms. Fu to 3.5 years.
This isn't the first time that Ms. Zhu has been taken to the brainwashing center for practicing Falun Gong, which she credits for improving her temper and curing her headache and insomnia.
She was first arrested at the train station on January 28, 2000, when she was about to go to Beijing to appeal for the right to practice Falun Gong.
Days after she was released, the police summoned her to the police station with the excuse of asking her some questions. As soon as she went there, they handcuffed her. She was taken to the Hubei Province Women's Prison the next day. During her month-long imprisonment, she developed a severe eye condition with pain and blurred vision. The authorities then transferred her to the Jiang'an District Brainwashing Center, where she was held for another month. When she was released, the police threatened to withhold her family members' salary if she went to Beijing again.
Ms. Zhu was arrested one more time in November 2000 while visiting another practitioner. She was taken to the detention center the next day and held there for a year. Her eye condition continued to deteriorate. Her left eye became completely blind and her right eye's vision was very blurry. As she tried to do the Falun Gong exercises to improve her condition, the guards handcuffed her to the metal fence for a week and didn't allow her to use the restroom. She held a hunger strike to protest and was force-fed. Ms. Zhu was later transferred to the Hewan Forced Labor Camp and forced to renounce Falun Gong against her will, before being released.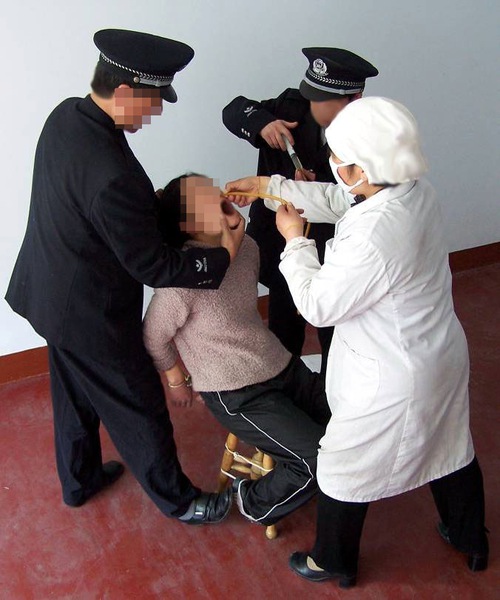 Torture reenactment: force feeding
Ms. Zhu was taken to the Jiang'an District Brainwashing Center in January, May and September 2003, each time for three months. She was forced to watch intensive propaganda videos slandering Falun Gong.
Over twenty officials, including Hu Shaobin, the head of Jiang'an District 610 Office, local police and residential committee staff members, went to Ms. Zhu's home on June 20, 2011 to arrest her. She refused to open the door for them. In the evening, although the police stayed outside her home to monitor her, she managed to escape. On the next day, the police forced her family to let them in and ransacked her place. Unable to find her, they followed her family when they went out, causing tremendous mental pressure for them.
Views expressed in this article represent the author's own opinions or understandings. All content published on this website are copyrighted by Minghui.org. Minghui will produce compilations of its online content regularly and on special occasions.