Incapacitated Man Faces Non-stop Harassment for His Faith
(Minghui.org) A Chaoyang City, Liaoning Province resident who has become incapacitated due to a stroke still faces constant harassment for his faith in Falun Gong, a spiritual discipline that has been persecuted by the Chinese communist regime since 1999.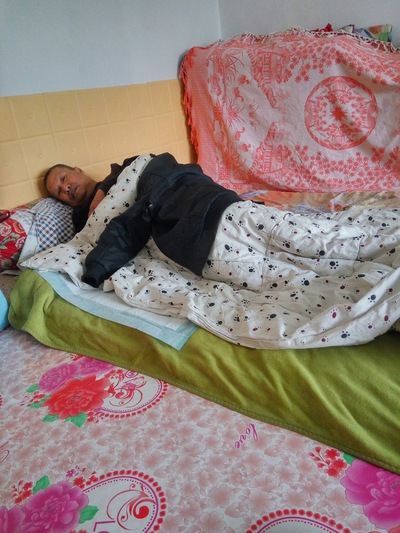 Mr. Wu Zhanting
Shortly after the Chinese New Year in February 2022, Wu Dali, an officer of the Xidayingzi Police Station and also a relative of Falun Gong practitioner Mr. Wu Zhanting, came to take his photos, pretending to show concern for him.
Two staff members from the local justice bureau came a few days later and also took Mr. Wu's photos. They ordered his family to sign a case document on his behalf, but the family refused. The officials then put the pen in Mr. Wu's hand, who couldn't talk anymore, only to find that he could no longer hold the pen either.
In the past few years, the local authorities kept harassing Mr. Wu. His family said they couldn't remember how many times someone had suddenly showed up at the door and harassed them. While the officials all claimed to care about this family, no one ever provided any help to them.
Mr. Wu's 87-year-old mother-in-law often cried for him. "My son-in-law is a very kind person. That is very hard to find. But he is now persecuted like this, without doing any bad things." she said.
The Family's Plight
Mr. Wu used to be a very handy man. He was capable of doing carpentry, masonry work and painting. Both he and his wife Ms. Che Shuxian practice Falun Gong and they were known to be good people by their neighbors.
After the communist regime began to persecute Falun Gong in 1999, the couple went to Beijing to appeal for the right to practice their faith. They were arrested and taken back to Chaoyang City, Liaoning Province. Ms. Che was given two years of forced labor after 45 days of detention. Her family paid the police 6,000 yuan and she was released on bail. Since then, the family hasn't lived one single day in peace.
On May 25, 2002, Huang Dianxiang of the Xiangyang Police Station led a group of officers to scale Mr. Wu's fence and arrest the couple. Their home was ransacked and the new motorcycle they had just bought was impounded.
While the couple were held at the detention center, their son, who was just admitted to college, couldn't afford the tuition. Although Huang later agreed to release the couple when the family offered to pay him an unknown amount of money, he later changed his mind as the couple insisted on practicing Falun Gong. Huang submitted their cases to the procuratorate, resulting in Mr. Wu being sentenced to 4.5 years in Nanshan Prison in Jinzhou City and Ms. Che to 4 years in Shenyang Women's Prison.
Mr. Wu was subjected to various torture methods in the prison. He suffered a stroke in May 2004 and lost the ability to talk or walk. His family applied for medical parole for him, but the guards rejected them, with the excuse that he was already sentenced and couldn't be released ahead of time. Mr. Wu was kept in the prison until his term ended in late 2006. After returning home, he has remained weak and unable to work. The family relied on his wife's meager income to get by.
Sentenced At Home
Wu Zhiwei, the former head of Xidayingzi Police Station and another officer Wang Meng arrested Mr. Wu three times in 2017, in the sweeping "Knocking on the door" harassment campaign targeting Falun Gong practitioners across China.
After Mr. Wu was released following the first arrest (date unknown), he suffered severe memory loss from the trauma of being arrested. Four officers returned on October 24, took away his Zhuan Falun, the main text of Falun Gong, and took him to the police station to collect his fingerprints.
His third arrest that year was on November 29 at a local fair. Despite the fact that he had difficulty walking, the police still held him at the Chaoyang Detention Center and submitted his case to the procuratorate.
When his family rushed to the detention center and questioned the guards why they accepted him given his physical condition, the guards replied, "We must accept him; we must obey our rules. If there are any consequences, we will be responsible."
Fifteen days later, the police called Mr. Wu's family and indicated their intention to release him on bail. When taking him home, officials from the local Political and Legal Affairs Committee (PLAC), an extra-judiciary agency tasked with overseeing the persecution, ordered Mr. Wu to sign statements to renounce Falun Gong.
The detention and harassment caused Mr. Wu's condition to quickly deteriorate. Yet the PLAC officials and prosecutor still came to harass him, causing even more mental distress to him. Mr. Wu became withdrawn and suffered frequent incontinence.
Not long after, over 20 officers from the Longcheng Procuratorate and Longcheng Court put Mr. Wu on trial. Many of Mr. Wu's neighbors were shocked to see how government officials treated such an incapacitated person.
The judge later sentenced Mr. Wu to three years with four years probation, on charges of "undermining law enforcement." His family asked how a person who couldn't even take care of himself undermine law enforcement.
Since then, the local justice bureau staff member has continued to harass Mr. Wu and his family. When Mr. Wu was hospitalized, they called the hospital, looking for him. Due to his ever-worsening condition, his wife had to quit her job and stay home to care for him, leaving the family with no source of income.
Perpetrators' contact information:
Wu Dali (吴大力), officer of Xidayingzi Police Station: +86-13942139934Wu Di (吴迪), head of Xidayingzi Police Station: +86-15084218386Lin Guangsen (林广森), officer of Xidayingzi Police Station
(More perpetrators' contact information is available in the original Chinese article.)
Related report:
Views expressed in this article represent the author's own opinions or understandings. All content published on this website are copyrighted by Minghui.org. Minghui will produce compilations of its online content regularly and on special occasions.