50 Falun Gong Practitioners in China Sentenced to Prison in November 2019 for Refusing to Renounce Their Faith
December 17, 2019 | By a Minghui correspondent in China
(Minghui.org) According to information compiled by Minghui.org, 50 Falun Gong practitioners were sentenced to prison by the Chinese Communist Party's (CCP) court system in November 2019.
Falun Gong, also known as Falun Dafa, is a spiritual practice based on the principles of Truthfulness-Compassion-Forbearance. Since the CCP started persecuting the practice in July 1999, many practitioners have been arrested, imprisoned, tortured, or even killed for their organs.
The 50 practitioners were sentenced for raising awareness of the persecution of Falun Gong, including talking to people about Falun Gong, mailing letters to people to explain the illegality of the persecution, encouraging people to quit the CCP and its affiliated organizations, and shouting "Falun Dafa is good" on Tiananmen Square.
Due to the CCP's information blockade, the number of Falun Gong practitioners who are sentenced cannot always be reported in a timely manner, nor is all the information readily available.
Those sentenced are from 17 provinces and municipalities in China, with Heilongjiang Province (6) registering the most sentences. The prison terms range from 1.2 to 8 years, with an average of 3.21 years.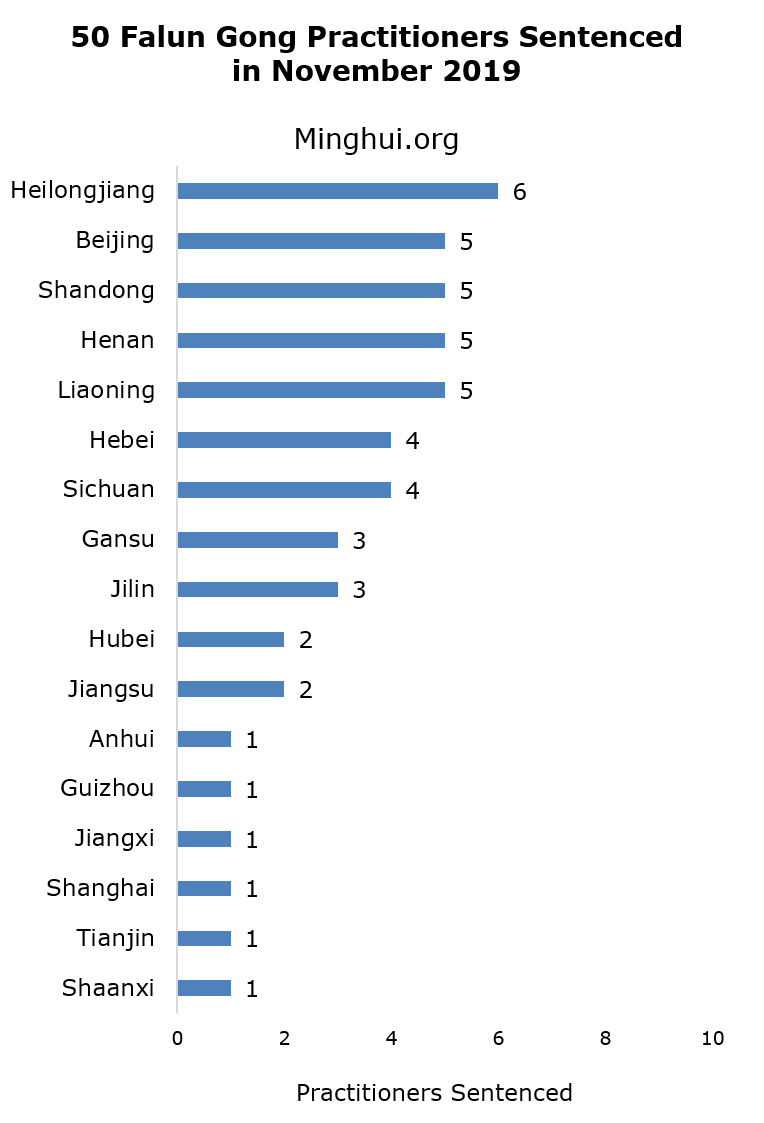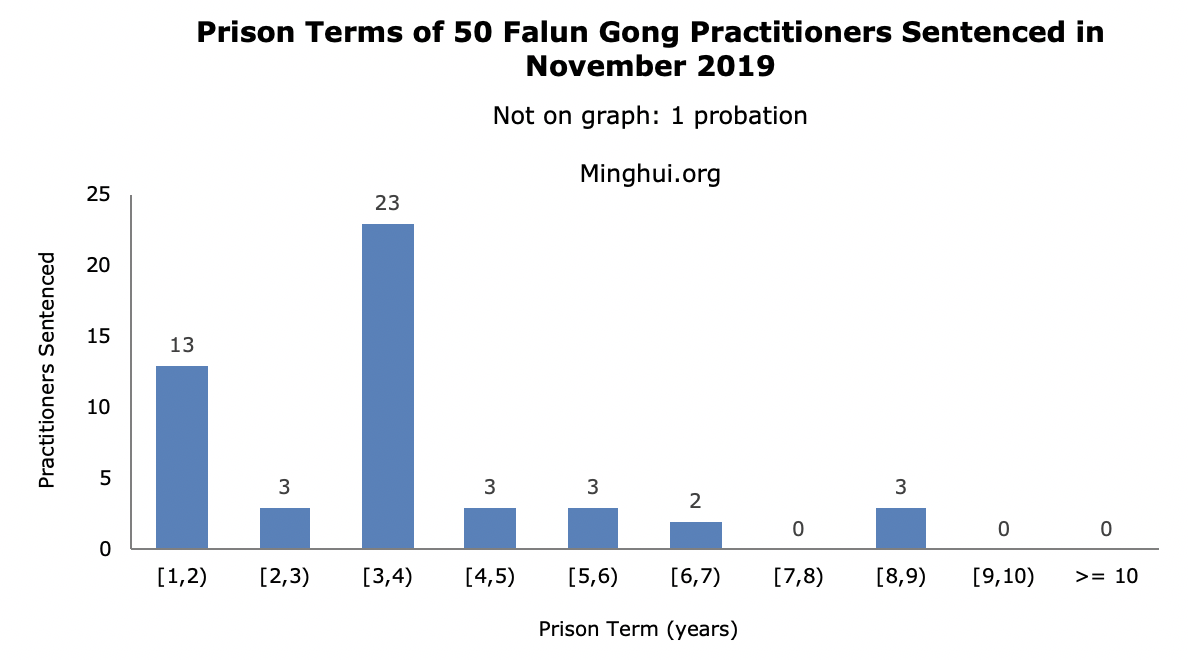 Nine practitioners had money extorted from them by the police or were fined by the court for a sum of 132,000 yuan, with an average of 14,667 yuan per person.
Eight of them are 70 or older. Their sentences range from 1 to 8 years, with Ms. Liu Changrong (70) being given 8 years.
The following are snapshots of some of the sentenced practitioners.
Targeted in a Mass Arrest, Three Falun Gong Practitioners Sentenced to Prison
Three Daqing City, Heilongjiang Province, residents were sentenced to prison in November 2019: Mr. Du Yecheng was sentenced to 7 years, Mr. Guan Xingtao to 8 years, and his wife, Ms. Wu Yanhua, to 7.5 years.
Their appeals to the Daqing City Intermediate Court were rejected.
The three practitioners were targeted during a mass arrest of more than 100 practitioners in Heilongjiang Province on November 9, 2018.
Mr. Du, in his 40s and the owner of a glass shop, was arrested by a dozen police officers at his home around 7 a.m. His father and his wife died only a few years ago, so his mother and young daughter are now struggling to cope after his arrest.
Ms. Wu was arrested around 8 a.m. when she went to pay her family's home association fee. When she didn't return by 1 p.m., Mr. Guan went out to look for her, but he was also arrested.
Six officers knocked on the couple's door around 3 p.m. Before Ms. Wu's mother could open it, the police barged in. They raided the place and confiscated the couple's Falun Gong books and computer.
Ms. Wu's mother, in her 80s, shook uncontrollably for hours after the police left. Mr. Guan's mother suffered a heart attack and stroke that same day, after she was informed of his arrest.
The Ranghulu District Procuratorate approved the three practitioners' arrests on December 14, 2018. The prosecutor returned their cases to the police for insufficient evidence three times before eventually indicting them. According to Chinese criminal law, a prosecutor can only return a case to the police for further investigation at most twice and should dismiss the case if not enough evidence is provided.
The three practitioners appeared in the Ranghulu District Court on August 12, 2019. Ms. Wu and Mr. Guan's family hired a lawyer to enter a not guilty plea for them. Mr. Du testified in his own defense.
82-Year-Old Man Sentenced to 3 Years and Fined
Mr. Wu Yuanchou of Wuhan City, Hubei Province, was sentenced to three years and fined 3,000 yuan on November 26, 2019, for his faith in Falun Gong.
Mr. Wu, 82, was reported to the police in late 2017 or early 2018 when he was talking to people about the persecution of Falun Gong. The police ransacked his home and confiscated his Falun Gong books. He was also under constant surveillance.
Liaoning Woman Sentenced to 4 Years in Prison Without a Trial
In mid-November 2019, two officers from the court and Domestic Security Division showed up at Ms. Zhang Xiuying's home and presented her with a verdict that said that she had been sentenced to four years in prison.
When Ms. Zhang, who is from Benxi City, Liaoning Province, asked the officials how that could be, since she hadn't had a hearing yet, she was told that when they came to her home in 2018, it was considered a hearing.
Ms. Zhang refused to accept the verdict and was told she had 10 days to appeal.
Ms. Zhang was taken to Benxi Detention Center on November 21.
This is not the first time that Ms. Zhang has been targeted for her faith in Falun Gong. She was arrested in 2016 and taken to Benxi Detention Center. After she was diagnosed with severe heart disease during a physical, she was released when her son paid the authorities 5,000 yuan.
Woman, 70, Sentenced to 8 Years Based on Forged Evidence
Ms. Liu Changrong, 70, was sentenced to 8 years by Huangchuan County Court.
Ms. Liu, a resident of Huangchuan County, Henan Province, was arrested on October 17, 2018, when she was taking her grandson home after school.
The Huangchuan County Procuratorate twice returned her case to the police for insufficient evidence.
The police forced Ms. Liu's family to admit that she allowed her home to be used for local practitioners to study the Falun Gong teachings together. The police also forced two of Ms. Liu's neighbors to provide similar accounts in order to charge her.
Ms. Liu lost her hearing and vision in one eye after several months in the Xinyang City No.1 Detention Center. She couldn't hear the prosecutor when she appeared in court on March 1, 2019, and was unable to defend herself.
The judge handed down a guilty verdict shortly after the hearing.
Hebei Woman Given 6 Years After Initial 7-Year Prison Term Overturned by Appeals Court
Ms. Yang Huanping, 57 and a resident of Shijiazhuang City, Hebei Province, was arrested along with 30 other Falun Gong practitioners on November 15, 2013.
She was sentenced to seven years in prison by the Qiaoxi District Court on September 28, 2015, but was released on parole due to poor health.
Ms. Yang filed an appeal, and the Shijiazhuang Intermediate Court overturned the verdict in December 2016 and ordered a retrial.
The Qiaoxi District Court held a hearing on June 27, 2017. Her lawyer defended her innocence and argued that she hadn't violated any laws in upholding her faith.
Ms. Yang also testified in her own defense and shared how Falun Gong cured her of liver, kidney, and heart problems, as well as helped her become more calm and peaceful.
While the outcome of the retrial is not clear, Ms. Yang went into hiding shortly afterward to avoid being taken to prison and was then put on the police wanted list.
Ms. Yang was arrested again on October 25, 2019, after the police found out where she was and started to monitor her. She has been detained at the No. 2 Detention Center of Shijiazhuang City ever since. It was recently learned that she has been given 6 years, but it wasn't clear if and when a sentencing hearing ever took place. She is preparing to appeal the verdict.
Once Imprisoned for 3 Years, Liaoning Woman Sentenced to Another 4 Years for Her Faith
Ms. Wu Lixian of Fushun City, Liaoning Province, was sentenced to 4 years and fined 20,000 yuan for practicing Falun Gong. She is in Division 1 of Liaoning Women's Prison, where she has been forced to sit still on a small stool for a long time every evening after doing unpaid labor during the day.
Prior to the latest sentence, Ms. Wu, 62, was previously incarcerated for three years for practicing Falun Gong and was detained two more times in 2018. She left home temporarily to avoid further arrests. She returned home on the night of July 26, 2019, only to be arrested the next morning.
Ms. Wu credits Falun Gong for improving her health and helping her control her bad temper. After the persecution began, she felt compelled to tell people that Falun Gong was nothing like what the state propaganda said it was. That landed her in police custody in April 2010, followed by a 3-year prison sentence in September 2010. She was released on April 16, 2013.
Ms. Wu was arrested 3 more times between April 2018 and July 2019.
The first time was on April 24, 2018. Peng Yue and Wei Zhenxing from Fushun Police Department, along with officers from Jianshe Police Station, arrested Ms. Wu at home with no explanations. Nine other Falun Gong practitioners were also arrested around the same time. After being held in Fushun Detention Center for 37 days, Ms. Wu and four other practitioners were released.
Ms. Wu was seized again on September 29, 2018, when she was talking with someone about Falun Gong. The arresting officer from the Guangming Police Station took her to Fushun Detention Center later that day.
When Ms. Wu exhibited symptoms of heart failure, a guard asked the detention center doctor if she might die. The doctor said that Ms. Jin Shunnu, another detained practitioner, had died earlier that morning, October 10, 2018.
Ms. Wu was thus released on bail that day due to her poor health. Officials from Wanghua Procuratorate and Wanghua Court repeatedly harassed her at home. Even before she made a full recovery, she was ordered to appear in court. When officials continued to harass her following the hearing, Ms. Wu decided she had to leave home.
Several months passed and Ms. Wu was worried about her husband. She returned home on the night of July 26, 2019, only for the police to arrest her around 8 a.m. the next morning. She was taken to Fushun Detention Center in handcuffs that afternoon.
It is unclear when Ms. Wu was sentenced to 4 years in prison following her latest arrest. Her husband and son worry that she may be tortured again in prison and are very concerned about her wellbeing.
70-Year-Old Beijing Woman Sentenced to 3.5 Years for Shouting "Falun Dafa is Good" at Tiananmen Square
Ms. He Wen, 70 and a resident of Beijing, was sentenced to 3.5 years in prison for shouting "Falun Dafa is good and Truthfulness-Compassion-Forbearance is good" at Tiananmen Square.
After she was arrested on July 12, 2018, the police ransacked her home and confiscated her Falun Gong books and related materials.
Although she was released on bail six days later, the police arranged for several people to stay outside of her apartment building and followed her wherever she went.
The prosecutor later charged her with "undermining law enforcement with a cult organization," a standard pretext used by the authorities to frame Falun Gong practitioners.
Ms. He appeared in the Dongcheng District Court on August 30, 2019. Her lawyer entered a not guilty plea for her and argued that her practicing Falun Gong didn't cause harm to anyone, much less undermine law enforcement. He demanded Ms. He's acquittal.
Ms. He also testified in her own defense and said that she didn't violate any laws in upholding her faith. The judge frequently interrupted her testimony.
The judge announced the verdict on November 25, 2019. She is still detained in the Dongcheng District Detention Center at the time of writing.
Prior to the latest arrest, Ms. He was repeatedly arrested and harassed. She was held in forced labor camps in 2000, 2002, and 2009 for a total of seven years.
The labor camp guards beat her, restrained her on a bed in a spread-eagle position, force-fed her, and made her sit on a small stool with her hands on her knees and her legs close together for more than 20 hours every day without moving.
Jilin Woman Convicted for Talking to Student about Falun Gong
Ms. Zhang Chunxiang of Baishan City, Jilin Province, was sentenced to 3.5 years for talking to a student about Falun Gong and urging him to quit the youth organizations affiliated with the CCP.
Ms. Zhang, in her late 60s, was arrested on January 17, 2019. Although she suffered from persistent high blood pressure and numbness in her limbs while she was being held in Baishan City Detention Center, she was denied bail for medical reasons.
Ms. Zhang was tried in the Jingyu County Court on November 14, 2019. Her daughter was the only family member allowed to attend her trial. The court didn't notify her daughter of the trial until the day before.
Ms. Zhang testified in her own defense because the authorities had forced her lawyer to drop her case.
A fire truck and an ambulance were on standby outside the courthouse in case Ms. Zhang needed medical attention. She appeared emaciated after several months in detention, and her daughter is very worried about her.
Hebei Woman Sentenced to Over 3 Years for Telling People about Falun Gong
Ms. Zhang Ximei, a resident of Baoding City, Hebei Province, was sentenced to 3 years and 2 months on November 12, 2019, for talking to a woman about Falun Gong.
Ms. Zhang was arrested on January 17, 2019. When she refused to reveal her home address, the police called her mother from her phone and deceived her mother into disclosing her address.
Ms. Zhang was taken to Baoding City Detention Center the following day and has been held there since.
The Jingxiu District Procuratorate approved her arrest on January 31, 2019, and later transferred her case to Gaoyang County Procuratorate.
Ms. Zhang was tried by Gaoyang County Court inside the detention center on June 12, 2019. Only two of her family members were allowed to attend the hearing.
She testified in her own defense and argued that she didn't violate any laws in practicing Falun Gong. The judge later sentenced her to 3 years and 2 months.
Hubei Man Sentenced to 2 Years for Mailing Letters About Falun Gong
Mr. Wang Quan of Wuhan City, Hubei Province, was sentenced to 2 years in prison for mailing letters to the public about the persecution of Falun Gong.
Mr. Wang was arrested on January 9, 2018, and has been detained at Qingling Detention Center ever since. The police didn't inform Mr. Wang's family of his arrest. It took an insider two weeks to find his family and tell them about his status.
Mr. Wang's family hired a lawyer to represent him. On February 1, 2018, the lawyer visited him in the detention center before stopping by the local police station to inquire about his case. The police refused to provide any information, and the lawyer submitted a bail request on behalf of Mr. Wang.
When Mr. Wang's elderly father and brother traveled 130 miles from their home in Zhongxiang City to Wuhan four days later, they were not allowed to see him.
The police submitted Mr. Wang's case to the Wuchang District Procuratorate on March 5, 2018, which then indicted him and forwarded his case to the Wuchang District Court.
Although the Wuchang District Court judge returned Mr. Wang's case to the procuratorate for insufficient evidence on September 24, 2018, the prosecutor and police refused to release him and collected more evidence to frame him.
Mr. Wang's father, who was suffering from multiple ailments, was very distressed about his arrest. His health deteriorated and he passed away on May 19, 2019.
Mr. Wang appeared in court on November 6, 2019. His lawyer entered a not-guilty plea for him. The judge convicted him nine days later.
Arrested 10 Times for Her Faith, Hebei Woman Sentenced to 1.5 Years
Ms. Chai Shuzhen, 70 and a Qianxi County, Hebei Province, resident, was arrested for the 10th time for her faith in Falun Gong on July 12, 2019, after being reported for talking to people about it.
During her hearings in the Zunhua City Court on October 9 and October 22, 2019, her lawyer questioned the validity of the testimony provided by the witnesses.
The prosecutor claimed that the first witness, Li Xiaoming, a sales associate at a pharmacy, saw Ms. Chai handing out information about Falun Gong outside the store. But Ms. Chai's lawyer learned that Li only heard from a customer that an elderly woman was arrested for passing out Falun Gong information and that Li couldn't confirm whether it was Ms. Chai.
Li was not in court to be cross-examined.
The other witness, Fu Rongyan, was mentioned in the indictment but there was no ID information provided. Ms. Chai's lawyer asked how the prosecutor could use a witness whose identity was not known.
The judge sentenced Ms. Chai to 1.5 years in prison with a 4,000-yuan fine on November 15, 2019.
In the judgment, Ms. Chai's lawyer noticed that a third witness, Zhang Mingfang, who was never mentioned by the prosecutor during the hearings, was listed in the document.
The document stated that Zhang worked at the same pharmacy as Li and that she saw Ms. Chai passing out Falun Gong information on the day of her arrest. Ms. Chai's lawyer argued that it was against the law to add additional prosecution evidence after the hearings without the defense's knowledge and that such uncorroborated evidence shouldn't be included in the final verdict.
Ms. Chai vowed to appeal her sentence.
Liaoning Woman Sentenced to 2 Years in Prison
Ms. Wan Guirong of Dandong City, Liaoning Province, was recently sentenced to 2 years in prison for distributing information about Falun Gong.
Ms. Wan was arrested on June 27, 2019, when a man reported her to the police. After arresting her, the police ransacked Ms. Wan's home and confiscated Falun Gong books and many of her personal belongings. They also arrested her son. Her son was released when the police learned that he did not practice Falun Gong.
Before the mid-Autumn festival, Ms. Wan's son called Liu Zhiyong, the deputy director of the police station who was in charge of the case, for an update and was told that her case had been submitted to the court and was pending sentencing.
Ms. Wan appeared at the Zhen'an District Court on November 4. Before the hearing ended, which lasted less than half an hour, Ms. Wan was asked if she would plead guilty, to which she refused. Ms. Wan was sentenced to 2 years in prison 20 days later. She has since appealed the verdict.
Download the full list of sentenced practitioners (PDF)
Related reports:
39 Falun Gong Practitioners in China Sentenced to Prison in October 2019 for Refusing to Renounce Their Faith
30 Falun Gong Practitioners in China Sentenced to Prison in September 2019 for Refusing to Renounce Their Faith
60 Falun Gong Practitioners in China Sentenced to Prison in August 2019 for Refusing to Renounce Their Faith
52 Falun Gong Practitioners in China Sentenced to Prison in July 2019 for Refusing to Renounce Their Faith
Minghui Report: 329 Falun Gong Practitioners Sentenced to Prison for Their Faith in First Half of 2019
60 Falun Gong Practitioners in China Sentenced to Prison in May 2019 for Refusing to Renounce Their Faith
38 Falun Gong Practitioners in China Sentenced to Prison in April 2019 for Refusing to Renounce Their Faith
Minghui Report: 43 Sentenced to Prison in March 2019 for Refusing to Renounce Their Faith in Falun Gong
109 Falun Gong Practitioners Sentenced for Their Faith in January and February 2019
52 Falun Gong Practitioners Sentenced to Prison in January 2019 for Not Giving Up Their Faith
931 Falun Gong Practitioners Sentenced for Their Faith in 2018