52 Falun Gong Practitioners Sentenced to Prison in January 2019 for Not Giving Up Their Faith
Feb. 21, 2019 | By a Minghui correspondent in China
(Minghui.org) According to information compiled by Minghui.org, the month of January 2019 recorded 52 new cases of Falun Gong practitioners sentenced to prison by the Chinese Communist Party's (CCP) court system.
Falun Gong, also known as Falun Dafa, is a spiritual practice based on the principles of Truthfulness-Compassion-Forbearance. Since the CCP started persecuting the practice in July 1999, many practitioners have been subjected to arrest and detention, imprisonment, torture, forced labor, and even organ harvesting.
The practitioners were sentenced for various reasons, such as telling people about Falun Gong and distributing information about it and posting information about the persecution on social media.
The practitioners who were sentenced come from 13 provinces and municipalities in China, with the provinces of Shandong (12) and Jilin (7) leading the pack.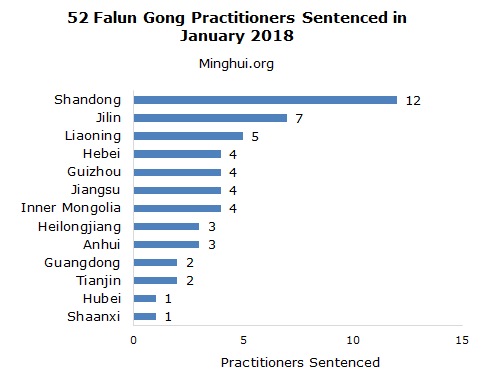 Due to the CCP's information blockade, the number of Falun Gong practitioners who were sentenced cannot always be reported in a timely manner, nor is all the information readily available.
The prison terms ranged from nine months to 13 years, for an average of 3.74 years.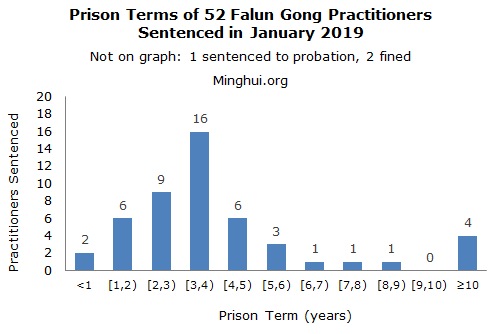 Mr. Zuo Hongtao of Qinhuangdao City, Hebei Province, was sentenced to 13 years while his wife Ms. Cui Qiurong, who does not practice Falun Gong, was given 19 months.
Eighteen practitioners had funds extorted from them by the police or were fined by the court for a total sum of 158,000 yuan, for an average of 9,875 yuan. Two practitioners, Mr. Cai Weihua of Heilongjiang Province and Mr. Liu Jie of Shandong Province,were each fined 30,000 yuan.
Seven of the practitioners are 65 or older. Their sentences ranged from one to four years, with the two oldest practitioners, Ms. Liu Shuyan and Mr. Xu Jingchao, 85, being given 2.5 years with a 3-year probation. Mr. Xu was also fined 10,000 yuan.
The following cases profile some of the sentenced practitioners.
Long Prison Terms
Four practitioners from Qinhuangdao City, Hebei Province, were sentenced to 8 to 13 years in prison after they refused to renounce their faith. Mr. Zuo Hongtao, Mr. Wu Wenzhang, Ms. Li Guoai, and Mr. Liu Changfu were sentenced to 13, 11, 10, and 8 years, respectively, a year and a half after they were arrested. Their families have appealed the verdicts.
Mr. Zuo's wife, Ms. Cui Qiurong, who does not practice Falun Gong, was sentenced to 19 months. She was released on January 9, 2019, after completing her term.
Elderly Practitioners Targeted
In January 2019, seven practitioners 65 or older were sentenced to prison for refusing to renounce their faith. One of them, 76-year-old Ms. Song Zhaoheng, passed away suddenly on January 14 while awaiting the verdict.
The judge had threatened to sentence Ms. Song, a retired teacher, to nine years in prison if she refused to renounce her faith. She died in the detention center.
On January 23, 2019, five Falun Gong practitioners were sentenced and fined by Yushu City Court. Four of them are between 69 and 85 years of age.
Ms. Zhang Yujie, 69, was sentenced to three years and two months and fined 5,000 yuan, but she has yet to receive an official copy of her verdict. Ms. Zhang had been arrested, detained, and sent to forced labor several times for telling people about Falun Gong.
Ms. Li Xiujuan, in her 50s, was given a one-year term and fined 5,000 yuan.
Ms. Li Qingxia, 75, was sentenced to three years with 4 years on probation. Previously a civil servant, Ms. Li was telling people about Falun Gong when she was arrested and had her house ransacked.
Ms. Liu Shuyan and Mr. Xu Jingchao, both 85, were given 2.5 years with 3 years on probation. Mr. Xu was fined 10,000 yuan.
On January 24, Ms. Gao Zonghua, a practitioner from Hefei City, Anhui Province, was sentenced one year and fined 2,000 yuan.
Ms. Gao, who is nearly 80, was arrested on March 4, 2018, when she was reported to the police for telling people about Falun Gong. After learning of her arrest, her 100-year-old mother went the court to see her daughter, but was told to go home and wait for news.
Two other practitioners in their 70s were also sentenced. Ms. Lin Jinlan, 76, of Meizhou City, Guangdong Province, was sentenced to 3.3 years in prison. Ms. Li Hezhen, 72, of Wuhan City in Hubei Province, was sentenced to four years.
Sentenced for Raising Awareness of the Persecution
Despite the persecution of Falun Gong still taking place in China, countless practitioners continue to step forward to tell people the facts about it. The authorities retaliate by sentencing them to prison.
Professor Sentenced for Sharing Information about the Persecution on Social Media
Mr. Zeng Hao, a professor at Tianhe College of Guangdong Polytechnic Normal University, was arrested on August 10, 2018, for sharing information about the persecution of Falun Gong on the QQ platform.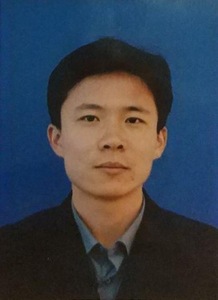 Mr. Zeng Hao
On January 29, the Haizhu District Court in Guangzhou City sentenced Mr. Zeng to three and a half years in prison and fined him 10,000 yuan. Neither his lawyer nor family were informed of the sentencing hearing. He has vowed to appeal the sentence.
Woman Sentenced for Helping Man Who Fainted and Introducing Falun Gong to Him
On January 17, 2017, Ms. Dong Lijuan of Guangzhou City saw that a man had fainted in front of a pharmacy and rushed over to help him. When he regained consciousness, she told him that reciting "Falun Dafa is good, Truthfulness-Compassion-Forbearance is good" might help him and gave him a Falun Gong bookmark after he agreed.
Two security guards overheard their conversation, searched her bag, and took her to the police station. She was arrested and later detained in the Haizhu District Detention Center.
Ms. Dong first appeared in court on May 17, 2018. She was sentenced to a two-year prison term and fined 5,000 yuan on January 16, 2019. As she had been detained for two years prior to sentencing, she was released after the hearing.
Guizhou Residents Sentenced for Distributing Informational Materials about Falun Gong
Ms. Zhu Jiacai and Ms. Luo Cuiqin from Weining County were recently sentenced to prison, Ms. Zhu to 10 years and Ms. Luo to 5 years, for distributing information about Falun Gong.
They were first arrested on October 16, 2017, after someone reported them for distributing the materials on August 13. The police ransacked their homes and confiscated Falun Gong materials and other personal items.
They were tried on November 27, 2018, and pleaded not guilty, with their lawyers representing them. Both of them have appealed the verdicts.
Shandong Man's Verdict Pre-determined One Month Before Secret Court Hearing
Mr. Du Yihe of Yinan County was first arrested on May 28, 2018, before the Shanghai Cooperation Organization (SCO) summit was scheduled to be held in Qingdao City June 9 and 10, 2018. It was reported that the police arrested him to prevent him from leaving home to work in another city.
After his arrest, his family heard from an acquaintance with government connections that the authorities had already decided his verdict—four years in prison.
A month later, on November 24, a secret hearing was held inside a makeshift courtroom at the Yinan Detention Center, where Mr. Du was sentenced to 4.5 years in prison. His family has not received an official notice of his verdict.