According to information compiled by Minghui.org, 2,014 Falun Gong practitioners were arrested and 1,369 were harassed for their faith in the first half of 2019. The month of April saw a spike in the number of targeted practitioners due to the "sensitive date" of April 25, when over 10,000 practitioners peacefully appealed in Beijing in 1999.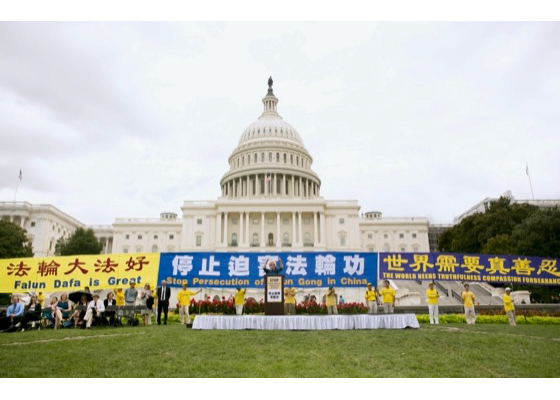 About 2,000 Falun Gong practitioners and supporters held a rally on July 18, 2019, on the west lawn of the U.S. Capitol in Washington DC, calling for an end to the 20 years of persecution of Falun Gong in China. The 20 years of peaceful resistance to persecution is a story of nonviolence, wisdom, tenacity, and creativity, according to rally speakers.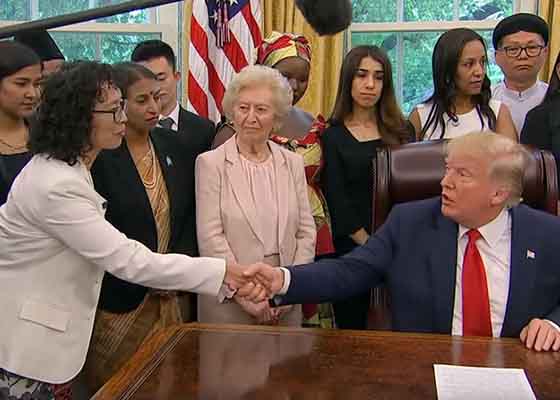 Ms. Zhang Yuhua was among the 27 survivors of religious persecution from 17 countries, who met with President Donald Trump in the Oval Office of the White House on July 17, 2019. The 27 survivors were in town to attend the second Ministerial to Advance Religious Freedom this week, which was held in the U.S. Department of State in Washington DC on July 16-18, 2019.
Nearly 2,000 Falun Gong practitioners from across the U.S. held a parade on July 18 to commemorate the 20-year anniversary of the peaceful resistance against the persecution.
U.S. congressional leaders sent letters to the Falun Gong Rally at the Capitol commending practitioners' peaceful and uncompromising courage in the face of the communist regime's brutality.
By the time Falun Gong practitioner Mr. Wang Lianjun was released in April 2005, he was emaciated, deaf and blind. The authorities still put him on house arrest and prevented him from going to the hospital. He suffered for four more years before passing away at age 55.
~ July 20 Events ~
~ Voices of Support Worldwide ~
~ Improving Oneself ~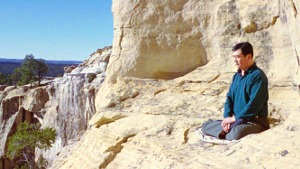 Master Li quietly watching the world from amidst the mountains after leaving New York following July 20th, 1999. (Published January 19, 2000)