Canada: Ottawans Encourage Practitioners to Continue Efforts Against Persecution in China
July 18, 2019 | By Ying Zi, a Minghui correspondent in Ottawa
(Minghui.org) 2019 marks the 20th year of Falun Gong practitioners' peaceful efforts to counter the persecution of their faith by the Chinese Communist Party.
Falun Gong practitioners in Ottawa held activities on George Street near ByWard Market, the busiest downtown shopping district, on July 13, 2019, to raise awareness of the persecution in China, including the state-sanctioned killing of practitioners for organs.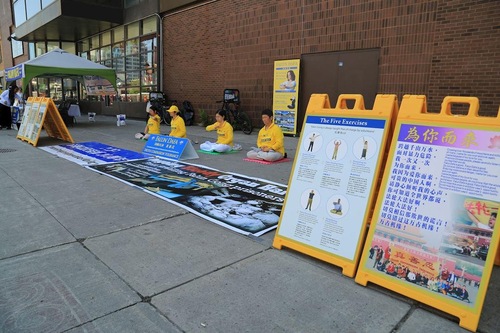 Falun Gong practitioners raise awareness of the Chinese communist regime's persecution of their faith in China.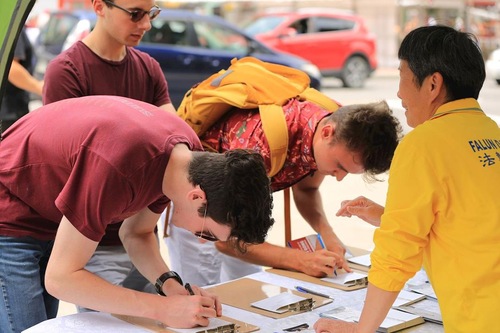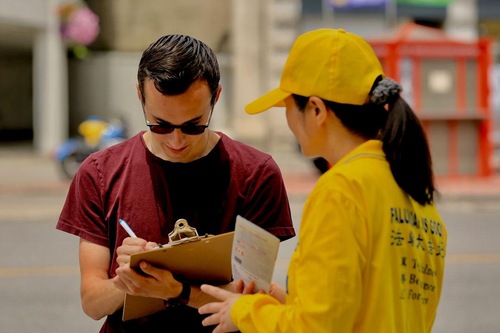 Signing a petition calling for an end to the persecution
Passersby Fascinated by Meditative Exercises
Despite the hot and windy weather, Falun Gong practitioners' tranquil, meditative exercises fascinated many people. Both local residents and tourists from around the world stopped to learn about Falun Gong and the persecution. They expressed their support for Falun Gong and signed postcards to be handed to Canada's Minister of Foreign Affairs, Chrystia Freeland.
Many local residents have seen Falun Gong practitioners for as long as 20 years and were impressed by their persistent and peaceful protests in front of the Chinese Embassy.
Mr. David Lacilld often saw practitioners protesting at the embassy and said, "They are very peaceful. I wanted to join them several times. I wanted to stand next to them." He wants to tell practitioners throughout the world, "Keep up with your great job!" He also hoped the Canadian government would help stop the persecution and signed a postcard.
Xiang, a local resident, also signed a postcard. She said, "The persecution is such a shame! I hope Falun Gong practitioners will stay firm!"
Many people expressed their admiration of practitioners' unyielding spirit in the face of persecution and encouraged them.
Mr. Wilson, a media professional, said, "No matter where you are, people should be allowed to practice their belief. It's great that you fight for your freedom of belief. Everyone should be able to express their ideas and beliefs without being oppressed." He encourages Falun Gong practitioners to "continue moving forward and never give up."
Mr. Chris Awsous, a software engineer, said, "I'm glad to have heard the facts about Falun Gong. Their activities have helped people find out what's going on in China. Besides, people learn that Falun Gong is great for health and attaining inner peace. It is also important because of its values–Truthfulness, Compassion and Forbearance."
Mr. Awsous signs a postcard.
Mr. Awsous hopes that the persecution will end soon and encouraged practitioners to tell people throughout the world about it and end the persecution together with all who want to help.
This was the second weekend that Falun Gong practitioners have collected signatures near ByWard Market.
According to a news report, during the 2005 election, letters to the Prime Minister's office showed that one of Canadians' top three concerns was the persecution of Falun Gong in China. Close to one million Canadians have signed their names to request their government to help stop the persecution.