Frankfurt, Germany: Elected Officials Show Support for Falun Gong
July 21, 2019 | By Falun Dafa practitioners in Frankfurt
(Minghui.org) Falun Dafa practitioners held a rally and candlelight vigil in Frankfurt's busy business district on July 13, 2019, to condemn the Chinese communist regime's 20-year-long repression and to commemorate practitioners who have lost their lives to the persecution. Elected officials showed their support for the event and people from a variety of ethnic groups signed the petition calling for an end to the persecution.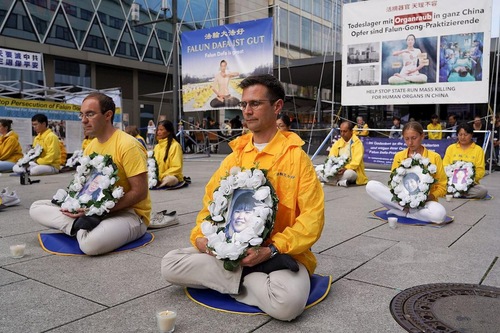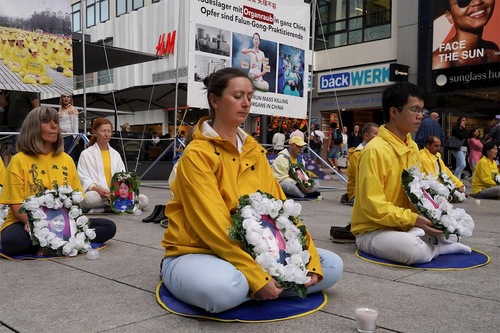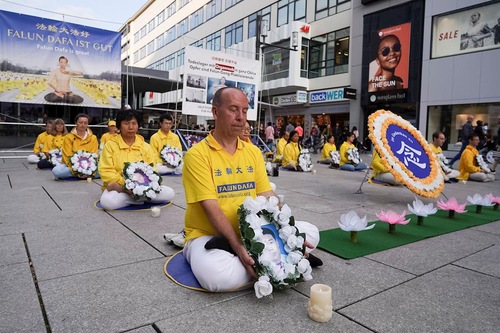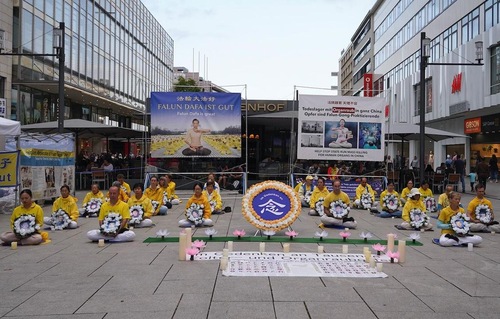 Candlelight vigil to commemorate Falun Gong practitioners who lost their lives due to the persecution in China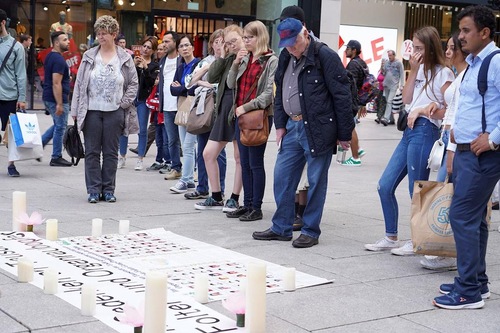 Passersby stop to read the Dafa informational materials.
Elected Officials Show their Support
The office of German Members of Parliament in the State of Hesse – Nicola Beer, Omid Nouripoursent and Turgut Yüksel – sent their best wishes for the candlelight vigil and expressed hope that it would be a success.
Members of Parliament Bettina M. Wiesmann and Karin Müller also sent greetings. Practitioners read their messages at the rally.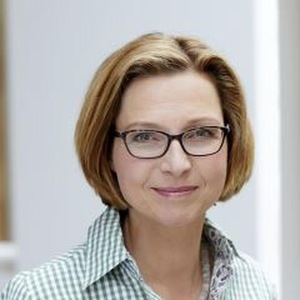 Member of Parliament Bettina M. Wiesmann
Bettina M. Wiesmann wrote in her message that she hopes that the day's event would gain the support of the public. She believes that the Falun Gong movement is peaceful, and she recognizes and supports practitioners' efforts. Ms. Wiesmann mentioned the importance of continued efforts in publicly pressuring the Chinese government on issues such as human rights persecution and organ trafficking. She said that she will continue to support her colleagues' efforts in opposing the Chinese government's persecution of Falun Gong practitioners.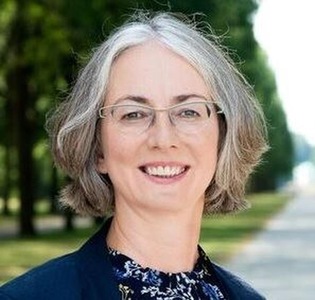 Member of Parliament Karin Müller
Member of Parliament Karin Müller wrote in her letter of support, "It is shocking and against humanity to remove organs without consent in China. It is appalling to read expert reports on organ harvesting in London courts. This should be made public." MP Müller was referring to the CCP's harvesting organs from imprisoned Falun Gong practitioners and other prisoners of conscience.
She added, "Today we commemorate the deceased and show our resistance against cruelty. I hope that Falun Dafa practitioners will one day no longer have to face persecution in China and be able to practice their belief freely."
Public Signs Petition to End Persecution
Frankfurt is an international city, accommodating people from many different countries. At the evening's candlelight vigil, many people of a variety of ethnicities signed the petition to support practitioners in their call for an end to the persecution.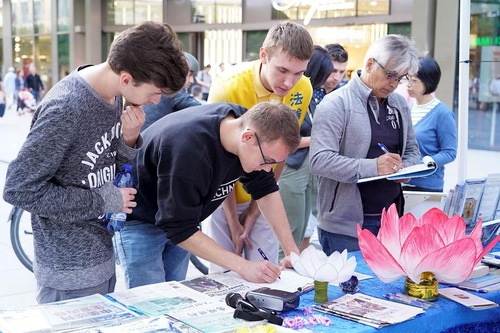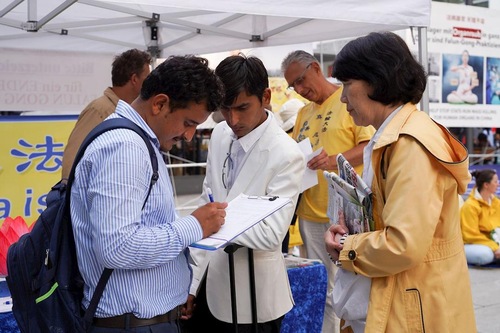 People from different ethnic groups sign the petition calling for an end to the persecution
Jadzia is a young practitioner from Poland who recently began to practice Falun Dafa. She said that many people signed the petition calling for an end to the persecution. A German family of three were shocked to hear that organs were harvested from living practitioners in China. They could not believe that something like that could be happening in the 21st century. They signed the petition.
Chinese Tourists Renounce their Membership in the CCP
Practitioners held an event at the renowned St. Paul Church in Frankfurt on July 13, 2019.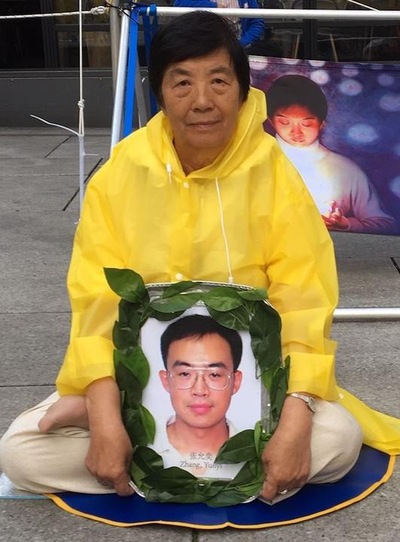 Ms. Pan participates in the candlelight vigil.
Ms. Pan, a 79-year-old Falun Dafa practitioner, traveled from Switzerland to participate in the event. She spoke to Chinese tourists about Falun Dafa. On the afternoon of July 13, 2019, practitioners helped 40 Chinese visitors quit the Chinese Communist Party (CCP) within a few hours. Within a few days, hundreds of Chinese people renounced their membership in the Party.