Call for the Release of Changchun Woman Arrested for the Eighth Time
February 23, 2018 | By Lu Qiner, a Minghui correspondent in Jilin Province, China
(Minghui.org) Ms. Che Pingping from Weizigou Town, a 45-year-old college instructor, was arrested by officers from Dongcheng Police Station on January 26, 2018, only three months after being released. The is the eighth time Ms. Che has been arrested for practicing Falun Gong. She is being held in Weizigou Detention Center.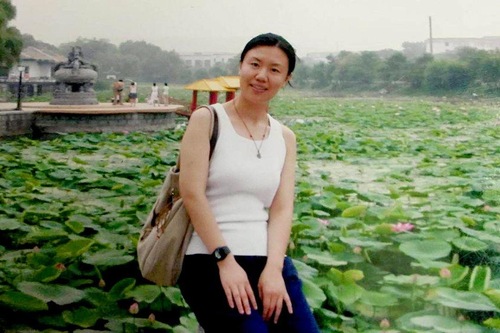 Ms. Che Pingping
Many of Ms. Che's friends have questioned the reasons for her arrest. They suspect the police are trying to cover up the fact that Ms. Che was tortured so severely that she became blind in her right eye. They are worried about her safety and are asking for people both at home and abroad to speak up and demand her release.
Breaking the Silence
Ms. Wang Huilian, a Falun Gong practitioner who knows Ms. Che and had managed to escape China, was saddened by the news. Looking at Ms. Che's smiling face in the picture, she wondered if anyone would visit Ms. Che in the detention center for the New Year holiday, as her only sister is being closely monitored. It is very cold in Changchun now and she hopes someone will take her some warm clothes. She is afraid that this already emaciated woman will end up in dire condition.
There is an old saying, "Evil prevails when good people keep silent."
Ms. Wang decided to stand up and defend Ms. Che. She picked up the phone and called the Changchun Detention Center. She wanted to let the perpetrators know that everyone in the world was watching them.
Below are Ms. Wang's recollections of Ms. Che.
Helping Me When Times Were Hard
Ms. Che first came into my life in 1997 when I was finishing graduate school and struggling with an acute case of rheumatic fever. Seeing how unhappy I was, she introduced herself and chatted with me. I could tell she was genuinely concerned.
She told me that Falun Gong had healing power and suggested that I give it a try.
Unlike me, who was chasing after fame and profits, she seemed to be unburdened by those notions. She always seemed peaceful and happy, and her sense of calm gave me an incredible feeling, just like I used to sense from the girls next to me in my dormitory. They were also practitioners. They are always cheerful and cleaned the bathrooms in the dormitory voluntarily.
Although she told me about Falun Gong, I did not know her well before 1999. We saw each other more often and became better acquainted after the persecution began.
Visiting Me in a Labor Camp
I was detained in a forced labor camp in 2004. Their efforts to "transform" me intensified before Christmas day. To stand up for Dafa and resist, I shouted, "Falun Dafa is good!" even though I knew I would be severely beaten the next day.
To my surprise, the beating did not happen. Instead, I was allowed to have a visitor—it was Ms. Che.
Generally, an uncooperative inmate is prohibited from having any visitors. I knew Ms. Che must have used her influence to get in to see me. Her visit cheered me up a great deal and gave me tremendous comfort, strength, and encouragement. She came back to see me again with several other practitioners the next day.
She is the kind of person who would risk being arrested to help someone else.
I did not know that Ms. Che made everyone aware that I was tortured by reporting it to the Minghui website. As a result, many people called to express their concern for my safety. But, inside the labor camp, I was surprised that the guards never beat me after her visit.
When I was detained, Ms. Che visited many influential people to try to get me released. I was finally released two months after my 18-month term ended.
Ms. Che's Previous Arrests
Ms. Che was first arrested for speaking out for Falun Gong in 1999 when the persecution began. The arrest aggravated her father's illness and he died at the age of 58.
She was arrested again before she could take a job in Singapore in May 2005. Her mother died in October, shortly after the arrest.
She was arrested for a third time in the winter of 2005 for telling her students about the ordeals her family had endured. The fourth arrest resulted in her being paralyzed when she fell from her apartment trying to escape.
Ms. Che was arrested for the fifth time at a friend's home in December 2007. She was released after she went on hunger strike and was on the brink of death. She was arrested for the sixth time in September 2009. She went on hunger strike and was brutally force-fed.
Ms. Che was arrested for the seventh time on October 23, 2013, and sentenced to four years in 2015 following a secret trial. She endured severe torture and went on a series of hunger strikes. She was released that time on October 17, 2017.
Related Articles
Former Physical Education Teacher from Jilin Province Persecuted in PrisonCollege Professor Gets Four Year Sentence after Seven Arrests for Refusing to Give Up her BeliefsCollege Teacher from Jilin Detained for Nearly Two Years and TorturedCollege Teacher Ms. Che Arrested for the Seventh Time
Persons Responsible for Persecuting Ms. Che
Wang Xiaoming (王晓明), chief, Weizigou Labor Camp: +086-431-8459-2051Song Janguo (宋建国), officer, Dongzhaoyang Police Station: +086-15568895423Wang Yihong (王毅洪), deputy chief, Changchun No. 4 Detention Center: +086-431-8416-2707