College Teacher Ms. Che Arrested for the Seventh Time
November 13, 2013 | By a Minghui correspondent from Jilin Province, China
(Minghui.org)
Summary of Key Persecution Facts:
Name : Che Pingping (车平平)
Gender : Female
Age : 40
Address : Nanguan District, Changchun, Jilin Province
Occupation : College teacher from Jilin Institute of Physical Education
Date of Most Recent Arrest : October 18, 2013
Most Recent Place of Detention : Jilin City Detention Center (吉林市看守所)
City : Jilin
Province : Jilin
Persecution Suffered : Brainwashing, force-feedings, physical restraint, home ransacked, detention, denial of restroom use
Ms. Che Pingping, a college teacher from the Jilin Institute of Physical Education, was arrested by three officers from the Beishan Police Station in Jilin City, on the morning of October 18, 2013, while she was making a phone call.
The police ransacked her home and confiscated many of her belongings, including two laptop computers, a motorcycle, her purse, and a cellphone.
Ms. Che is being held at Jilin City Detention Center.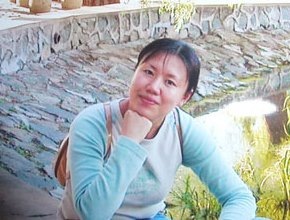 Ms. Che Pingping
Ms. Che has been arrested seven times during the past 14 years that Falun Gong has been persecuted. She and her family have endured unbelievable misery.
First Arrest, Her Father Ill
When the communist regime started the persecution in 1999, Ms. Che went to appeal for Falun Gong, hoping that she could correct the CCP slander of Falun Gong. However, like many other practitioners, she ended up being sent to the drug addiction treatment center in Changchun for temporary detention.
Her father, who was the head of a national teachers' university, drove a long way to Changchun to visit her. He waited outside the detention center for a long time in the cold but was not allowed to see her. His heart was broken.
After he returned home, his liver problem worsened. He worried about his daughter's safety, and for years, he had to live under tremendous mental pressure. He eventually passed away in 2003, at only 58 years of age.
Second Arrest, Her Mother Dies
Ms. Che received a job offer in Singapore in May 2005. She wanted to escape from the endless persecution in China and hoped to start a peaceful life where she could freely practice Falun Gong.
It was not to be however, and she was arrested for a second time.
Officers from Nanguan District Domestic Security Division arrested her at work, and took her to a brainwashing center. She was locked in an isolated room. The police didn't beat her, but continually verbally abused her.
Ms. Che heard miserable screams from the next room, where the police were beating another practitioner. Suddenly, the screaming stopped... the practitioner had lost consciousness.
While she was detained, Ms. Che's mother worried about her every day. She got sick a month later.
When Ms. Che was finally released from the brainwashing center, she took her mother to the hospital, where she was diagnosed with advanced colorectal cancer.
Ms. Che had never recovered from the overwhelming loss of her father, and then her mother passed away in October 2005.
Arrested Again
Shortly afterward, during the winter of 2005, Ms. Che was telling her students about the miserable ordeal her family went through, and she was reported to the police, arrested again, and taken to a detention center.
Officers from Nanguan Police Station attempted to arrest her at her apartment in June 2006. She fell from the sixth floor and lost consciousness. She was taken to the hospital for emergency treatment. She had bleeding in her brain, and three ribs and her pelvis were fractured. The doctor said the fractures would make her disabled, and she would always need assistance.
Before Ms. Che's sister could take her home, the police forced her sister to sign paperwork disclaiming any responsibility for her injuries.
At home, Ms. Che was paralyzed and incontinent. She was in pain all over her body. However, she still tried her best to read the Falun Gong books every day. As soon as she could sit up, she tried to do the sitting meditation, despite the extreme pain in her pelvis and badly swollen feet.
Amazing Recovery Followed by Yet Another Arrest
The swelling in her feet went away and she gradually recovered after doing the Falun Gong exercises. Without taking any medication, she was able to ride a bike a month later. After two months, she had completely recovered. She witnessed the miraculous effects of practicing Falun Gong.
Ms. Che was arrested for the fifth time at a friend's house by Gao Xiaoping, a police officer from Chaoyang Domestic Security Division, in December 2007.
The police first took her to the Third Detention Center and then to the provincial police hospital, where she started a hunger strike to protest the persecution. She was so weak that she was on the brink of death. To shirk responsibility, the police finally released her.
Tortured in a Police Hospital
Ms. Che was arrested for the sixth time by officers from Dadong Police Station in September 2009. She was taken to the Changchun Police Hospital. The doctor tied up her arms and legs and refused to allow her to go to the restroom. She almost died.
Ms. Che recalled that during one force-feeding session, the tube that the police pulled from her nose was covered with blood. It was only her strong faith in Falun Dafa that gave her the courage to live on.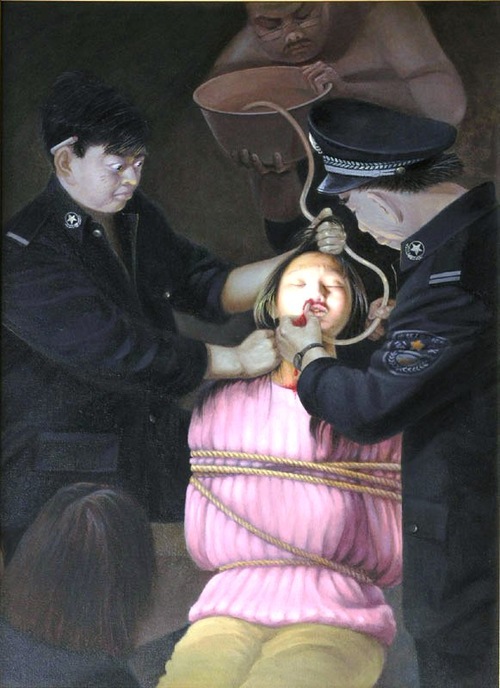 Torture reenactment: Forced feeding
Perpetrator Contact Information:
Beishan Police Station: +86-432-64801767 Hou Liangwen (侯梁文), deputy head: +86-13904418848 (Cell)