Macau: Tourists Learn about Falun Dafa During Chinese New Year
February 23, 2018 | By a practitioner in Macau
(Minghui.org) During the recent Chinese New Year holiday, many Chinese citizens went south to Macau for vacation. At two renowned tourist sites, the Ruins of St. Paul's and St. Dominic's Church, practitioners put up posters with information about Falun Dafa and how it improves one's health and moral character, as well as information about the ongoing persecution of the practice in China.
Three men in their 40s read the posters and nodded in agreement. "These posters really make sense and they explain what's going on in China very clearly," one man commented. Ms. Zheng, a practitioner helping at the booth, talked with them and asked if they would like to quit the Chinese Communist Party (CCP) and its affiliated organizations to take a stance against the regime's crimes against humanity. Two of them had once joined the CCP Young Pioneers and they decided to renounce their membership.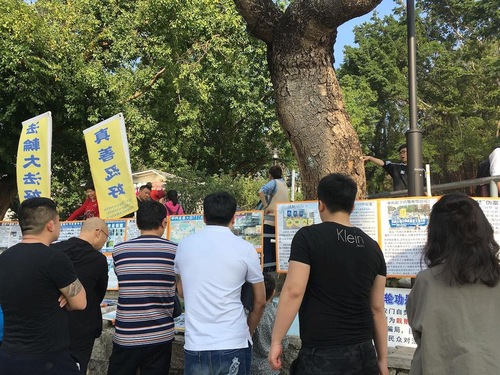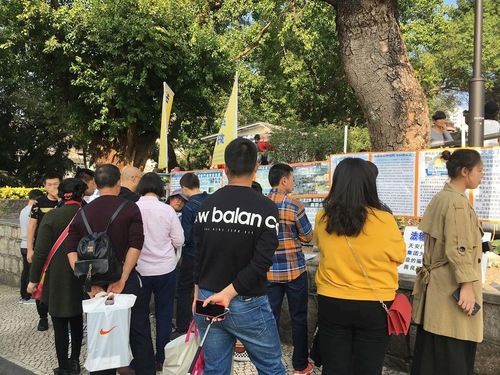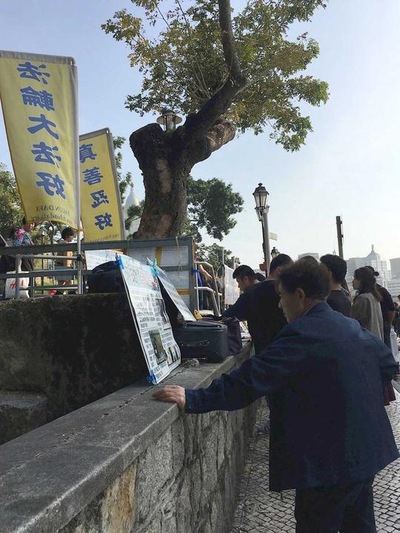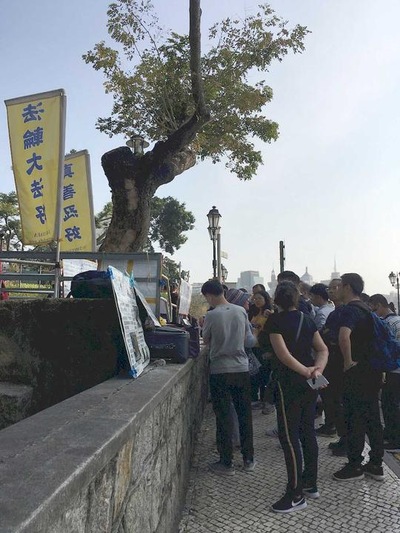 Tourists read posters at tourist sites in Macau during Chinese New Year.
Some tourists shouted out as they passed by, "Falun Dafa is great!" Some greeted practitioners and encouraged them to keep up their efforts. Another passerby commented, "The Communist Party is indeed corrupt. We hope it will collapse."
Ms. Hu, another practitioner who came to help raise awareness, said she was glad to see such feedback from tourists. "Because the Communist Party suppresses Truthfulness-Compassion-Forbearance, anyone who severs their ties with the Party is headed for a better future," she said.