Swedish People Learn about Falun Dafa Via The Art of Zhen, Shan, Ren Exhibition
February 23, 2018 | By Minghui correspondent He Ping in Stockholm, Sweden
(Minghui.org) Falun Gong practitioners hosted The Art of Zhen, Shan, Ren (Truthfulness, Compassion, Forbearance) Exhibition at Östra Gymnasiet, a high school in Stockholm, Sweden on February 5-17, 2018. Besides teachers and students from this school and other schools, many local residents also came to see the exhibit.
A visitor wrote in the guestbook that "The paintings were absolutely amazing and meaningful. The strength and righteousness they convey touched my heart and soul. I will try to conduct myself based on truthfulness, compassion, and forbearance."
Many others left comments thanking the artists for sharing their experiences with the practice and upholding their faith amidst the brutal persecution in China.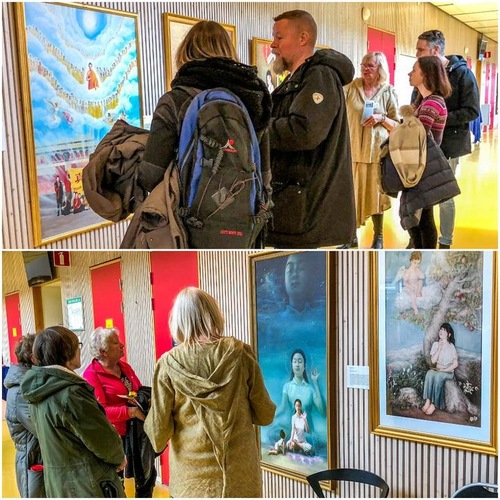 Viewing the artworks
Some teachers and students came to visit the art exhibition several times. Some teachers brought their classes and held class discussions on the art exhibition.
On February 17, the last day of the art exhibition, which was also the day after Chinese New Year's Day, the practitioners hosted a holiday celebration and invited the public. They served homemade traditional Chinese food, performed a traditional lion dance, gave a presentation on traditional Chinese culture, taught the Falun Gong exercises, and folded origami lotus flowers with the guests.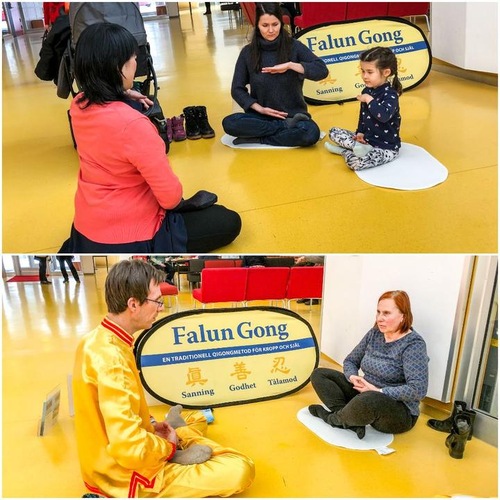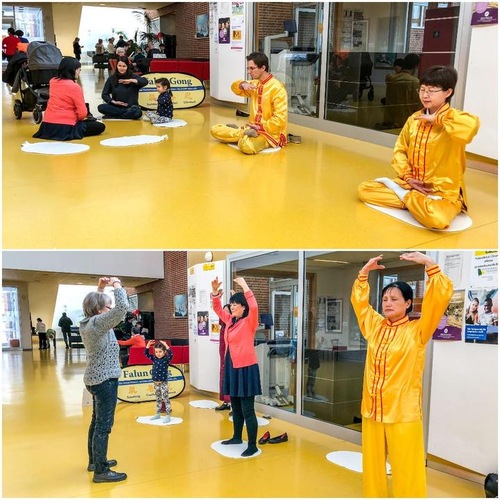 Practitioners demonstrated and taught Falun Gong exercises in the hall of the school on the last day of the art exhibition on February 17, 2018.
While saying good-bye to the practitioners, two women said they were very sad that people were being killed for believing in truthfulness, compassion, and forbearance. They said, "We will tell more people to help and support your effort. We wish you a happy new year!"