College Teacher from Jilin Detained for Nearly Two Years and Tortured
August 01, 2015 | By a Minghui correspondent from Jilin Province, China
(Minghui.org) Falun Gong practitioner Ms. Che Pingping, a teacher at the Jilin Institute of Physical Education, has been detained since October 2013. She was beaten and force-fed at the Jilin City Detention Center because she refused to renounce Falun Gong, refused to wear the prison uniform and refused to do hard labor.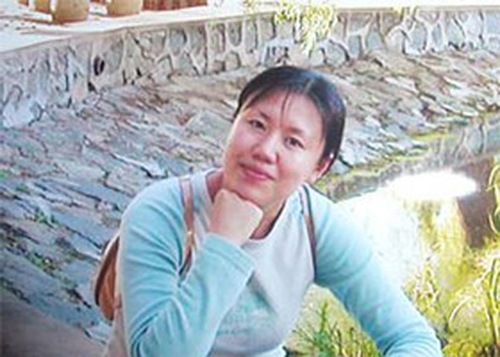 Ms. Che Pingping
Ms. Che's attorney tried to visit her but was turned away by the detention center. They claimed that Ms. Che did not follow prison rules and was therefore being punished by not being allowed visitors.
Because she refused to be "transformed", Ms. Che was beaten severely by detention center director Wang and others. She went on a hunger strike to protest and was brutally force-fed.
Several prisoners, to gain favor with prison management, harassed and beat Ms. Che. One of the prisoners, Sun Dong, brutally beat her and pulled out a clump of her hair.
Ms. Che used to enjoy good health, but her health has deteriorated since she has been in detention.
Persecution of Ms. Che and Other Practitioners
More than 30 Falun Gong practitioner in Jilin City were arrested on October 18, 2013. Officer Bai Shan from the Beishan Police Station monitored Ms. Che's apartment and hid in her residential building on the 6th floor. When Ms. Che left her apartment at around 7:00 a.m., Bai Shan and two other plainclothes officers arrested her and took her to the police station.
Ten practitioners including Ms. Che were illegally prosecuted. The families of the 10 practitioners hired lawyers but the authorities refused to allow them to represent the practitioners. The lawyers could not review the practitioners' case files in preparation for their clients' defense arguments.
Background
Ms. Che is 40 years old and has a master degree. Her father was the president of a teachers' college. She worked hard and was admired by her students.
For refusing to give up Falun Gong, Ms. Che has been persecuted since she was 25 years old. She has been arrested, detained, and held in brainwashing centers several times.
Related article:Court Officials in Jilin City Attempt to Prevent Attorneys from Representing Local Practitioners