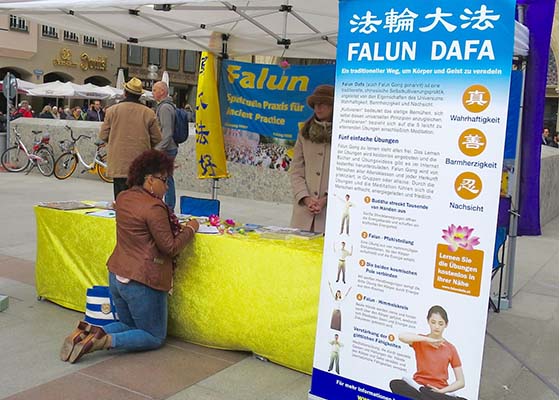 Passersby in Munich and Paris had an opportunity to learn about the persecution of Falun Gong in China at practitioner-held events last weekend. Information about the state-sanctioned forced organ harvesting in China disturbed them, and many signed petitions to condemn it and offered encouragement. As one man said. "What you are doing is very important. People need to know the truth."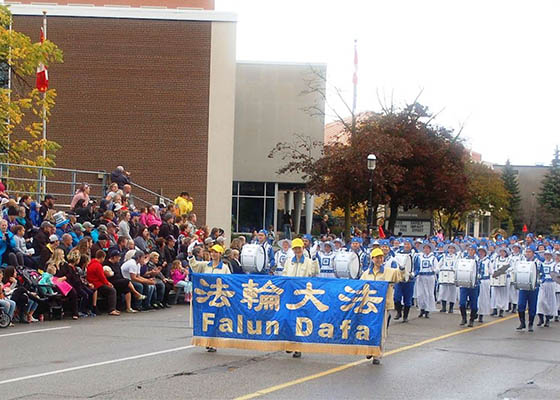 The band was once again invited to participate in the annual Oktoberfest event. A spectator said, "The Falun Dafa procession is the most splendid. That's why I stand up to cheer for it. I know their presence is important, as they can freely demonstrate their grace and deliver their message. This is the reason they are welcomed. It also shows the preciousness of freedom in Canada."
After many previous attempts failed, Mr. Liang Baofan's wife was finally allowed to visit her husband for five minutes in September. Mr. Liang was sentenced to four years in prison at a secret trial in March 2016. It was only in early 2017 that his family found out that he was incarcerated. The director of the prison told his wife, "You cannot see him. If he was a murderer, a thief, or a drug addict instead of a Falun Gong, I would let you see him today."
The Tian Guo Marching Band in their striking uniforms brought the message of Falun Gong to crowds of spectators during the joyful celebration.
A security chief operated on for stomach cancer agreed to quit the CCP and to remember "Falun Dafa is good." Eight years later he is still healthy.
A frequent target of the persecution of Falun Gong has again been illegally arrested by the Chinese regime.
~ Podcasts ~
~ Accounts of Persecution ~
~ Journeys of Cultivation ~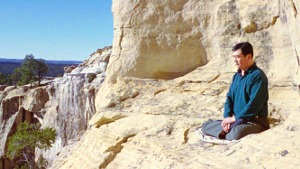 Master Li quietly watching the world from amidst the mountains after leaving New York following July 20th, 1999. (Published January 19, 2000)