Falun Gong Information Day in Freiburg, Germany
October 12, 2017 | By a Falun Gong practitioner in Germany
(Minghui.org) Falun Gong practitioners in Germany held an Information Day in Freiburg im Breisgau, a beautiful tourist spot in Germany's Black Forest, on October 7, 2017.
They explained the benefits of Falun Gong and gave details on the Chinese Communist Party (CCP) persecution of Falun Gong, especially about the state-sanctioned organ harvesting from living practitioners in China.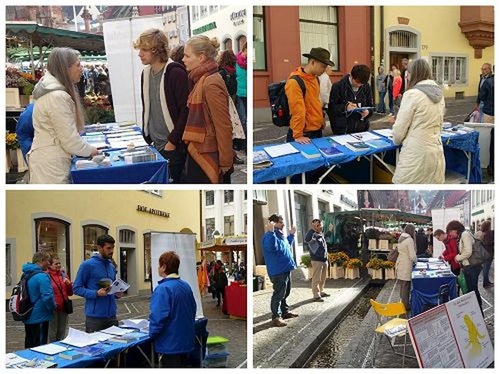 Falun Gong Information Day in Freiburg im Breisgau
Tourists from all over the world visit Freiburg im Breisgau every day. A group of Chinese American tourists from the United States happened to pass the Falun Gong activity that day. They smiled and waved. Some gave practitioners a thumbs-up. Others said, "Keep up the great work!"
"The World Needs Truthfulness-Compassion-Forbearance. We Should Love Falun Gong."
A student from Mongolia talked to a practitioner to find out about Falun Gong. He knew he was true that the CCP had persecuted Falun Gong practitioners terribly. He said, "The world needs Truthfulness-Compassion-Forbearance. We should love Falun Gong."
A German young man was pleased to find out that Falun Gong is a high-level cultivation practice of the Buddha School. He said, "This is exactly what I'm looking for!" He had been looking for a cultivation practice ever since he moved to Freiburg im Breisgau recently. He took some introductory materials and said he would definitely join the group exercise.
A lady who was very interested in Falun Gong learned the exercises that very day. She also wrote down the Falun Gong website to read more about it later.
Chinese Quit Communist Organizations
More than ten Chinese, including students, local residents, and tourists from China, took this opportunity to quit the communist organizations they had once joined.
A Chinese student originally thought it wasn't necessary to quit the Young Pioneers he had joined in elementary school. The practitioner explained, "You made a vow to defend communism when you joined the Young Pioneers. History has proven that communism is doomed. Why be loyal to it? Secure your future safety by renouncing it." The student said, "Oh, so that is the reason! I didn't know." He decided to quit the Young Pioneers using the nickname "Defu," which means "Being Blessed" in Germany.
A Chinese lady passed the information booth but turned around, came back, and asked for a copy of the newsletter. A practitioner gave her one and reminded her not to forget about quitting the communist organizations. She said, "I have. The CCP has committed too many crimes. I don't want to be buried with it!"
She was also interested in helping her family and friends with their withdrawals. The practitioner told her how to submit their statements online. She said she planned to study the introductory materials so that she could do a better job of telling her family and friends about it.
Calling for an End to the Persecution
Many people from other European countries took introductory materials and signed a petition calling for an end to the persecution. Some of them took multiple copies so that they could help spread the word.
A German lady told a practitioner that she had seen a 3Sat TV program about the CCP's organ harvesting. She thought it wouldn't be right to go to China for an organ transplant. She wished practitioners great success and took the print materials to learn more about it.